Tropical storms are common occurrences in Japan during summer time in Japan (unfortunately) when there are plenty of festivals (matsuri) celebrated across the country.
Despite this, residents and visitors are constantly being reminded by local and national authorities to remain vigilant for warning advisories being raised within 24 hours after a storm warning has been declared. This is especially important because evacuation efforts may take some time to be carried out when extreme weather and deadly incidents such as flooding or mudslides have already taken place.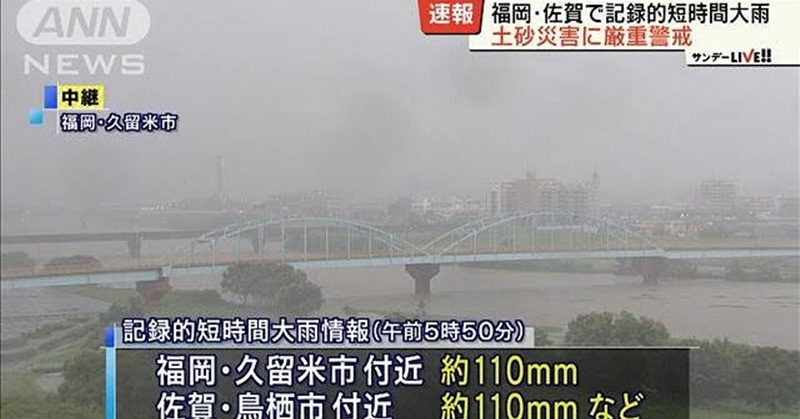 Northern Kyushu, Parts of Western Japan Hit by Heavy Rains
In line with this, unstable weather conditions caused by moist air brewing into a tropical storm are dumping heavy rain in some parts of western Japan, especially the northern Kyushu region, as shared in a report by NHK.
Due to this, weather officials have warned residents to remain on high alert for landslides and flooding.
According to Japan's Meteorological Agency, developed rain clouds are covering northern Kyushu as moist air flowing into tropical storm Danas, which has moved in the direction the Korean Peninsula, made atmospheric conditions unstable in parts of western Japan.
During the one-hour period through 5 a.m. on Sunday, the weather agency recorded 64.5 millimetres of rain in Asakura city, Fukuoka Prefecture, and 54 millimetres of rain was recorded at the Saga airport.
In line with this, weather officials have already posted a landslide alert for some parts of Fukuoka, Saga, Oita, Miyazaki, and Hiroshima prefectures.
Meanwhile, more than 50 millimetres of rain per hour is expected in some parts of western Japan through Sunday evening.
During the 24-hour period through Monday morning, the northern Kyushu and Shikoku regions could have as much as 150 millimetres of rain, and southern Kyushu could get as much as 120 millimetres of rain.
Furthermore, weather officials are warning of landslides and overflowing rivers, as well as lightning and gusts of wind.
In cases of emergency, it's important to know where to seek help, in case an evacuation advisory has been raised. Foreign nationals may reach the local government of the area they are visiting for important reminders and instructions because public offices offer translation services to cater to non-Japanese speaking nationals. Additionally, foreign nationals can reach out to their respective embassy in the country for assistance and instructions, as well.
ALSO READ:  Website Offering Real-Time Weather & Calamity Predictions Launched