In a series of inclement weather conditions that have affected Japan in recent weeks, another typhoon is reportedly expected to hit the disaster-struck country, prompting Japan's weather agency to raise a warning of heavy rains, strong winds, and high waters starting Aug 7 (Tuesday).
Typhoon Shanshan was first noted to move towards the Izu island chain, south of Tokyo, on Tuesday, and is projected to reach land areas in the Eastern region of Japan, facing the Pacific by Thursday.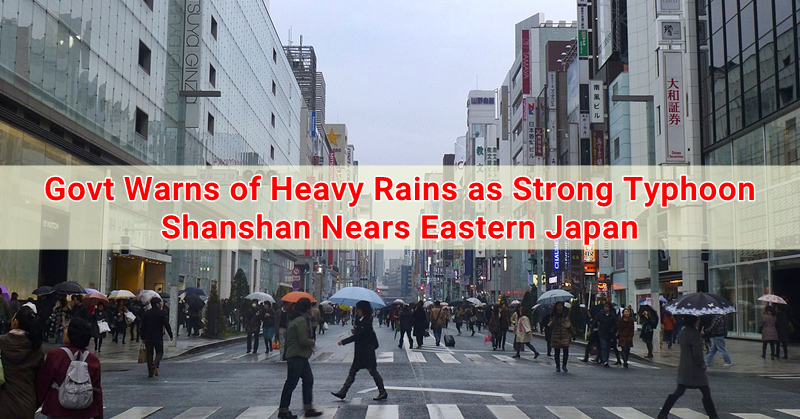 Heavy Rains to be Expected as Typhoon Shanshan Approaches Eastern Japan
As of Tuesday afternoon, the season's 13th typhoon was detected across the Pacific some 480-kilometres east-southeast of the island of Hachijo and was noted to move at a speed of about 20 kph north-northwest, as reported by the country's weather agency.
Heavy rain and thunderstorms are expected to hit most of eastern and central Japan, accompanied by intense rain forecast starting Wednesday up until Thursday (Aug. 8-9).
Based on the 24-hour weather monitoring period up until Wednesday afternoon, approximately 100 millilitres of rainfall is to be expected to hit the eastern and central regions of the country, while an estimated amount of 400 mm of rain is expected to hit the same areas in the succeeding 24 hours or until Thursday afternoon. Weather monitoring is still set in place even after Typhoon Shanshan curbs off northeast, as another weather system might possibly enter the southern region of Japan over the weekend.
Furthermore, according to the Meteorological Agency, Typhoon Shanshan is currently designated as a Category 2 hurricane in terms of strength, based on the Saffir-Simpson Hurricane Wind Scale. Fortunately, Shanshan's heavy rains will not affect the flood-stricken areas of Japan back in early July.
The past month has seen a series of extreme weather conditions to hit Japan, where severe flooding, deadly heat, and a typhoon (Jongdari) have impacted the country all within a month's time.