A magnitude 6.0 earthquake has hit Eastern Japan the evening of June 7 at exactly 8:23 pm, according to a report by the Japan Meteorological Agency. At the wake of this event, no tsunami warning has been issued as of the moment.
Fortunately, the 8:23 pm earthquake had not registered any casualties or damage, as well. Initially, the quake registered a minus 5 on the Japanese seismic intensity scale of 0 to 7 in Eastern Chiba prefecture and had caused some buildings and establishments in central Tokyo to sway a little bit. Such occurrences, which are considered quite alarming in most parts of the world, are considered part of the typical living conditions in Japan.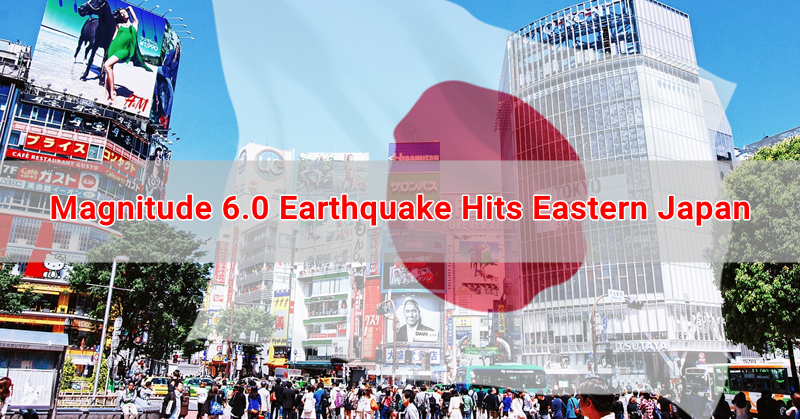 M6.0 Quake Hits Eastern Japan
The epicentre of the M6.0 quake was located by more than 60 kilometres underground in the Pacific Ocean off the coast of the Chiba Prefecture.
After the shakeup, two runways at the Narita airport located east of Tokyo were temporarily closed to check for any possible damages sustained from the quake. However, not long after, operations resumed back to normal.
There were also no abnormalities and irregularities noted at the Tokai No. 2 Power Station, an off-line nuclear facility of the Japan Atomic Power Co. located within the village of Tokai, Ibaraki Prefecture, according to official reports.
Meanwhile, the persistent torrential rainfall affecting a majority of western Japan which had caused several flooding and landslides had already tallied 51 deaths and a total of 48 missing people and 3 unconscious, according to official reports.
Emergency warnings have been issued for the Kyoto and Gifu prefectures, but were lifted in Nagasaki, Fukuoka, Hiroshima, Okayama, Tottori, Saga, and Hyogo prefectures.
The Japan Meteorological Agency had already issued emergency warnings regarding the possibility of severe flooding and landslides. However, these warnings are only issued when there is a possibility of extreme disaster scenarios which typically only occur once or twice every 50 years. Such warnings put the people within the communities of the affected region on high alert, but are not given compulsory orders to evacuate the area.
Consequently, many people in Japan choose to remain in their homes, even those in the mountainous areas which are prone to landslides/mudslides caused by the heavy rainfall.