The Japanese capital is set to lay claim to the country's tallest building by 2023 when real estate developer Mori Building targets to complete a 330-meter tower as part of the country's major redevelopment in the next five years.
The 64-story main tower design of the 580 billion yen (USD 5.45 billion) project was revealed last Thursday (August 23). Of note, this would be the company's most expensive project to date, which would outbuild Osaka's 300-meter Abeno Harukas skyscraper. The project will contain a combination of office and residential space.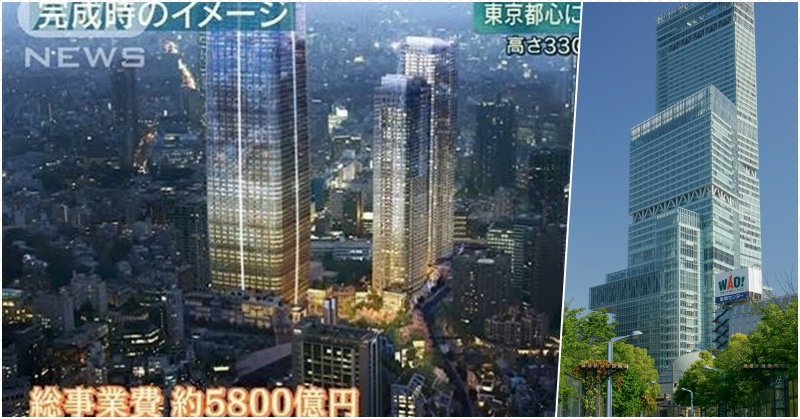 Soon, Tokyo to Claim Japan's Tallest Skyscraper
According to Mori Building CEO Shingo Tsuji, the project represents a "massive challenge" for their company to lay their mark on, noting that the ground-breaking for this project has officially begun this month after 30 years of negotiations with about 300 landowners and other stakeholders, as shared in a report by Nikkei.
The estimated 81,000 sq. meter "city within a city" in the Toranomon business district would include a luxury hotel from an overseas brand, as well as an international school that would rank among Tokyo's largest. Furthermore, the development is planned to feature a large, nature-filled central plaza for residents and visitors to enjoy. Mori Building anticipates between 25 million and 30 million visitors on an annual basis for the new project.
Floor area across the complex's three towers will total about 860,000 sq. meters, with over 210,000 sq. meters of office space and about 1,400 residential units, surpassing Tokyo's Roppongi Hills — another Mori Building development – on both counts. Commercial and cultural facilities will also take up space in the Toranomon project.
The Japanese capital is among the cities with the most number of skyscrapers in the world. As of mid-2019, there are 160 buildings over 150 meters (492 ft) tall built or topped out in the city, ranking 6th in the world. Also of note, a skyscraper in Tokyo has generally much more floor area than that of a skyscraper of the same height in other parts of the world. This is one of the reasons why the Tokyo skyline appears even denser than that of cities with more 150m+ buildings.
At present, the tallest building in Tokyo is Toranomon Hills, which is 256 meters tall. The city still doesn't have a supertall (buildings above 300m tall) built, but there are two supertalls proposed for the city and one of them will be built in 2023. The city's 634-meter Skytree Tower is the tallest tower in the city and the second tallest structure in the world.
ALSO READ: Tokyo Reveals 'Wooden' Stadium Ready to Take on Summer Heat