With less than a year to go before the opening of one of the world's biggest and most important sporting events, Tokyo 2020 organizers has recently unveiled on Thursday (Nov 21) the USD 523 million venue for swimming, diving and artistic swimming that will seat 15,000 fans for the Olympic and Paralympic Games next year.   
Construction at the four-story Aquatics Center is almost complete at 90% and it is due to be finished on schedule by the end of February as per officials.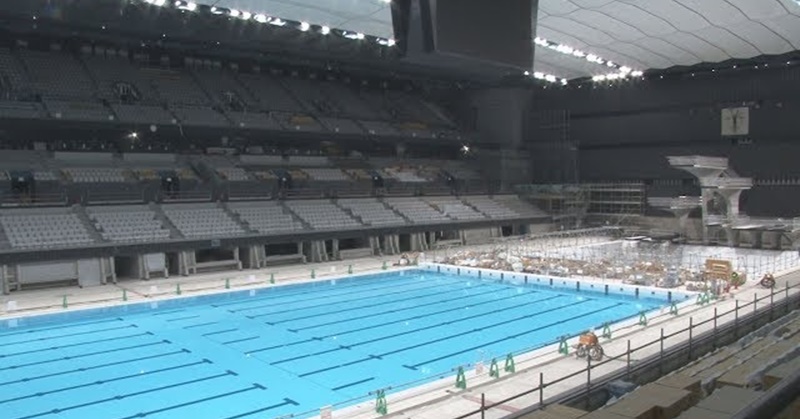 Tokyo 2020 Olympic Aquatics Center Unveiled to the Public
The main pool features a movable wall allowing the 50-meter facility to be converted into two 25-meter pools. The depth of the bottom can also be adjusted, as shared in a report by Japan Today.
According to Tokyo 2020 venue official Daishuu Tone, "We are aiming to construct a swimming venue to the world's highest standards equipped with the latest facilities." 
The construction of the facility cost JPY 56.7 billion but Tokyo hopes to make the most of the facility after the 2020 Games, aiming to attract one million users a year — 850,000 through swimming competitions and another 150,000 casual users.
On the same say, organizers also unveiled the Ariake Arena, a 37-billion-yen site for Olympic volleyball and wheelchair basketball. 
Construction on the main venue, the 159 billion yen National Stadium, has already been completed and will be unveiled in a gala opening on December 21.
Of note, top musicians and star athletes will join the event, with world-record sprinter Usain Bolt featuring in an exhibition relay.
A few months back, Japan played host to the World Rugby Cup where over a million fans and supporters rallied behind their respective teams throughout the six-week competition, with eventual champion South Africa lorded it over crowd favorite, England. 
The success behind this event was made possible with Japan relaxing some of its cultural policies and enforcing new strategies to enhance security, and to maintain order for the one of the world's major sporting events of the year, in preparation for the upcoming Tokyo Games next year. 
Despite some setbacks encountered such as food shortage at the venue, issues of online scalping, and then typhoon Hagibis, which forced cancellation on some games during the last stretch of the tournament, it was an overall success for the country, as there has been renewed interest in the sport among the Japanese people, and the world has witnessed a very exciting broadcast of the games, which has surpassed its record over the years. 
At the rate things are going for Japan, we can only expect the best for what's in store in the 2020 Tokyo Games.
ALSO READ: Tokyo Reveals 'Wooden' Stadium Ready to Take on Summer Heat