A minor eruption has been noted on Mount Asama, located near Tokyo in Central Japan. The minor volcanic activity occurred shortly after 10 pm on Wednesday (August 7).
According to officials from the Japan Meteorological Agency, the volcano sent smoke beyond 1,800 meters up into the air. The volcano, which has erupted for the first time in four years spewed ash and smoke for nearly two kilometers in the sky, triggering warnings not to approach the mountain. Fortunately, no one was reported to be hurt by the incident.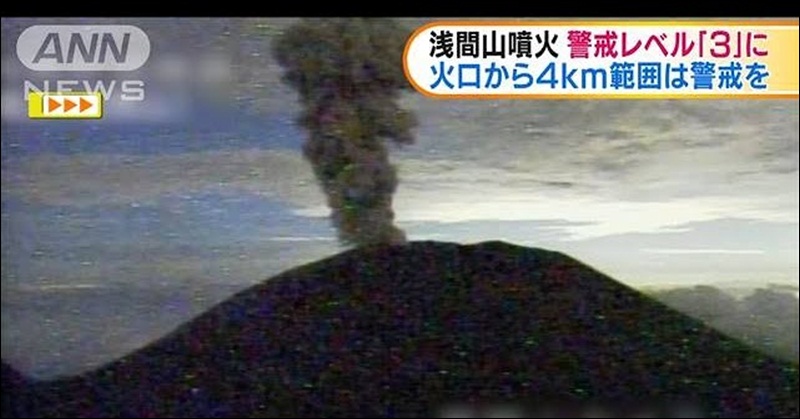 Volcanic Activity Seen on Mount Asama, Prompts Warning Within Localities
The minor explosion overnight prompted the Meteorological Agency to raise its alert level to three out of five, meaning people should avoid the crater, as shared in a report by NHK.
Since Wednesday night, the agency has raised the volcanic alert level to three on a scale of five.
The agency cautioned residents within the volcano's four-kilometer radius from the crater that large rocks and fast-moving flows of hot gas are to be expected as nearby towns could be hit by smaller rocks and ash depending on prevailing winds.
An agency official commented on the incident last Thursday that gas was still being shot into the air but only at a "normal" level. The spokesperson further noted that the volcanic activity on Mt. Asama is not picking up.    
The last significant volcanic activity on Mt. Asama was noted back in June 2015. No injuries or casualties were reported from the event.
Despite its stable activity at the moment, residents should not hesitate to vacate the area as they see fit and when they feel that their safety is becoming compromised. These natural occurrences come with a pattern and there's no telling if a major explosion will follow anytime soon.
However, as long as officials do not remove the warning on volcanic activity in the area, it is always best to keep an open eye and a clear mind to be able to act appropriately should any unforeseen events arise.
There are over 37 million people living in Tokyo, which is considered one of the largest cities in the world today. Because of this, national government officials are monitoring the situation intently until no further threats to safety can be expected from the sudden volcanic activity from Mount Asama. Officials urged residents in Central Tokyo to exercise due caution.
ALSO READ: Website Offering Real-Time Weather & Calamity Predictions Launched