Japan's Cherry Blossom Season is one of the most spectacular natural phenomena on the planet. Every year, millions of people flock to Japan to witness the breathtaking display of pink and white cherry blossoms that blanket the country's cities and countryside. This year, the Japan Cherry Blossom Season 2023 promises to be just as magnificent as ever, with the delicate flowers set to bloom from late March to early May. From bustling cities like Tokyo and Kyoto to tranquil rural villages, visitors can experience the ethereal beauty of the cherry blossoms in various settings.
Whether you're a nature lover, a culture enthusiast, or simply seeking a once-in-a-lifetime experience, the Japan Cherry Blossom Season 2023 is an event not to be missed. So get ready to be swept away by the magic of Japan's cherry blossoms and immerse yourself in a truly unforgettable adventure. Read on!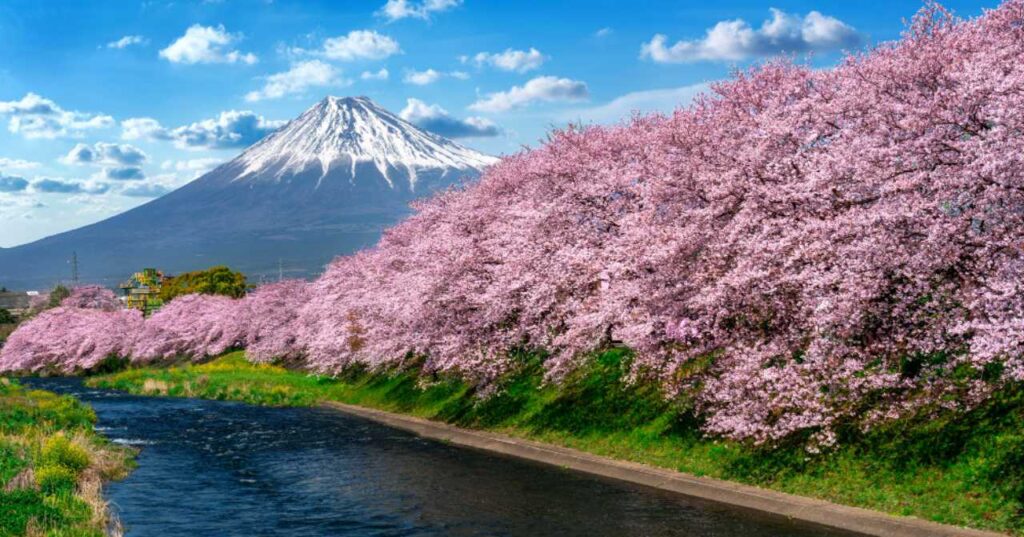 As winter fades and spring arrives, Japan's sakura trees come to life with a beautiful display of pink cherry blossoms that stretch from Hokkaido to Okinawa. The cherry blossom season in Japan is a highly anticipated time of year, attracting locals and international travelers alike.
Festivals abound throughout the country, drawing people from all over to witness the fleeting beauty of the flowers. Despite their worldwide fame, you may still have some lingering questions about these delicate blooms.
How do you say cherry blossoms in Japanese?
To start with a brief introduction, in Japanese, cherry blossoms are called "sakura" (桜), which is a more descriptive term that can refer to the flowers, trees, or the flavor of the petals. Although cherry blossoms grow on sakura trees, they are not the same as the cherries we eat.
Instead, sakura trees produce inedible small fruits, while cherries come from a similar but different species of tree. Sakura flavor, however, does come from the petals, which we will explore further later.
When is the Cherry Blossom season in Japan?
The cherry blossom season in Japan is typically associated with spring when the popular Yoshino cherry variety blooms. However, the season's timing is not limited to this period. With Japan spanning 3,008 km (1,869 mi) and having diverse climates, the cherry blossoms can bloom as early as January in Okinawa and as late as May in Hokkaido. Therefore, the ideal time to witness the cherry blossoms depends on your travel destinations.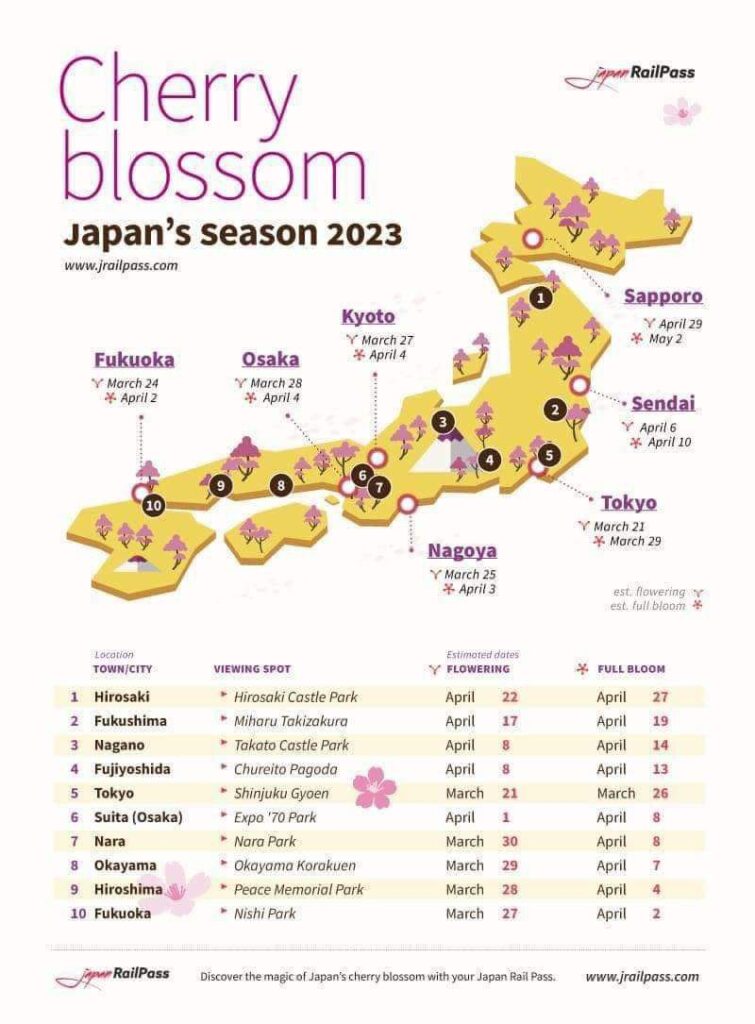 Best Time To Visit Japan And Tokyo For The Cherry Blossom Festival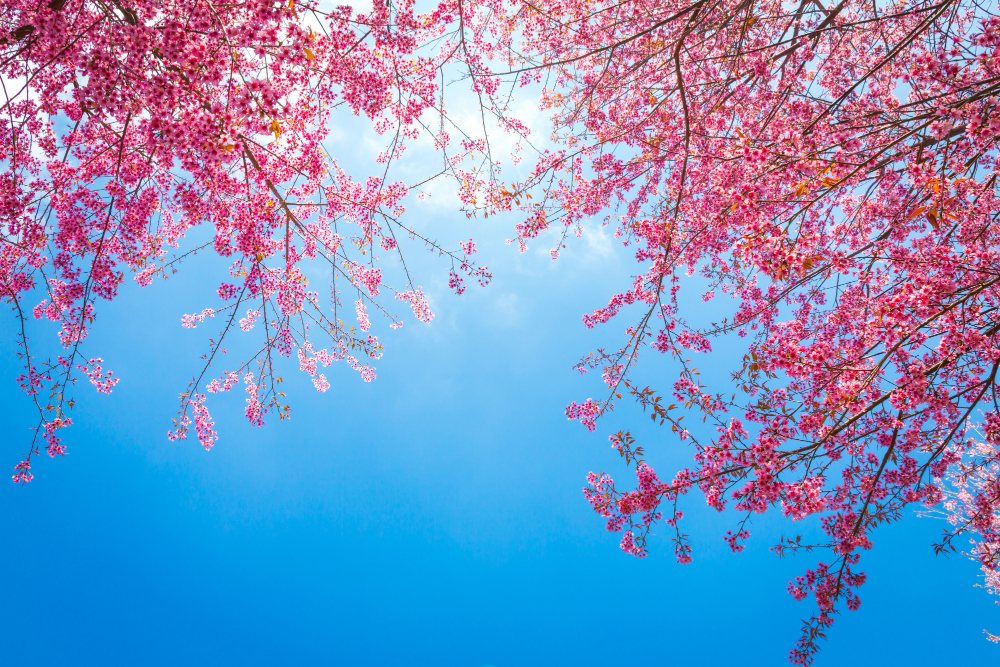 Due to rising temperatures and changing weather patterns, Japan's cherry blossom blooms have occurred earlier each year. While the peak blooming period usually falls between the last week of March and the first week of April, exact dates can vary by a few days, making it difficult to plan a trip.
With this in mind, the Japan Rail Pass has shared the following infographic on the best places to view the cherry blossoms across Japan this year:
Where Are The Best Places To See Cherry Blossoms?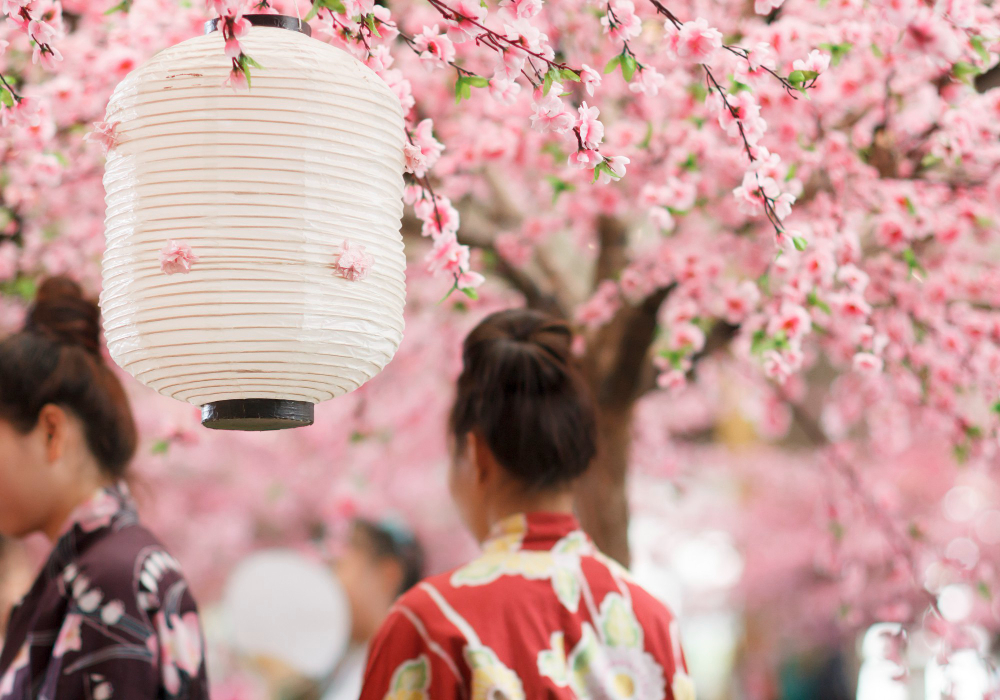 Planning a trip to see cherry blossoms but not sure where to go? Discover the best spots to witness these stunning blooms in all their glory in the following sections.
Okinawa
Okinawa, the southernmost island of Japan, is home to some of the earliest cherry blossoms in the country, with blooms appearing as early as mid-January. This stunning display of natural beauty is accompanied by a range of festivals celebrating the arrival of spring. Here are three of the top cherry blossom festivals to check out in Okinawa:
Motobu Yaedake Cherry Blossom Matsuri
This is the first annual cherry blossom festival in Japan and takes place on Mount Yae in the Western Motobu Peninsula. With over 7,000 cherry trees, visitors can expect a breathtaking view. The festival typically takes place around January 16th to February 4th.
Naha Sakura Festival
Held in Yogi Park, this festival is just a 15-minute walk from Kokusaidori Street. Visitors can enjoy a lovely stroll along the riverside and take in the beauty of over 400 cherry trees in bloom. The festival also features a folk song competition, hula dance performances, and delicious food stalls. This festival is usually held around February 19th to February 23rd.
Nago City Cherry Blossom Festival
With over 20,000 cherry blossom trees, this festival is one of the most popular viewing spots in Okinawa. The observatory deck provides an expansive view of the shoreline, while visitors can also enjoy taiko drumming performances and parades in the city. The festival typically takes place during the final weekend of January.
Don't miss out on these incredible opportunities to witness the beauty of cherry blossoms in Okinawa and immerse yourself in the lively and colorful festivities!
Kyushu
Kyushu, located in southern Japan, is a hidden gem for cherry blossom viewing. With its unique history and stunning natural landscapes, Kyushu offers a unique experience for travelers looking to explore beyond the typical tourist destinations.
The cherry blossom season in Kyushu typically takes place from late March to early April, and while the festivals tend to occur a little earlier than those further north, they are just as breathtaking. So if you're planning a trip to Kyushu, be sure to check out our guide to the top cherry blossom spots in the area.
From Nagasaki's historic Dejima Island and Omura Park to Fukuoka's Maizuru Park and Kumamoto Castle, there are plenty of locations to explore. But the crown for the best cherry blossom viewing experience in Kyushu goes to Mifuneyama Rakuen, where 2,000 cherry trees bloom across 120 acres and 200,000 azaleas, creating a symphony of color that's not to be missed.
Shikoku
Shikoku, Japan's second-smallest island, offers a unique travel experience for both spiritual seekers and modern art lovers alike. The Shikoku Pilgrimage, which covers 88 temples along the coast, attracts many Buddhist pilgrims and takes 30 to 60 days to complete.
Meanwhile, Naoshima Island is a hub for contemporary art enthusiasts, with Tadao Ando-designed destinations like the Benesse House, Chichu Art Museum, and Lee Ufan Museum. Ritsurin Koen Park is a must-visit for those who appreciate Japanese-style gardens during cherry blossom season.
The park boasts 320 cherry trees that bloom among six lakes and thirteen hills, offering a picturesque setting for a traditional tea break. Although the park has yet to release news about the 2023 cherry blossoms, they typically bloom in late March.
Chugoka
If you're planning a trip to Japan, don't miss the chance to explore the stunning Chugoku region. From the vast expanse of the Tottori Sand Dunes to the historic city of Hiroshima, there's plenty to see and do. Learn about the city's past and the impact of the atomic bomb at the Peace Memorial Park and museum, where 300 cherry blossoms bloom along the "Corridor for Peace" from around March 20th.
And while you're in the area, hop on a ferry to Miyajima Island, one of Japan's top three most beautiful sights, where you can enjoy Itsukushima Shrine, interact with friendly deer, and hike up Mount Misen. With around 1,900 cherry trees on the island, you can witness the pink and white blooms starting to appear around April 1st. Don't miss out on experiencing Chugoku's natural beauty and rich history!
Kansai
If you're planning a trip to Japan during the spring, experiencing the beauty of cherry blossoms is an absolute must. Kansai region is the perfect destination for first-time visitors to witness the pink and white blooms in all their glory. Here are the top 5 cherry blossom spots in Kansai for 2023 that you don't want to miss:
Osaka Castle – With over 3,000 cherry trees, including 300 Yoshino cherries in the Nishinomaru Garden, Osaka Castle Park is the perfect spot to enjoy a picnic and witness the beauty of cherry blossoms.
Nara Park – This park is a perfect combination of city and nature. Wild deer roam freely amongst the 1700 cherry trees, providing a unique viewing experience.
Mount Yoshinoyama – As one of Japan's oldest cherry blossom viewing spots, Mount Yoshinoyama boasts over 30,000 cherry trees of different varieties, offering stunning views from the mountain trails or the ropeway ride.
Himeji Castle – This castle surrounded by cherry blossoms during late March to mid-April is a must-visit spot. Enjoy free cherry blossom viewing while strolling around the castle or pay an entry fee to climb up to the top floor for a panoramic view of the castle grounds.
Hikone Castle – Nearly 1,100 cherry trees bloom in early to mid-April at Hikone Castle. Visitors can take a rickshaw ride or boat ride to witness the falling petals up close or enjoy the stunning view from the observation deck.
No matter which spot you choose to visit, Kansai's cherry blossom viewing spots offer a unique and unforgettable experience. So grab your camera, pack a picnic and get ready to be mesmerized by the beauty of Japan's cherry blossoms!
Kyoto
There's no better time to visit Kyoto than during the sakura season. However, with so many people flocking to the city, preparing beforehand is important to ensure a stress-free trip. Here are some tips for first-time visitors.
Plan ahead: Make restaurant reservations and consider hiring a guide to help navigate the crowds. Taxis can also be a good option to avoid busy buses.
Best places for hanami: Maruyama Park is a popular spot with wide walking paths and a 70-year-old weeping cherry tree at its center. The Philosopher's Path is also a must-visit, with cherry blossoms lining the canal for a beautiful stroll.
Historic hanami parties: Experience a reenactment of a feudal warlord's hanami party at Daigoji Temple, where you'll also find 1,000 cherry blossoms.
Arashiyama district: Take a full day to explore this area, including the 400-year-old Togetsukyo Bridge, which offers stunning views of the mountains and their blooming cherry blossoms.
Kiyomizu Temple: Enjoy beautiful views over the city while admiring the cherry blossoms at this celebrated temple. Don't miss the nightly illumination, where spotlights shine on the pink trees.
Kyoto is a magical city, especially during the cherry blossom season. With a little preparation and research, you can make the most of your trip and enjoy the stunning sights without feeling overwhelmed by the crowds.
Kanto
Japan's cherry blossom season is a sight to behold; you don't have to go to popular viewing spots to enjoy it. Consider exploring new cities outside of Tokyo for an unforgettable experience.
Nikko City is known for its fall foliage, but it also offers a beautiful cherry blossom viewing experience. The Nikko Kaido Cherry Blossom Route was established in 1617 by Tokugawa Ieyasu, and it features around 1500 sakura trees that typically bloom a little later than those in Tokyo. The cherry blossoms in Nikko usually begin opening in early April.
Tourists often overlook Ibaraki Prefecture, but it's worth visiting for many reasons, including its double-flowering cherry trees. These trees have twice as many petals and last longer than the typical Yoshino cherry trees. Head to Shizumine Park in Nakashi City in mid-to-late April to see 2300 of them in bloom.
Sakurayama Park in Gunma Prefecture boasts around 10,000 cherry blossom trees, with 3,000 Yoshinos that bloom in spring. However, the majority of the trees in the park are Fuyu Zakura, which bloom in mid-October and November. Although sparser than their springtime cousins, the Fuyu Zakura flowers make a stunning contrast against the autumn colors.
Tokyo
If you're planning a trip to Tokyo in the spring, you can't miss the opportunity to see the beautiful cherry blossoms. Even if you're not a fan of rural areas, there are several expansive parks in the city where you can immerse yourself in the beauty of the sakura. Here's a guide to enjoying Tokyo's cherry blossoms in the city:
Visit Ueno Park
Ueno Park is one of the most popular places to see cherry blossoms in Tokyo. With over 1000 trees, most of them lining the pathway between Keisei Ueno Station and the Tokyo National Museum, it's a sight to behold. The branches from either side of the path are so long that they create a tunnel-like effect, making for a unique and stunning experience.
Check out Yoyogi Park
If you're looking for a place to have a hanami picnic, head to Yoyogi Park. With 700 cherry trees and expansive lawns, it's the perfect place to relax and enjoy the blossoms. Unlike Ueno Park, there is plenty of grass to sit on, so you won't have to sit on concrete grounds. Keep in mind that the park can get crowded, so it's best to arrive early to secure a spot.
Explore Shinjuku Gyoen
Shinjuku Gyoen is a stunning park that has seasonal blooms all year round. With over a thousand cherry trees, it's one of the best places to see cherry blossoms in Tokyo. The blooming season lasts a little longer than most parts of Tokyo, so if you miss the peak bloom, you might still be able to catch some beautiful blossoms. Keep in mind that unlike Ueno and Yoyogi, Shinjuku Gyoen charges a small admission fee and has opening and closing hours.
Check the forecast
The blooming season for cherry blossoms in Tokyo typically lasts for about a week in late March or early April. The Japan Meteorological Corporation predicts Tokyo's cherry blossoms will reach their full bloom around March 24th. However, the exact timing can vary from year to year, so it's best to check the forecast before planning your trip.
Plan ahead
Cherry blossom season is one of the busiest times of the year in Tokyo, so it's important to plan ahead. If you're planning to have a hanami picnic, arrive early to secure a spot. Some people even camp out overnight to ensure they get a good spot! If you're visiting Ueno Park, keep in mind that it can get very crowded, so be prepared to navigate through the crowds.
Chubu
Cherry blossom viewing, or hanami, is a beloved tradition in Japan. Visitors from around the world flock to see the stunning pink flowers that bloom each spring. While Tokyo and Kyoto are the most famous places to view cherry blossoms, the Chubu region offers its own unique beauty. Here is a guide to cherry blossom viewing in Chubu, Japan.
When to go:
In mountainous Nagano, the cherry blossom flowering period will begin around April 5th.
Kanazawa typically expects to see the first blossoms around April 1st and the peak viewing period by April 7th.
In Ina City, the flowering period starts around April 5th.
Kawazu in February and March for the Kawazu Cherry Blossom Festival.
Takato Castle Site Park and Kenrokuen typically have a month-long cherry blossom festival in April.
Where to go:
Takato Castle Site Park
See over 1500 Kohigan cherries.
One of the top three places to see cherry blossoms in Japan.
Annual cherry blossom festival usually lasts for the entire month of April and includes evening illuminations.
Kenrokuen Garden in Kanazawa
One of the most beautiful gardens in Japan.
Cherry trees bloom along with seasonal flowers.
Typically expects to see the first blossoms around April 1st and the peak viewing period by April 7th.
Kawazu Cherry Blossom Festival
Attend the classic cherry blossom festival with attendees picnicking under the petals.
Kawazu Zakura trees bloom in February and March.
The festival typically runs from the beginning of February to the beginning of March.
Tips for Cherry Blossom Viewing:
Check the weather forecast and plan your visit accordingly.
Go early in the morning or late in the evening to avoid crowds.
Bring a picnic and enjoy hanami with friends and family.
Respect the environment and do not damage the flowers.
Take plenty of photos to remember the experience.
Cherry blossom viewing in Chubu, Japan, offers a unique and unforgettable experience. Whether you choose to visit Takato Castle Site Park, Kenrokuen Garden, or the Kawazu Cherry Blossom Festival, you will surely be dazzled by the beauty of these pink flowers. Remember to plan ahead, respect the environment, and enjoy the moment.
Mount Fuji
If you're looking for an unforgettable experience, plan a trip to Japan during the sakura season and explore the majestic beauty of Mount Fuji and the surrounding areas. Here's a guide to help you make the most of your visit:
Explore the Cherry Blossoms around Mount Fuji:
The cities around Mount Fuji's base are famous for their cherry blossom trees.
Fujikawaguchiko and Minobu cities border Lake Kawaguchiko, where the cherry blossoms bloom on the northern and eastern shores in mid-April.
Take a sightseeing cruise on Lake Kawaguchiko or ride the Mount Fuji Panoramic Ropeway to see the cherry blossoms from different angles.
The dates for the Kawaguchiko Cherry Blossom Festival in 2023 are yet to be announced.
Enjoy the Natural Beauty of the Caldeira Lakes:
Mount Fuji is a volcano that created five caldera lakes over the centuries, offering stunning natural views.
Explore the beautiful scenery around Lake Kawaguchiko, Lake Yamanakako, Lake Sai, Lake Shoji, and Lake Motosuko.
Take a hike or rent a bike to explore the lakes and their surrounding areas.
Relax in the Hot Springs and Ryokans:
After a long day of sightseeing, relax in one of the many hot springs (onsen) near Mount Fuji.
Stay in a traditional Japanese inn (ryokan) and enjoy Japanese hospitality, including a delicious Kaiseki dinner and a soothing hot spring bath.
Visit Gotemba for a Breathtaking View of Mount Fuji:
Gotemba is a resort town located near Hakone, offering a spectacular view of Mount Fuji.
Gotemba Heiwa Koen is a park with a peace monument and stunning views of Mount Fuji.
Late March and early April are the best times to visit Gotemba and enjoy the beautiful scenery.
Explore the Surrounding Area:
The area around Mount Fuji is rich in history and culture.
Visit the Fuji-Hakone-Izu National Park, the Fuji Five Lakes area, and the Aokigahara Forest.
Experience traditional Japanese culture by visiting the Chureito Pagoda, the Oshino Hakkai Springs, and the Fujisan Hongu Sengen Taisha Shrine.
Tohoku
If you're looking for a unique and off-the-beaten-path cherry blossom experience in Japan, head north to the Tohoku region. This rural area is home to plenty of hidden gems that are just waiting to be discovered. Here's a guide to help you plan your Tohoku cherry blossom adventure.
Know When to Go
The further north you go in Japan, the later the sakura season. In Tohoku, the cherry blossoms can last from mid-April to May, depending on which parts you visit. Plan your trip accordingly, and keep an eye on the local forecasts for the best viewing times.
Discover the Hidden Gems
Tohoku is full of hidden gems, including Shirakawago, the Takayama Spring and Autumn Festivals, and Lake Towada. One of the most popular cherry blossom spots in Tohoku is Kakunodate, where cherry blossoms grow on the Hinokinai River and in the preserved samurai district. During the cherry blossom festival from April 20th to May 5th, over one million people visit this charming town to enjoy the cherry blossoms.
Visit Tenshochi Park
If you're looking for a stunning cherry blossom viewing spot, head to Tenshochi Park near Kitakami. This park was created in the early Taisho Era to combat deforestation in the area, and it now boasts 10,000 cherry trees of 150 species and 150,000 azaleas. The park is a popular spot for cherry blossom viewing, and the festival announcements should be coming soon.
Explore Tsuruga Castle
While there are plenty of castles in Japan that are beautiful during sakura season, Tsuruga Castle in Aizuwakamatsu is a must-visit if you're in Tohoku. The atmospheric grounds are the perfect place to enjoy a cup of Japanese matcha at Rinkaku Teahouse while taking in the cherry blossoms. Expect the cherry blossoms to bloom sometime between mid-April and May.
Embrace Rural Japan
Tohoku is a largely rural area that's home to plenty of national parks, hot spring resorts, and charming towns. Embrace the slower pace of life and take the time to explore the countryside while you're in Tohoku. You'll be rewarded with stunning cherry blossom views and plenty of local hospitality.
Hokkaido
Visiting Hokkaido, Japan's northern-most island is always a great idea! Whether you're a seasoned traveler or a first-time visitor, there's always something new and exciting to discover here. Hokkaido is a place of unparalleled beauty and diversity, with a wide variety of activities and attractions to enjoy throughout the year.
To help you make the most of your trip to Hokkaido, we've compiled a simple guide to some of the best places to visit during cherry blossom season.
Visit Sapporo
Sapporo is one of Japan's largest cities, but it has a relaxed, laid-back atmosphere that's perfect for enjoying the cherry blossoms. Head to Odori Park, which stretches for over a kilometer through the heart of the city. Here you'll find hundreds of cherry trees, including the famous weeping cherry tree that's over a hundred years old. For a bird's-eye view of the park and the surrounding city, take a trip up the TV Tower Observatory.
If you're looking for a quieter spot to enjoy the blossoms, head to Maruyama Park. This park is home to the Hokkaido Shrine, which is surrounded by cherry trees that bloom in early May. Take a stroll through the park and enjoy the peaceful atmosphere, or grab a bento box and have a picnic under the trees.
Explore Matsumae-jo
Matsumae-jo is the only castle in Hokkaido, and it's surrounded by a park with over 10,000 cherry trees. Because the different varieties of cherry trees bloom at different times, you can see the blossoms for nearly a month. The best time to visit is during the Matsumae Park Cherry Blossom Festival, which takes place from mid-April to mid-May. During this time, you can enjoy traditional Japanese performances and food, as well as illuminations at night.
Discover Hakodate
Hakodate is a southern city in Hokkaido that's known for its beautiful cherry blossoms. The Goryokaku Fort, which was once a military stronghold, is now a public park that's home to over 1,600 Yoshino cherry trees. The best time to visit is in late April, when the trees are in full bloom. Take a stroll around the fort's star-shaped moat and enjoy the picturesque scenery.
Consider Timing
If you're on a budget and want to save money on your trip to Hokkaido, consider waiting until May 1st to visit. While you'll miss the main cherry blossom season in other parts of Japan, the trees in Hokkaido will just be starting to bloom. This is a great time to enjoy the blossoms without the crowds, and you can save money on flights and accommodation.
Video: Going To A Cherry Blossom Festival In Japan
Thinking of going to a cherry blossom festival in Japan? Catch a glimpse of what it's like to join the crowds at the famous Hanami (cherry blossom viewing) festivals in Tokyo, Kyoto, Nara and more. You'll see stunning red and pink flowers everywhere you look, along with people wearing traditional yukata kimonos and enjoying delicious food!
The video takes place during cherry blossom season in Japan, and it starts with a sweeping shot of cherry blossom trees in full bloom. As the camera moves closer, we see people gathered underneath the trees, having picnics, drinking sake, and enjoying the festive atmosphere.
Throughout the video, we see close-ups of cherry blossom petals falling gently to the ground, creating a beautiful pink carpet. We also see people taking photos of the cherry blossoms, some with traditional Japanese clothing like kimonos and yukatas.
Overall, the video captures the joy and beauty of cherry blossom season in Japan, and the sense of community that comes with it. It's a celebration of nature, culture, and the fleeting beauty of life.
Frequently Asked Questions
1. When is cherry blossom season in Japan?
Cherry blossom season in Japan typically begins in late March to early April and lasts for about two weeks. However, the exact timing varies depending on the location and weather conditions.
2. Where are the best places to see cherry blossoms in Japan?
Some of the best places to see cherry blossoms in Japan include Tokyo's Ueno Park and Shinjuku Gyoen National Garden, Kyoto's Maruyama Park and Philosopher's Path, and Osaka Castle Park.
3. Are there any special events or festivals during cherry blossom season in Japan?
Yes, there are several festivals and events held during cherry blossom season in Japan. Some of the most popular ones include Tokyo's Nakameguro Sakura Festival, Kyoto's Higashiyama Hanatouro, and Fukuoka's Maizuru Park Sakura Festival.
4. What is hanami?
Hanami is the Japanese tradition of enjoying the beauty of cherry blossoms. It usually involves picnicking under the cherry trees with friends and family, drinking sake, and enjoying the festive atmosphere.
5. What is the significance of cherry blossoms in Japanese culture?
Cherry blossoms are a symbol of renewal and the fleeting nature of life in Japanese culture. They are also associated with the samurai, who saw the cherry blossoms as a symbol of their own brief and beautiful lives.
6. Can I see cherry blossoms in Hokkaido?
Yes, cherry blossoms also bloom in Hokkaido, but they bloom later than in other parts of Japan. The best time to see cherry blossoms in Hokkaido is usually in early May.
7. How crowded are the cherry blossom viewing spots in Japan?
Cherry blossom viewing spots in Japan can get very crowded, especially on weekends and holidays. It's best to arrive early in the day to secure a good spot.
8. What is the best way to travel around Japan during cherry blossom season?
Train is the best way to travel around Japan during cherry blossom season. Japan has an extensive network of trains that run on time and are very efficient. You can also rent a car, but be aware that traffic can be heavy and parking can be expensive in popular cherry blossom viewing spots.
Final Thoughts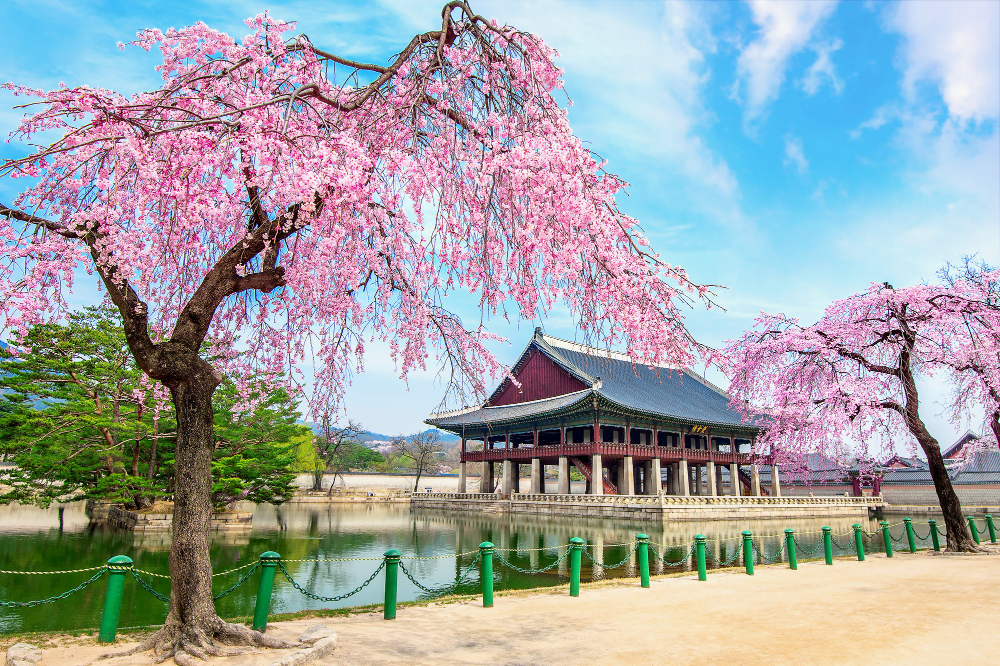 Make sure to plan ahead and check the latest updates on cherry blossom forecasts, peak viewing times, and festival schedules. Remember to respect the cherry blossoms and their surroundings by following the rules of each location, such as not climbing the trees or littering. With proper preparation and a sense of appreciation, you can fully enjoy the beauty and wonder of Japan's Cherry Blossom Season 2023. Don't miss out on this incredible natural wonder and cultural treasure, and get ready to create memories that will last a lifetime.
READ NEXT: List of 10 Best Traditional Festivals in Japan