In line with the series of upgrades and constructions going on in the city of Tokyo for the upcoming 2020 Olympics, the Tokyo Metropolitan Assembly also approved a 'stricter' version of the current national anti-smoking ordinance with the aim to achieve a tobacco-free 2020 Olympic event. The ordinance aims to instill discipline and to lower the risks of diseases brought about by second-hand smoke, especially to vulnerable populations.
The city's smoking ban heralds the enactment of a similar revision to the Health Promotion Law that is currently under review by the national Diet.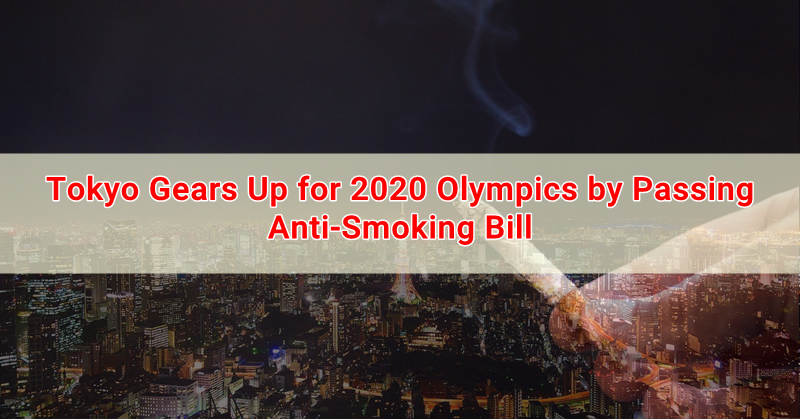 Tokyo Lawmakers Passes 'Stricter' Anti-Smoking Ordinance for 2020 Summer Olympics
The Tokyo ordinance is estimated to cover approximately around 84 per cent of bars and restaurants in the city, as opposed to the 45 per cent which are likely to be affected by the revised national law.
The new anti-smoking law aims to safeguard the health and well-being of those considered as vulnerable populations, particularly children and employees, through the total ban on smoking within and around public places including schools, kindergartens and day care centres.
While the metropolitan ordinance may appear 'stricter' than its national counterpart, there are still some clear limitations in banning smoking in certain facilities and establishments. For example, a lighter penalty is applied for smoking within certain establishments such as hospitals, universities, and government offices, where smoking is allowed in designated areas and outside the building.
The establishments which are subject to the least stringent regulation are hotels, gyms, and some food places, where only smoking indoors is disallowed. Even inside these premises, smoking is allowed for as long it is done in separate rooms or areas specifically designed to prevent smoke from leaking out.
Establishing and furthering measures against second-hand smoking has been a major challenge in Japan in recent years despite its membership in the World Health Organization (WHO) convention on tobacco control. Japan does not have a national law that bans smoking in public. Because of this, Japan had been relegated in the lowest tier-group of nations in terms of smoke-free policies and regulations according to a 2017 WHO report.
The city ordinance is set to be implemented by April 2020, only a few months before the 2020 Summer Olympics. The ordinance received a large vote from the majority, and gained traction from parties such as Komeito and Tomin First no Kai, but not from the Liberal Democratic Party.
The city ordinance poses stricter control in smoking in restaurant and eateries as opposed to its national counterpart. Establishment owners and smokers who will violate the ordinance will be fined amounting up to JPY 50,000.