Japan is starting to change their immigration policies, and it seems to benefit Filipinos in more ways than one. Last month, the government, under the efforts of Prime Minister Shinzo Abe, had begun discussing on how to implement a new visa status for blue-collared workers. The move aims to bridge the growing need for skilled workers in the labour market of fast-ageing Japan.
This time, Japan is looking to improve the process in getting a visa for Filipino business travelers. The move aims to promote exchanges of professionals between the two countries.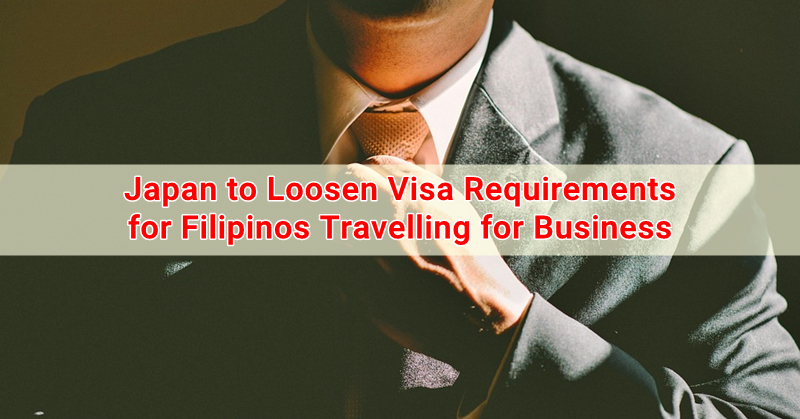 Japan Eases Visa Restrictions on Filipinos Traveling for Business
Japan's Ministry of Foreign Affairs (MFA) announced last July 31 (Tuesday), that the maximum validity period of multiple-entry visas for Filipinos will be extended from five to ten years.
In line with this, the scope of eligible applicants for the Japanese visa will also be expanded, shared the MFA.
Furthermore, certain professionals including medical doctors, certified public accountants, and lawyers can now avail visas for cultural and intellectual purposes, which until now, has only been restricted to certain occupations such as university professors.
Japan, for the longest time has been known to employ strict immigration policies for foreign nationals, however, with more pressing issues such as labour shortage and its repercussions to the overall economic performance of the country, government officials are now exploring systems and methods to expedite the residency status application of foreign workers and professionals, including the abovementioned occupations and the industries they identify with.
However, as Japan seeks to address all issues laid on the table, the government is also taking precautionary measures to ensure that all involved parties will benefit in the process, and that systems to be set in place follow international labor standards and foreign policies recognized by countries which Japan has identified to forge lasting partnerships with, including the Philippines.