The important (and seemingly inevitable) decision of Japan's government to open its doors to more foreign workers is viewed as a timely and logical solution to cope with the nation's already declining working population.
As the move implies a change in the scope of non-Japanese workers to be accepted into a country, which has stood by firmly on strict immigration policies, a major policy change is also to be expected.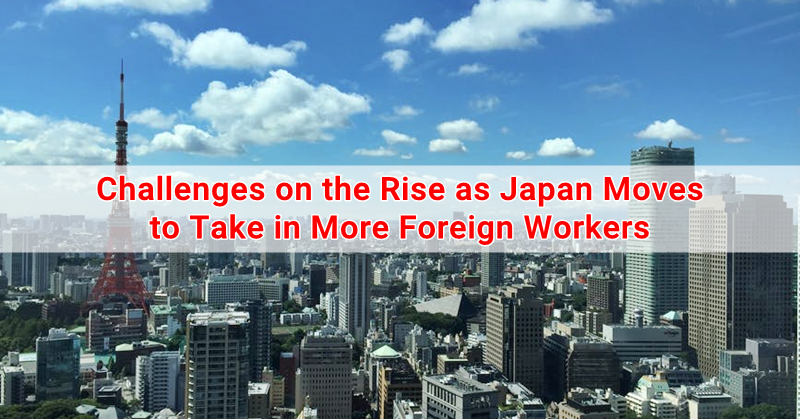 As Japan Moves to Accept more Foreign Workers, Challenges Build up
However, as the challenges that come along with a rapidly ageing Japanese population seem too many and too important to deter, a need for a clear-cut approach is called upon by foreign policy observers in order to ultimately attain a society which is relatively easier for foreign nationals to reside and work in.
According to the chairman of the Japan Association of Executives, Yoshimitsu Kobayashi, the relegation of jobs to foreign workers in the country would be a natural turn of events, at least in Japan.
Mr. Kobayashi explained that Japan has now entered a period where the country, at present and in the future, would benefit from the entry of foreign blue-collared workers and not just highly-skilled professionals, at a press conference last Tuesday (July 24).
Japan's Prime Minister Shinzo Abe has laid out instructions to his Cabinet ministers regarding the necessary preparations which they need to undertake in order to start accepting more foreign workers through the imposition of a new residential status for this sector starting April of 2019.
The plan, once set into motion, would place a 5-year residency limit for the new status, as part of the government's methods to distinguish the move from promoting immigration.
This provision was criticized by foreign labour policies lawyer, Shoichi Ibusuki, saying that it's unacceptable from a humanitarian point of view, to keep foreign workers away from their families for such a long period of time (i.e. five years).
Another senior labour ministry official also expressed concern regarding the practice of the unfair wage rates to foreign workers in the labour sector. This situation would not only prove to be disadvantageous on the part of foreign workers, but it would also displace jobs from the remaining Japanese nationals in the workforce.
As of the moment, Japan only offers limited paths to securing work legally. Foreign nationals are granted residential status to work in certain fields such as education, health care, business management, as well as law.
Despite the notable increase in the presence of foreign labourers in recent years, sectoral gaps have yet to be addressed, particularly in the nursing care sector where the demand for service workers remains at an all-time high. And while the government has set alternative ways for foreign workers to land jobs in the nursing care sector, one of the biggest hurdles for these workers to securing a job in Japan is their ability to use the Japanese language.
The government is currently working to create a society where both Japanese nationals and non-Japanese people can coexist harmoniously, and to set measures to help foreign nationals learn the language and effectively find housing.
And while various opinions have risen to the table as the new policy is being drawn into place, proposals have been tendered to rebuild the Immigration Bureau and organize a Justice Ministry-affiliated agency which will primarily deal with low-skilled foreign nationals.