Only a few weeks have passed since a large part of western Japan had been thrashed by heavy torrential rains, flooding, and landslides, taking over 200 lives and wiping out communities, then followed by a deadly heat wave, and now a typhoon is projected to make a landfall in Japan over the last weekend of July according to the Meteorological Agency last July 27 (Friday).
Typhoon Jongdari is the season's 12th typhoon, and is projected to drive winds of about 200 kilometres per hour and is projected to travel south of Tokyo Saturday afternoon, and then make an unusual turn to the west, passing either through the Kinki region which includes the Osaka ward or the Tokai region where Nagoya is located by Sunday morning, the agency explained.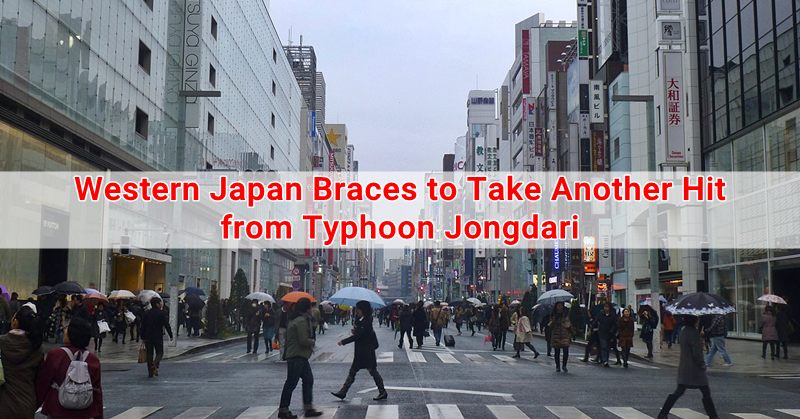 Honshu-bound Typhoon Threatens to Wreak more Havoc in already battered Western Japan
Typhoon Jongdari was first located off Chichijima Island in the Pacific, approximately about 621 miles (1,000 kilometres) southeast of Tokyo as of 2:00 pm (Japan time) last Friday. Packing up strong winds with speeds of up to 144 kilometres per hour, the typhoon is expected to speed up and hit at full intensity as it enters mainland Japan on Saturday afternoon as per the Japan Meteorological Agency.
The Japan Meteorological Agency has warned all regions projected to take a hit in the course of the typhoon of heavy rainfall of up to 500 millimetres over 24 hours. The agency has also urged the residents along the trajectory of the typhoon to stay on guard for the risk of flooding and landslides. Japan's capital, Tokyo, which will hold its Sumidagawa fireworks Festival, which draws up to a million visitors, has announced to delay the event until Sunday, in preparation for the incoming weather disturbance.
Typhoon Jongdari would be the first tropical cyclone to make a direct landfall in the country this year. Japan has seen an increase in the number of typhoons making direct impact in the country in recent years, with at least four during the last four years.