Another weather disturbance in the form of Typhoon Jongdari has hit Japan Sunday morning leaving at least 24 injured due to strong winds and then causing high temperatures reaching up to 40 degrees Celsius within the Hokuriku region right along the Sea of Japan.
In spite of this, no damages or injuries have been immediately reported in disaster-ravaged areas of Western Japan due to Jongdari, as local authorities had advised community residents to evacuate as early as possible as a precautionary measure.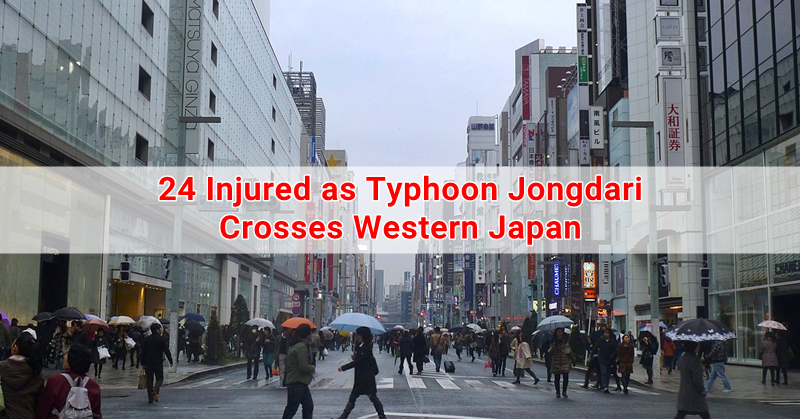 Typhoon Jongdari Courses through West Japan, Leaves 24 Injured
Typhoon Jongdari made landfall in Ise, within the Mie Prefecture last Sunday morning (July 29). With its heavy rainfall, came a hot phenomenon of intense heat close to 40 degrees Celsius in Hokuriku, known as Foehn wind, or humid air that becomes warm and dry after passing through high mountains.
According to a report by Kyodo News, typhoon Jongdari has left at least 24 people injured over the weekend, some after by being hit by falling objects. Meanwhile, there have been no reports of deaths or missing persons as of Sunday evening.
The typhoon, which had taken an unusual westward route, traversed through most of the disaster-hit areas of West Japan. Earlier, the government had released a rare advisory prompting the locals to evacuate in advance as a precautionary measure.
The disaster-struck areas remained to be on high alert warning as the Meteorological Agency warned of possible flooding and landslides, as well as high waves.
Typhoon Jongdari has decreased to 25 kph as it made landfall in Japan and as it continued to move west towards Kyushu, and then entering the vicinity of Saga prefecture Sunday night.
Rain is expected to persist in some areas of the country even after the typhoon passes. Also, temperatures are expected to rise once again, bringing back the threat of heat exhaustion and heat stroke which has already led to a wide number of hospitalizations and a number of deaths, particularly among the elderly population across the country.