As temperature records continuously go up during the summer here in Japan, officials have issued new warnings just last Monday (July 23), that people residing in areas with temperatures reaching 35 degrees or even higher should be extremely careful to avoid incidences of heatstroke and other heat-related conditions, shared Minako Sakurai, an official at the Japan Meteorological Agency.
According to national officials, the heat wave phenomenon blanketing majority of the country has already killed at least 15 people and accounted for over 120,000 cases of hospitalizations during the first two weeks of July alone.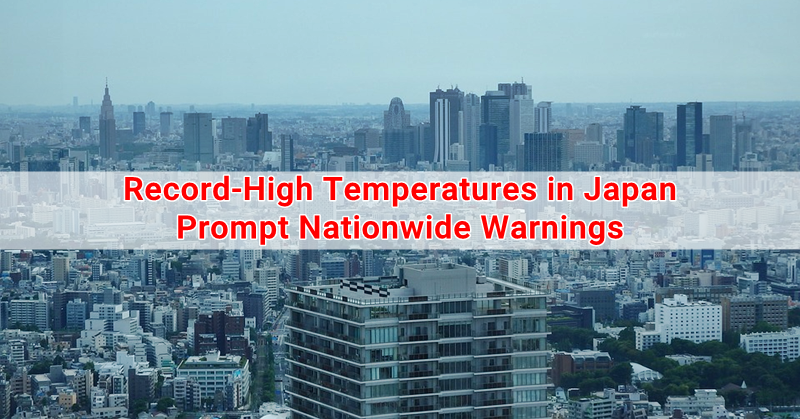 Record-breaking Heat in Japan Prompts Nationwide Warnings
However, the actual death toll could be twice higher than that because there have already been 11 reported deaths last July 21 (Saturday) alone according to the Kyodo News Agency. An updated official toll is expected to be issued later in the week.
The heat wave in the country has already exceeding temperature records all over Japan, with Kumagaya in the Saitama Prefecture logging the new highest heat record all over Japan last Monday at 41 degrees Celsius. And in Ome, the western section of Tokyo, temperatures have already hit 40.3 degrees Celsius. This is the first time Tokyo's metropolitan area has experienced temperatures beyond 40 degrees.
In other 13 observation areas monitored by the Meteorological Agency, records started to fall slightly, but over a dozen cities and towns have logged temperatures reaching 40 degrees.
According to Sakurai of the Japan Meteorological Agency, despite slightly lower temperatures in some areas of the country, the heat can still be considered harmful for small children and the elderly people depending on the environment and activities these groups are exposed to.
She added that everyone should take extra precaution because their bodies must be exhausted after days of gruelling weather conditions experienced all over the country.
Japan's Disaster Management Agency has encouraged people to use air conditioning systems, to remain properly hydrated and to take frequent rest periods even while at work.
The heat wave blanketing the nation comes right after a disastrous rainfall wiping out parts of Western and Central Japan due to heavy flooding and landslides which killed over 220 people.
Summers in Japan are known to be extremely hot and humid, but this year's temperature records have sparked concerns among residents and officials alike regarding the 2020 Summer Olympics which will be held in Tokyo two years from now sometime in July and August.
Olympic organizers and officials are currently working with Tokyo government authorities in pushing for solar-blocking paint application on roads and setting up mobile misting stations to address the heat in the city.