As early as Thursday (August 30) last week, international media have been all eyes on the weather system known as "Jebi" which is expected to head towards disaster-struck Japan this week. According to the U.S. Joint Typhoon Warning Centre, "Jebi" is believed to be among the strongest, if not the strongest typhoon recorded this year.
As of Monday (September 3), the weather agency has already issued warnings of strong winds, high waves, and heavy rainfall as the typhoon approaches Japan's southern Pacific coastline, and is expected to make landfall on the Kii Peninsula or Shikoku region around Tuesday noon, as shared in a report by the Japan Times.
Typhoon Jebi Expected to Hit Western or Central Japan this Week
In line with this development, several transportation companies including the West Japan Railway Co. better known as JR West, issued an announcement regarding a possible suspension of train services in areas from Kyoto through Kobe by 10 a.m. Tuesday.
On the other hand Shikoku Japan Railway Co., better known as JR Shikoku, had also announced plans to temporarily cease all of its operations on the entire island prefecture starting 9 a.m. Tuesday.
Also, the Universal Studios Japan in Osaka, one of the country's leading theme parks, and Osaka Aquarium Kaiyukan, another popular tourist spot, had announced that they will be closed all day on Tuesday.
As of Monday afternoon, Typhoon Jebi was monitored to be on the move towards north-northwest in the Pacific Ocean, further south off the main island of Honshu, with a speed of 20 kph, an atmospheric pressure of 945 hectopascals at its centre, and strong winds of to 216 kph, as reported by the Meteorological Agency.
Labelled as a "very strong" typhoon by the national weather agency based on the strength of its gusts, Jebi is expected to set a new record as the strongest typhoon that has hit Japan during the last 25 years if it keeps its current strength, as explained by an agency official during a media conference.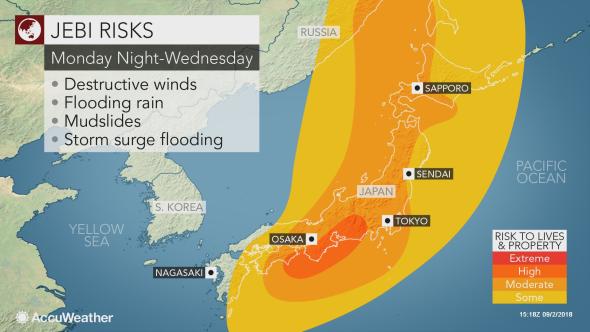 Moreover, the weather agency had urged all citizens in areas expected to be hit by the typhoon, to remain vigilant for flash flooding, mudslides, as well as high tides.
Judging by its course of movement, Jebi might hit close to parts of disaster-struck areas in western Japan, which had tallied over 200 deaths in July. Fortunately, the typhoon is expected to speed up once it makes landfall, minimizing the concentration of rainfall in a single place.
The weather agency had predicted that up to 150 mm of rain may fall in some areas of western and central Japan by Tuesday morning.