If you're planning to work or travel to other countries such as Japan, then you need to be advised about an on-going update as to the requirements for immigration recently implemented by the Philippine government starting this July. The Bureau of Immigration (BI) has released newly-printed copies of travel cards to be used by international passengers at the Ninoy Aquino International Airport (NAIA).
According to Mr. Jaime Morente, Commissioner of the Bureau of Investigation, the newly-printed travel cards, which have been in circulation since July 1, aim to improve the monitoring of foreigners entering the country, as well as the safe departure of Filipinos overseas.
In addition, the BI Commissioner stated that the use of the new and updated travel cards will help improve the data gathering efforts of the agency for alien monitoring and mapping, as well as for the profiling of important information to enhance safety protocols and immigration practices for Filipinos exiting the country.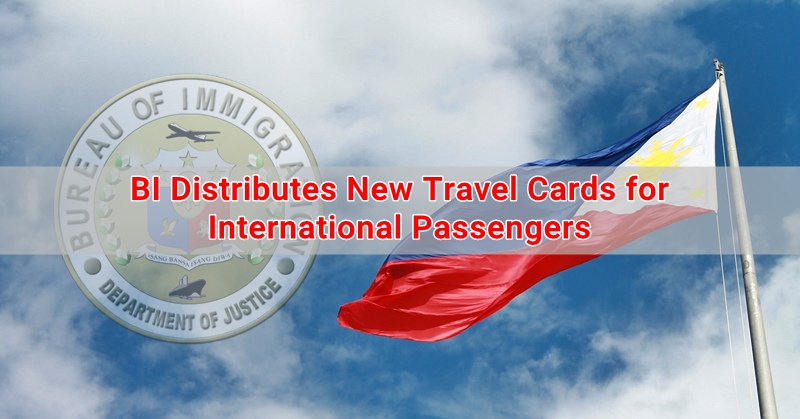 BI Rolls Out New Departure, Arrival Cards for International Passengers
The use of the updated travel cards will greatly improve border management run by the Bureau, shared Commissioner Morente.
Additionally, the BI OIC Deputy Commissioner, Marc Red Mascariñas shared that the newly-printed travel cards have already been delivered and circulated to various international airlines all over the country since early this month.
Copies of newly-printed travel cards are now being used at the arrival and departure areas of the immigration centres in all three NAIA terminals, Mr Mascariñas said.
As to the use and functions of the new travel cards, passengers are requested to fill out all  their travel-related information on the official document card including their full name, nationality contact number, occupation, , passport number, flight/voyage number, purpose of trip,  port of exit/destination, and their address in the Philippines and abroad. They will also be required to sign the section with the statement of declaration to certify that all the information provided in the card is true, correct, and complete.
The use of travel cards has long been part of immigration practice in most parts of the world. This system safeguards proper documentation of passengers upon entry/exit in various border locations and it helps with data collection processes for passenger statistics. The BI also revealed that the old arrival and departure cards are no longer acknowledged because they do not have the current and relevant features needed for collecting sufficient data on travelers coming in and going out of the country.