UPDATE: Be advised that the One Health Pass system is no longer working and all travellers to the Philippines must register for an eTravel card. Please follow this guide for reference – eTravel Registration Card for Visitors to the Philippines
The pandemic has kept the majority of the world inside their homes, including overseas Filipinos, for nearly two years now. But things are now starting to turn for the better – certainly at least for those based in Japan as the Philippines has announced that the country is now part of its green list.
For the uninformed, travelers arriving from countries on the green list will no longer be required to go through the mandatory quarantine process. While many have embraced the good news, particularly Filipinos in Japan, there are still some rules in place for travelers, whether Filipino or foreign nationals. This includes using the One Health Pass website. This will be critical for you if you want to fly back home to the Philippines during the Christmas season or in the near future. If you want to learn more about the new online registration system, keep reading until the end of this article.
Guide in One Health Pass Registration for Filipinos Based in Japan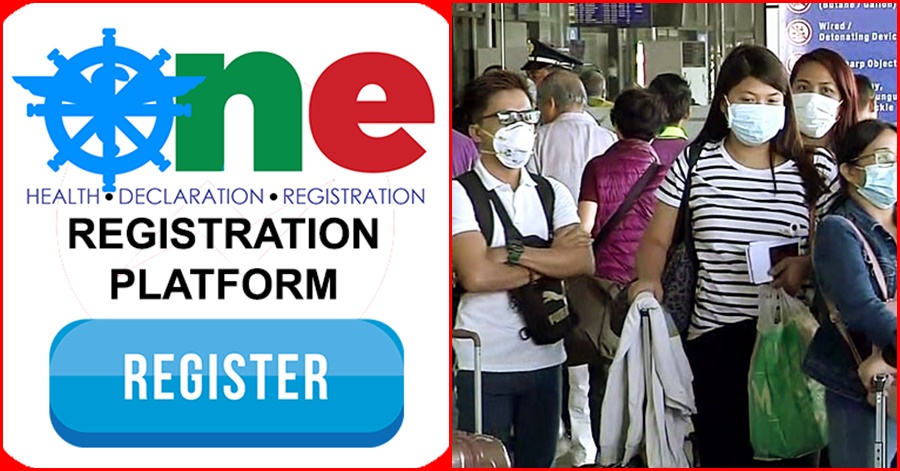 You may be one of the numerous Filipinos in Japan and elsewhere who were unable to return home during the pandemic. The good news is that you may do so right now, and without having to go through quarantine! Simply follow the Philippine government's travel rules and processes for entrance into the country. The usage of the One Health Pass system is included.
Filipinos will be able to enter and exit the nation more quickly, owing to the new streamlined travel system.
This method will make it possible for you to travel between Japan and the Philippines in a simple and efficient manner. It would also help monitor the safety and well-being of Filipino workers from other nations throughout the epidemic.
What is the One Health Pass?
The One Health Pass is a one-of-a-kind process that allows passengers to securely and conveniently input their health information online.
Because everything will be done online, travellers will not have to deal with any additional paperwork. As a consequence, the technology has the potential to significantly lower the risk of visitors becoming infected with the virus, particularly at the airport or during their flight.
What are the Requirements?
The gathering and management of data is the foundation of this one-of-a-kind and timely system for tourists and Filipinos traveling to or from the Philippines. This is extremely beneficial to all parties involved, including national and local governments as well as individuals, because it eliminates the delays and problems associated with manually creating or managing massive volumes of data.
By providing your information, you give the authorities permission to use and collect information about you for the public benefit.
On the One Health Pass website, you may also find the health declaration and registration form.
You will also be required to present your travel papers, such as your passport and flight ticket, in accordance with this.
Qualifications
To prevent being stuck, every Filipino wishing to return or visit abroad after September 1, 2021, must register with the Bureau of Quarantine (BOQ). This also applies to all visitors, whether Filipino or international, who will visit the Philippines throughout the system's operating period or until travel safety requirements are applied during the pandemic.
Features and Benefits
Authorities require all travelers to use the One Health Pass for a variety of compelling reasons. Here are a couple of examples:
The One Health Pass eliminates the need for passengers to bring with them several paper documents.
Limiting their movement within the airport also helps to reduce interaction with people and virus exposure.
Because the airport and other required organizations have access to this digital platform, travelers may be able to save time and money on processing transactions.
The system has a variety of features that allow you to track and save all of your data in a secure cloud environment. This decreases the amount of human effort necessary to collect and analyze all pertinent data. It also allows you to focus on preparing for your trip or returning to work.
How to Register via the One Health Pass (7 Steps)
Now that we've established the relevance and benefits of the new system, below are the online registration procedures:
Pre-Departure
Step 1: To get a transaction number, anybody going to or from the Philippines should register at least three (3) days in advance on the One Health Pass website (https://www.onehealthpass.com.ph/e-HDC/).
Note: Non-OFWs and international citizens arriving from yellow or red list nations must book a ten-day stay at a Quarantine Hotel. To find a list of accredited hotels, go to www.onehealthpass.com.ph/quarantinehotels/. OFWs, on the other hand, will not be needed to complete this step because the OWWA will handle their hotel reservations.
Step 2: Take a screenshot of your record when the system has generated it. Before entering the Philippines, authorities will need you to provide this documentation.
Step 3: Within 24 hours of your flight or before boarding, you must complete a health declaration checklist.
Upon Arrival
Step 4: When you arrive, show your OHP personal QR code to be verified and assigned to a hotel. Following that, you will be escorted to an orientation provided by an immigration officer before being granted immigration clearance and directed to your transportation service or quarantine hotel.
Step 5: To clear your arrival, proceed to the Immigration Bureau, then to baggage claims and customs inspection.
The One Health Pass System will notify your local government unit of your travel status and whether or not you are now permitted to travel overseas for business or pleasure.
Step 6: Then you'll be told to take a pre-arranged or certified mode of transportation.
Step 7: [For those who must be quuarantined] When your quarantine period is up, you will be given your COVID-19 test result as well as a quarantine certificate.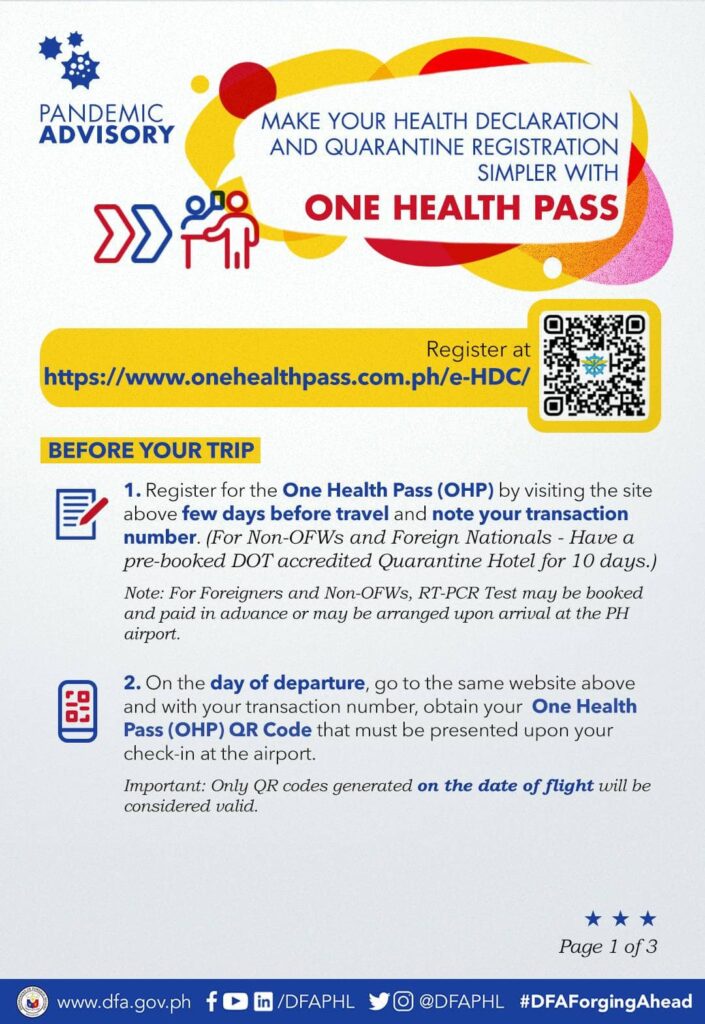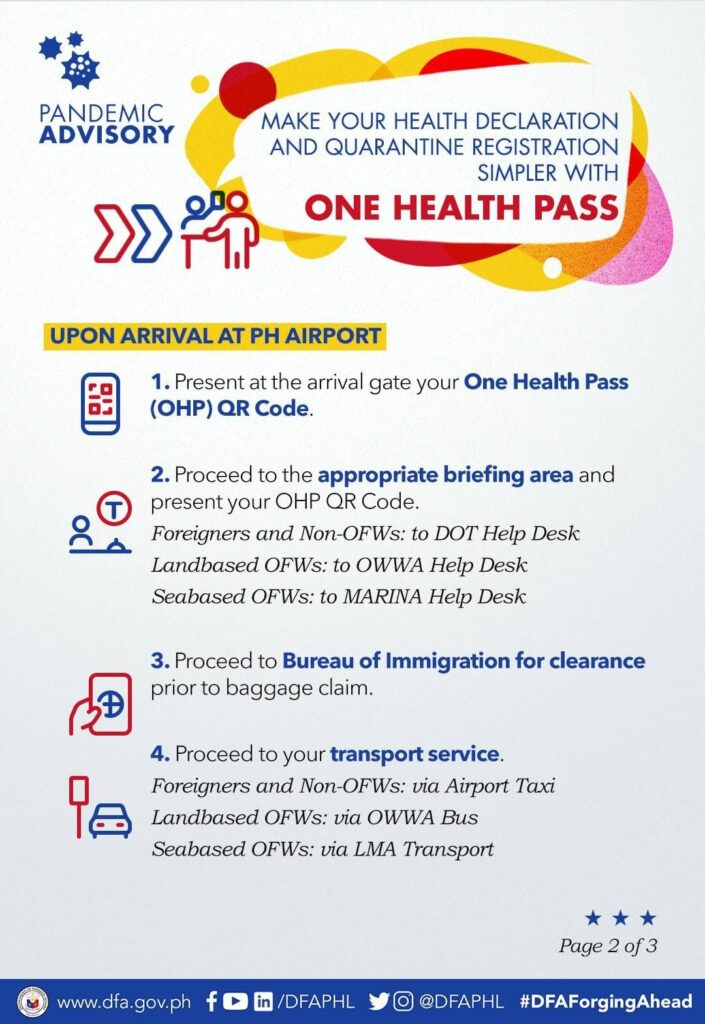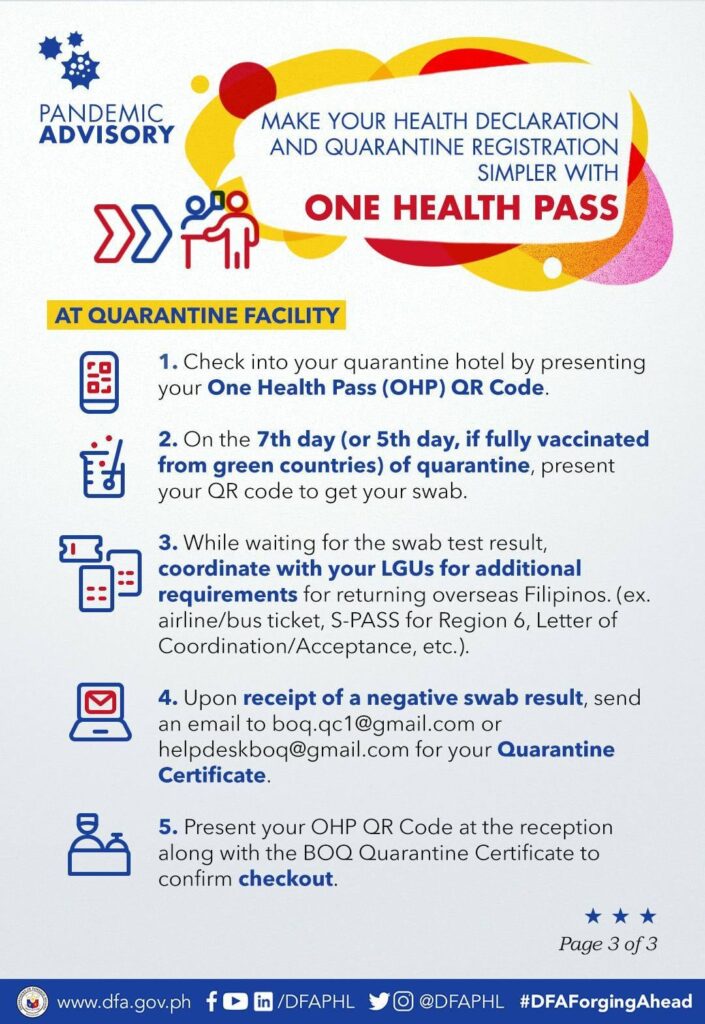 Video: How to Register Using the One Health Pass
In this video, a YouTube personality talks about the various requirements of the One Health Pass. She also explains how to get a QR code to activate the pass.
In September 2021, a new online system was launched, which would require all foreigners and OFWs to register.
Before traveling to the Philippines, you must complete all of the requirements outlined in this guide. Doing so will allow you to enjoy your stay without experiencing any delays.
Frequently Asked Questions (FAQs) Regarding the One Health Pass (OHP)
Because the OHP is still a new system, we've created a list of commonly asked questions regarding it.
Is there a cost to register in the OHP system?
No, there are no costs for registration on the system. When you return to or leave the country, you will just need to provide information online and submit your data for national and local record-keeping, tracking, and monitoring purposes. As a result, you must give current and correct information about your employment, health, and citizenship status as an OFW/Filipino citizen.
When is the right time to enroll in the OHP system?
Fill out the registration and health declaration forms on the One Health Pass website up to three days before your travel to prevent wasting time at the airport. You can still fill them out at the airport, but it's better to do so ahead of time and in the comfort of your own home so you don't feel rushed or pressed to do so on the spot.
What other documents do I need to bring with me to the airport?
Passports, plane tickets, and now your vaccination certificate must be presented at the airport upon arrival. To save time at the airport, fill out the registration and health declaration forms on the One Health Pass website. However, you may still complete these forms upon arrival. That being said, do it early and in the privacy of your own house (up to three days before your arrival in the Philippines).
Is it necessary to download an app to my smartphone in order to register?
No. The OHP is a mobile-optimized information system that works well across several devices. It provides a simple and secure manner of accessing information, and it is designed to work easily across several devices.
I am not an OFW, but rather a Filipino living in another country on vacation. Is it also required that I register?
Yes, all tourists entering or leaving the Philippines, whether on business or pleasure, are required to complete out the online form. OFWs must use caution when referencing a quarantine facility/hotel on their documents, since the OWWA will place them in one. According to local government regulations, all other travellers must mention on their forms that they are traveling to the Philippines on their own initiative and will be liable for any expenses incurred as a result.
Final Thoughts
This is great news for our kababayans in Japan. It means that they can now travel home to be with their families without having to go through lengthy procedures. However, there are still some conditions that must be followed in order for your journey to be smooth.
One Health Pass is a service that will help kababayans in Japan get to and from the Philippines easily. This is a vital step that will allow them to save money and travel with ease.
READ NEXT: Japan Rolls Out Vaccination Passports for International Travels