Japan has just recently raised the alarm for its citizens a few weeks ago, but it seems that the country is about to take another hit from a super typhoon at the beginning of this month – the strongest in the world for this year, according to the U.S. Joint Typhoon Warning Centre.
The powerful weather system, internationally known as Jebi strengthened from a tropical storm to the equivalent of a Category 5 super typhoon, with a speed of 110 mph of maximum sustained wind speed over 48 hours from early Wednesday through Friday afternoon, as reported by The Weather Channel.
Japan Braces for the Earth's Strongest Typhoon for 2018
What is believed to be Earth's most powerful typhoon of 2018 so far is currently moving northwest of Guam. The storm's trajectory is expected to make a northwest curl for the Pacific over the weekend. This will eventually head towards northeast and pose a new threat to the Japanese archipelago by Tuesday. With this, damaging winds, rainfall flooding, mudslides, and coastal overflows are all possible.
At present, Jebi packs maximum winds with strength of 175 mph and is looking every bit the part on the Himawari-8 satellite image with a crisp, 20-mile wide eye radius as shown below: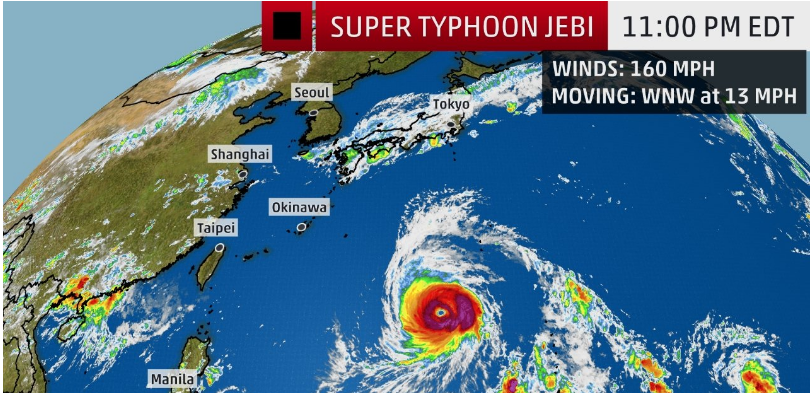 Typhoon Jebi had coursed 300 miles off north of Guam last Thursday (August 30) ravaging the islands of Agrihan, Alamagan, and Pagan along the Northern Mariana Islands with strong winds of over 100 mph, as shared in an update by the National Weather Service in Guam.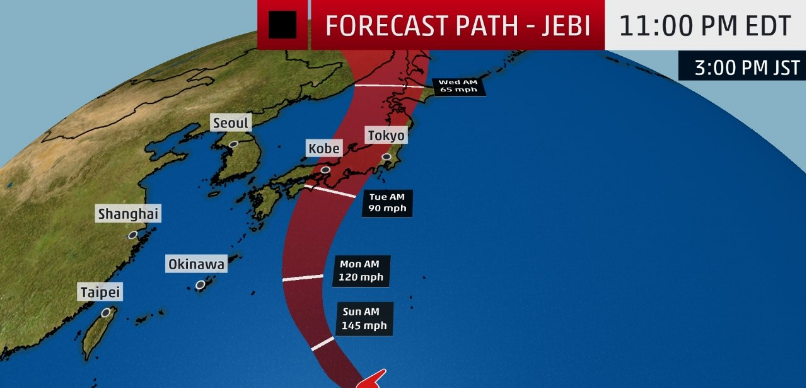 And while Jebi poses unquestionable threat as it courses through the Pacific at this time, experts forecast, that the typhoon won't be as strong by the time it hits (or brushes off) Japan in the coming days. Jebi might also go for a steep north-northeast turn heading far out to Hokkaido, as a tropical storm by Wednesday.
As to where exactly the worst impact may occur, should Jebi make a direct hit in Japan by Tuesday, still remains uncertain as of these times.
Meanwhile, watch a video on this news update posted by Force Thirteen: