If you're not familiar with Japan's climate and weather conditions, you should know that the summer season in the country can be very hot and humid, with temperature levels reaching up to a record high of 41 degrees! As such, many people take refuge in the mountains or unwind by the sea.
However, as the heat begins to subside in the evenings, people gather around to watch fireworks displays and participate in traditional festivals. As fun as that sounds, nobody should come unprepared for this situation – as several locals (yes, even locals!) suffer, even die out of heat exhaustion, heatstroke, and other related conditions during this time.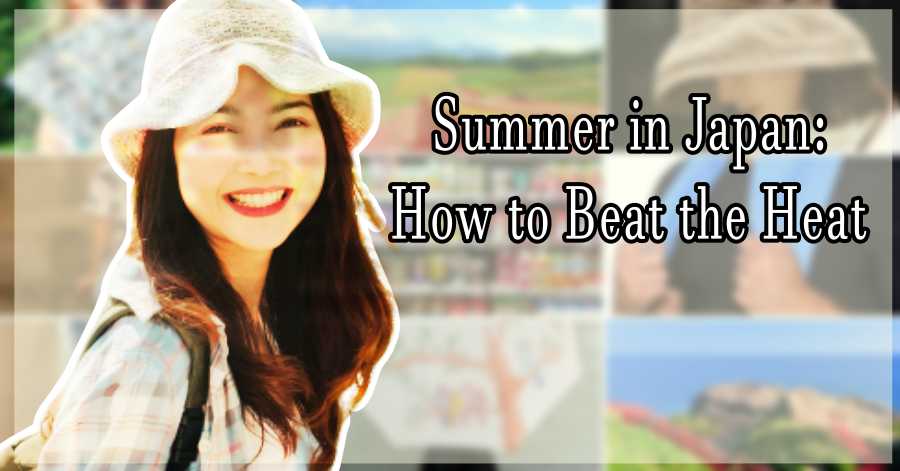 13 Simple Ways to Cool off this Summer in Japan
With that, we present you with a list of some of the most practical yet clever ways how to deal with the summer heat in the country. Keep reading to find out more.
1. Take advantage of Japan's cool technology.
Not cool as in trendy, though they can be, too – as you know, Japan is one of the leading countries in terms of technology. And true to their label, Japan offers various tech products, from clothing to gadgets, to help people deal with the sweltering heat on the island-nation.
In Japan, there are various kinds of clothes that are designed to help women feel more lady-like and cool and fresh at the same time. They can be found in various stores and even at some convenience stores.
2. Drink up!
While this one seems like an obvious tip, it's worth noting that there are so many convenience stores in Japan that you can easily find plenty of cold drinks, from fruit to coffee to carbonated – they've got everything that'll match your preference and will make a big hit in the summer season – all of which, come in different varieties and packs with English labels so choosing one shouldn't be a problem for foreigners and visitors!
3. Be a fan of fans.
There are a variety of electric fans that are made to blow air into your face. They're very useful and can be placed on your neck to keep cool. Some of them also have water bottles attached to them.
You can also get old-fashioned fans that are made to blow air on yourself. They can be bought from souvenir shops or from convenience stores. They're lightweight and you can take them anywhere you go when traveling around.
4. Bring cooling wipes
A cooling wipe is a must-have item in Japan during the summer season. It works by removing the excess oil and impurities from your body.
These items are very popular in Japan due to their portability and effectiveness. They can be bought from various places such as train stations and convenience stores.
The cooling wipe has a small amount of menthol on it, which helps to cool down the skin. It's a great way to avoid getting overheated while walking on the hot streets of the city.
5. Go window-shopping in malls or splurge to cool your head off
If you're looking for a way to beat the heat, shopping is a great way to do it. The stores that keep the AC running all day will offer you some nice products you can happily take home with you if you feel like spending for a good price.
Even in the outdoor shopping areas, there are fans and overhangs to deal with the sun's rays. That being said, it's always a good idea to go inside a store to cool off.
Since Japan's deep-rooted culture of craftsmanship has earned it a reputation as one of the world's most skilled and innovative nations, many Japanese products are acknowledged as such.
From the delicate porcelain used for centuries to the latest gadgets and fashion, Japan has something for everyone. From tax-free deals to limited edition lineups, there's something for everyone in this country.
That being said, here are some reminders when you decide to go shopping in the country: 
While Japan is generally safe for international tourists, there are still some areas where problems can occur. This is why it is important to thoroughly check out the local establishments before you go.
Defective products: In Japan, quality control is generally good, and defective products are rare. However, it is still possible to find that the product you purchased is broken or unusable.
What to do before purchasing:
Never buy anything that is priced far below its regular value.
Before buying, make sure to thoroughly inspect the product to ensure that it's not damaged or defective.
If you're planning on buying expensive items, make sure that the retailer provides a warranty service or product exchange.
What to do after making a purchase:
It is common sense to keep a receipt for products that you buy. If a product gets damaged, return it and ask for an exchange.
Difficulty in returning a product: In Japan, all transactions are final. If a product is unused, most shops won't allow returns or refunds. This means that you can't return it even if there's nothing wrong with it.
Traveling can be very stressful, and it can lead to making spontaneous purchases. Before you go out to shop, try to avoid making these purchases. You can also request an exchange for defective products.
Pressured for duty-free purchases: Most of the tax-free shops in Japan are very safe and enjoyable to shop at. However, in recent years, some international visitors have complained about the quality of some of the products and services offered at these establishments.
There have been several issues regarding tax-free shopping in Japan, such as misleading information about the shops and the products they sell. Doing some quick research on the various types of products that are available in the country will help avoid these issues.
6. Go on a Cool Splash
There are plenty of water parks in Tokyo, but the best place to visit is the beaches around Japan. There are many beaches near the islands. Here are some of them:
Jodogahama Beach (Iwate, Japan) – This beach is located on the Rikuchu Coast and features crystal-clear waters and calm waves. It's referred to as Jodogahama, which translates to "pure land beach."
The beach at Jodogahama is not great for digging one's toes in the sand. However, the area's beauty and quiet atmosphere make up for it.
Aside from the beach, the nearby Jodogahama Visitor Center features hiking trails and maps of the nearby islands and waters. There are also cruises that take guests to nearby spots and islands, including the famous Blue Cave.
Okinawa Beaches – The tropical climate of Okinawa makes it the ideal place to enjoy beach activities in Japan. Aside from great coral reefs, it also has some of the longest beach seasons in the country.
While some beaches are great for diving and snorkeling, some remote areas are better for relaxing.
One of the most popular beaches in Okinawa is Manza Beach. It's a resort that features a wide range of activities, such as kayaking and swimming.
Another popular beach is Cape Manzamo, which is located near Manza Beach and can be reached on foot. It's a great place to watch the sunset.
Probably the most popular beaches in Okinawa are Kouri Beach and Emerald Beach. Both areas have great rock formations.
Kamakura Beaches – The beaches of Kamakura are located just an hour away from Tokyo and are known for their sandy beaches. These beaches are also popular among city dwellers.
The season for these beaches is very short, and the shoreline gets crowded during the summer months. However, if you have time, they're still a great place to go. They also feature Mt. Fuji while you're on the sand.
Most of the beaches in Kamakura are known for their surfing and wakeboard activities. Some of the busiest ones are Zaimokuza and Yuigahama.
The beaches of Kamakura are located next to each other, and they're ideal for swimming and relaxing. There are numerous cafés and restaurants along the shoreline.
The most remote beach is Zaimokuza Beach, which is known for its sea kayaking and water-biking activities.
Zushi Beach (Kanagawa, Japan) – The closest beach in Tokyo is usually quiet. This used to be the place to go if you're looking for late-night noise.
With its clean and modern appearance, this place has become a sought-after destination for sunset viewing.
For those looking for something a bit different, the cliffs around the beach are full of trails that are ideal for walking or running. There are also many cafés and restaurants nearby.
During the summer months, there are usually a lot of windsurfers and paddleboarders here. However, June and September are quieter and ideal for swimming.
Shirahama Onsen (Wakayama, Japan) – The town of Shirahama in Wakayama Prefecture is known for its hot springs and resorts. However, this is not the only place to go when looking for stunning beaches. The region also has a wide variety of beaches.
This beach is usually packed during the summer months, with people from all around the world visiting this area to surf, snorkel, or simply enjoy the sun. It's also the most developed beach in the area.
The beaches of Shirahama Chuo and Sotoura are relatively smaller and less busy, but they still have plenty of restaurants and pensions nearby.
Odaiba Beach (Tokyo, Japan) – Despite not being the most stunning beach in Japan, Tokyo's Odaiba Beach still remains one of the most visited places in the city. It's built right on the shore of Tokyo Bay and features a variety of shops and restaurants.
Although the water in this area is not ideal for swimming, it's still a great place to take in the sunset and relax in the sun.
During the summer, the area is filled with competitions for sailing and beach volleyball. In July, people stop by to see the paper lanterns that are lit up during the matsuri festival.
With a variety of shops and restaurants, Odaiba Beach is a great place to combine your sightseeing with a break from the regular bustle of Tokyo.
Tsunoshima Island (Yamaguchi, Japan) – The island of Tsunoshima is surrounded by white sandy beaches and the biggest bridge in Japan. Its four square kilometers make it look smaller.
Getting to the main beach from the parking lot requires a walk away, as this area doesn't have any facilities. Instead, most visitors go to the other side of the bridge to visit the bigger beach.
The north-side beach has various facilities such as showers and toilets. It's a favorite spot to watch the sunset over the bridge.
There are also numerous hidden beaches on the island that are usually less explored.
7. Visit Other Cooler Locations in the Country
You can also go to the northern parts of Hokkaido to get to cooler climates. There are plenty of beautiful towns in this area that are ideal for enjoying nature.
There are plenty of great locations you can visit not just in the northern part of Japan. Here are a few places you can check out:
Biei – Located in Hokkaido's central region, Biei is a town that's famous for its stunning landscapes and hills. It's also one of the most visited places in the country.
Noumizo Waterfall – Located in the city of Kimitsu in the Chiba Prefecture, this area used to be a lesser-known tourist destination. It has become a popular tourist spot in Japan after a photo of a beautiful waterfall was posted on Instagram.
Ogasawara Islands – Chichijima Island is a part of Tokyo and is about 1,000 kilometers away from the mainland of Japan. Getting there is very easy: a ferry is the only way to get there.
Chichijima Island is a unique place that features a transparent and Bonin-blue ocean, a forest filled with indigenous plants and animals, and fresh and unique food.
Kamikochi – Kamikochi is a mountain resort located in the Northern Japan Alps. It attracts visitors during the summer months due to its stunning views. The hiking route usually opens for the season from April to November.
Motonosumi-inari Shrine – In 1955, a local resident in Nagato, Japan received a divine message from the fox spirit. He was then asked to build a shrine near the cliffs. The legend surrounding the Motonosumi Inari Shrine has been around for many years.
The shrine, which is located on the coast of Yamaguchi, has over 120 gates. Many of these gates were taken from a nearby shrine known as the Daikondani Inari Shrine. It's believed that the good luck it brings can be found in various areas.
8.  Cooling Pads and Pillows
These pillows are great for minimizing heat and keeping you cool during the summer season. They can also be used to keep you from sweating.
A cooling pillow is a type of pillow that's designed to prevent heat retention. It features a cooling layer that draws air away from the body and provides a cool and comfortable sleep surface.
9. Ice Towel and Scarf
These are made from special materials that can endure prolonged exposure to cold temperatures. They can be worn under hats or around the neck. They are perfect to cool the neck or the head as they are not moist or cause any wetness when you have them on.
10. Wearing light, summer clothing
One of the best ways to beat the heat is to wear light clothes. This will keep you cool and prevent you from getting sunburned. You can also find various types of loose clothes at the stores in Japan.
In Japan, it's always best to wear a T-shirt or a one-piece when traveling in July and August. However, if you're planning on staying inside a restaurant or store that has air-conditioning, then a light jacket or cardigan is also a must.
11. Bring an Umbrella Anywhere
There are various umbrellas designed to protect you from the sun while you're walking around the city. They come in various colors and designs, and they can be used anywhere.
12. Look for Instant Ice Packs
An instant ice pack is a great way to keep yourself cool during long sightseeing tours. Mix an ice solution in a bag and it will keep it cold for hours.
13. Pick a Nice Hat for Cover
A wide variety of hats are available to choose from. They can help keep your head and shoulders protected from the sun and can also help you look fashionable.
Summary
Life in Japan isn't what many people always envision it to be. In contrast to picturesque travels and exciting adventures, there are also a lot of challenges that come with living in the country – and one of these is the summer heat. While we can certainly grumble about these inconveniences, why not just make the most of the season and consider some of the ideas shared in this guide for a fun and memorable summer in the country?
READ NEXT: Famous Temples and Shrines to Visit in Japan?