With temperatures on the rise just in time for the festive summer season here in Japan, global frozen product brand, Häagen-Dazs, launches their newest and latest ice cream cup product in a very familiar flavour to the Japanese people that is perfect for the summer season. Häagen-Dazs will combine the highly popular flavours of kuromitsu (brown sugar syrup) and kinako (soy bean powder) flavour in a mini ice cream cup to satisfy your sweet tooth and battle the excruciating heat experienced during this time of the year.
According to an official news announcement released online, Häagen-Dazs will be offering the kuromitsu and kinako ice cream cup for a limited time only nationwide starting July 24. The Japanese flavour-inspired product is something that would suit the Japanese palate and anyone who craves for a sweet treat amidst the intense heat which the country is currently facing.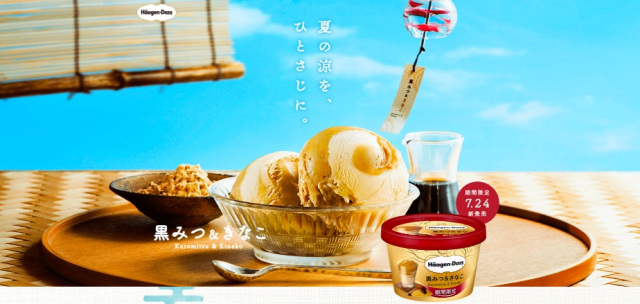 A Combination of Japanese Flavour Sorbet and Ice Cream is Häagen-Dazs' Latest Treat
The rich yet gentle sweetness of black honey (kuromitsu) sorbet combined with roasted kinako flavour ice cream is surely not to be missed as it is a uniquely rich and cooling trea that is perfect for the summer.

Traditionally in Japan, kuromitsu and kinako can be likened to apple and cinnamon in terms of the flavour combination's popularity and widespread use in various Japanese treats and confections such as kuzumochi, fruits, pastries, pancakes, as well as ice cream.
Häagen-Dazs' new kuromitsu and kinako mini ice cream cup will be commercially available in Japan's major supermarkets, konbinis (convenience stores) and department stores nationwide starting July 24 at a selling price of JPY 294 per cup. If you're in Japan and are craving for something sweet to douse the scorching heat this summer, or even if you're just probably wanting to try something uniquely Japanese, here's the perfect treat for you.