Summer in Japan is not the same without a taste of its refreshing summer fruit selections to fight the intense heat. There's no better way to cool off than to enjoy a lavish offering of fruity desserts picnic-style in the luxurious Ana Crown Plaza Hotel in Fukuoka available every Mondays and Wednesdays starting June 3 to August 27.
The hotel is known to offer seasonal buffet spreads that change themes every year. This time, it will showcase the "garden picnic" concept which will offer a variety of 30 summer fruits which include cherries, mangoes, and melons, and many more.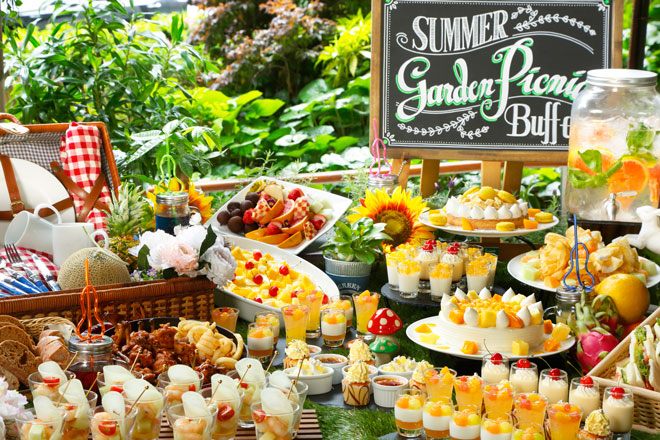 Summer Fruits Dessert Picnic Buffet in this Luxury Hotel
Other than the fresh summer fruits on the buffet, guests can also indulge in more savoury delights such as fruit pizza, sandwiches, and pasta.
There will be over 40 different types of dishes to be served in one seating and some of the dishes to look out for include Banana Tart, Mango Pine Cake, Melon Annin Tofu, Tropical Shanty, Lemon Éclair, Peach Panna Cotta, Cherry Waffle, Coconut Crème Brulee, Mango pasta, Mango Tiramisu, Pineapple and Bacon's Tropical Pizza, Sandwiches, Garden salad, as well as Tulip chicken with Barbecue Sauce.
If all those dishes have gotten your mouth watering, then visit the 1F Lobby Lounge of the Ana Crown Hotel Plaza Fukuoka every Monday between 3:00 pm to 5:00 pm, and the Crown Café every Sunday during the same hours. Buffet prices are 1,700 yen (for children) and 3,500 yen (for adults). Taxes and surcharges are not yet included.
Even if you're not a big fan of sweets, you can definitely find something interesting (if not refreshing) to the palate in time for the summer season, when garden parties and picnics are a common sight and activity throughout Japan.
To know more about this promotion, check out their website (JP).