As the government pushes for its new immigration scheme which aims to accept more foreign workers in the country as it is currently dealing with a serious labour crunch since last year due to its high elderly population and low birth rates, the government has been busy organizing the foundation of the new system which will grant foreign nationals a special working visa, which will also provide them the chance to stay in the country for up to 5 years or even become permanent residents if all conditional requirements are met.
ALSO READ: Here's What You Need to Know about Japan's New Specified Skills Visa
In line with this, the government has conducted various special skills examinations based on any of the 14 identified sectors seriously affected by the labour crunch. And one of the primary requirements to qualify for the new visa category is to pass a Japanese language proficiency test.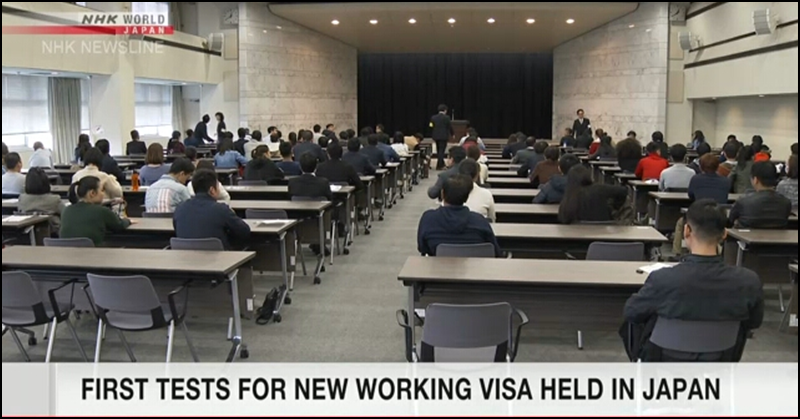 First Set of Tests for Foreign Nationals Applying for New Working Visa Held in Japan
On that note, foreigners looking for jobs in Japan have taken the first set of examinations to qualify for a new working visa, as shared in a report by NHK World.
Foreign nationals who pass a language test for daily conversation and a technical test will be granted the new working visa.
According to the Japan Tourism Agency, around 761 foreign nationals took the hospitality industry's exam last Sunday (April 14).
About 130 individuals sat the exam at a meeting room in the Ministry of Transport in Tokyo, one of the seven locations for the test.
For the hospitality industry, the topics included reception work, etiquette and knowledge of the hospitality business. Also, examiners played the role of guests checking in the facility as part of the oral tests.
The tourism agency plans to conduct technical examinations two or three times every year. At this rate, there will have been around 22,000 foreign workers ready to work in the hospitality sector over the next five years.
The hospitality industry is just one of the 14 fields experiencing serious labour shortage in the country. Other sectors will also hold their own sets of examinations as well as a language proficiency test for workers interested to work in positions needed in those sectors.
Examinants for the second specified skills visa (for highly skilled professionals) will be conducted in this manner as well in the next two or three years, as per earlier announcements by government officials.