By 2019, the international American flight carrier, Delta, will be offering nonstop flights between Seattle and Osaka-Kansai. Delta will access the new route with their Boeing 767-300ER which has 25 fully flat-bed seats in Delta One, 29 seats in Delta Comfort+, along with 171 seats in the main cabin.
Each seat has Wi-Fi access and complimentary personal in-flight seatback entertainment screens and charging outlets. The meals featured in all cabins of services are inspired by the creations of Delta's two-star Michelin consulting chef Norio Ueno.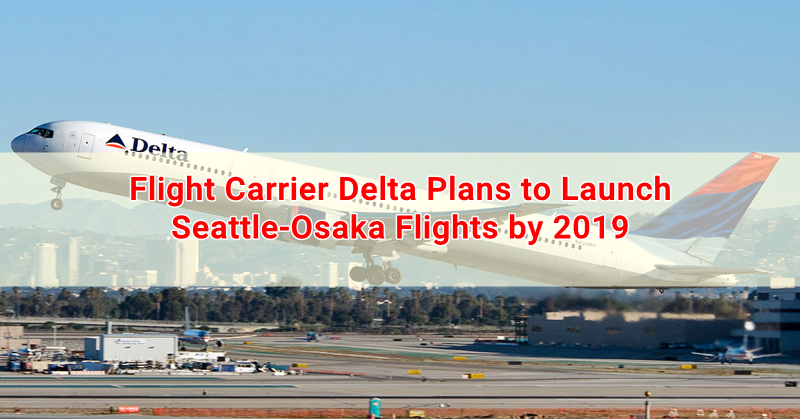 Delta Airlines Prepares to Offer Seattle-Osaka Flights in 2019
According to Delta's Vice President – Seattle, Tony Gonchar, "As Seattle's global airline, Delta offers service to the top destinations throughout Asia, and additional access to Japan is important for our Seattle customers as well as the business community throughout Washington State and beyond." Gonchar also shared that the addition of another key business destination (Osaka) to the global flight carrier's extensive flight network is a very welcome development.
As of writing time, Delta has yet released any information regarding the schedule of flights for the upcoming flight service from Seattle to Osaka. But currently, Delta offers daily flight service from Osaka to Honolulu, which makes the Seattle connection the second nonstop US destination from the Kansai region.
In line with this new development, Delta will cease its flight operations from Seattle to Hong Kong, with the last flight to be set out on Oct. 4. Delta, however, will still offer service flights to Hong Kong from Seattle via Seoul-ICN, through its flight venture partner Korean Air.
Furthermore, the new Seattle-Osaka flight route will be added to Korean Air's flight network, Delta's joint venture partner, which services 12 unique destinations in Japan. This change will give customers optimized schedules, a more seamless customer experience, and enhanced loyalty program benefits.