With less than a month until the Tokyo Olympics, the Japanese government voted Thursday to suspend the COVID-19 state of emergency in Tokyo and eight other prefectures while maintaining some restrictions.
READ ALSO: Japan to Ease Restrictions in Tokyo, Osaka Starting June 21
Aside from the capital, the state of emergency will be lifted in Hokkaido, Aichi, Kyoto, Osaka, Hyogo, Okayama, Hiroshima, and Fukuoka on Sunday (June 20).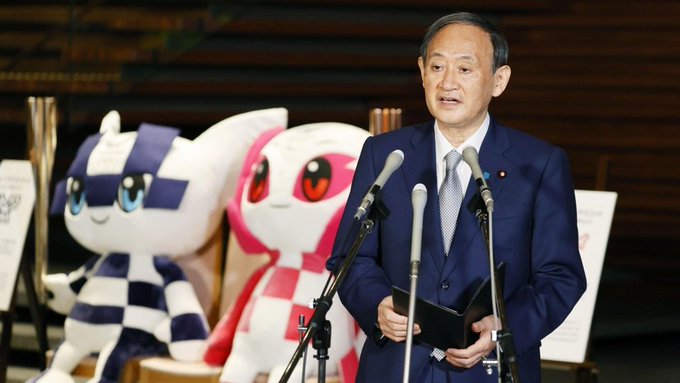 State of Emergency to be Lifted from Tokyo, Other Areas – PM Suga
Okinawa will be the sole prefecture to remain in a state of emergency until July 11, as its hospitals continue to be overburdened by the influx of COVID-19 patients, the Kyodo News reported.
The move comes as illnesses are dropping across the country and immunizations are progressively increasing, while experts have cautioned that loosening restrictions and the proliferation of extremely infectious coronavirus strains might spark a resurgence.
"The thing we have to be most careful about is preventing a big rebound," Prime Minister Yoshihide Suga said at a press conference after finalizing the decision at a task force meeting.
Tokyo and six prefectures will be placed in a state of emergency until July 11. After Sunday, limitations will be eliminated in Okayama and Hiroshima, where the situation has improved to the degree where the designation is no longer required.
Serving alcohol, which is now illegal, will be permitted until 7 p.m. under the quasi-state of emergency, which enables tailored measures for specific areas rather than entire prefectures, as long as specified COVID-19 precautions are in place. Governors can choose to keep the prohibition in place if they believe it is necessary, and restaurants will continue to be asked to close by 8 p.m.
In prefectures where the state of emergency or quasi-state of emergency has been removed, the government will limit attendance at large events such as sports tournaments and concerts to 10,000.
Suga stated that he expects the attendance cap to apply to the Tokyo Olympics, which begin on July 23, as well as the Paralympics, with organizers likely to reach a decision by the end of the month.
Infections are declining across the country, with 1,554 new cases reported Thursday, down from more than 7,000 daily during the peak of the fourth wave in early to mid-May.
However, specialists have cautioned that an increase in people going out, as well as the transmission of coronavirus variants, particularly the extremely contagious Delta strain discovered in India, might worsen the problem when the games begin.
While immunizations are increasing in Japan (roughly one in every six persons has had at least one shot), Shigeru Omi, the government's chief COVID-19 expert, warned against complacency.
"People will get a sense of security after getting vaccinated, but it's too early to begin letting our guard down. Keep your masks on," Omi said in the press conference with Suga.
Chiba, Kanagawa, and Saitama will be exempted from the quasi-emergency until July 11, while Gifu and Mie will be exempted at the end of the weekend.
Tokyo has been under an emergency condition since April 25, the third since the pandemic began last year. The policy was supposed to terminate on May 11 following the Golden Week festivities, but it was prolonged twice since the rate of infection drop remained slow.
READ NEXT: This is how Tokyo is Coping with COVID-19 100 Days Before the Olympics