OFWs have plenty of things on their plate – or so many people would think. But actually there is some warranted truth in that. Despite the many misconceptions surrounding an OFW's profile, one of which and probably the most problematic of all is that: all OFWs are rich; our kababayans not only face the struggles of adapting to work and life abroad, but also being the unjustified provider to their friends and relatives in times of emergency and need.
And while this has become a culture for many Filipinos although by no justifiable means should it be tolerated, many OFWs struggle in dealing with this kind of situation because as they start to earn in dollars, they certainly earn more but this does not necessarily mean that they have a lot in excess to share, because most of the time, Filipinos work abroad to support their parents, siblings, and even their own families. So when other people borrow from money from them, it becomes a troublesome situation because just like everyone else, these OFWs allocate their earnings within a budget to meet the needs of their very own family first and foremost.
So, in the event that other people (friends or distant relatives), would seek an OFW's help regarding money matters, here are some helpful tips on how to handle this situation: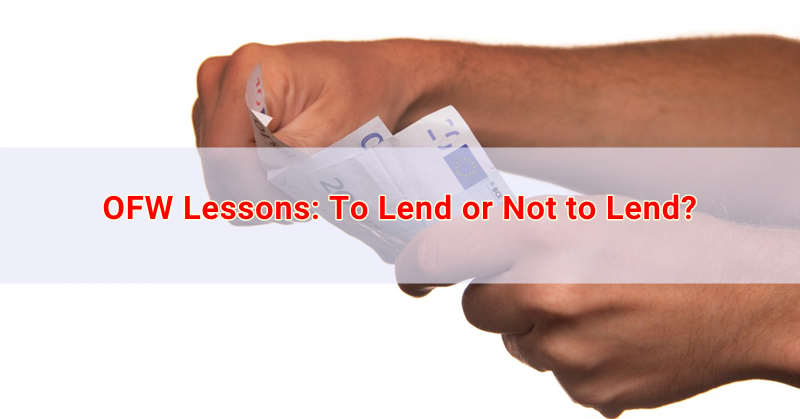 Should OFWs Lend Money to Family or Friends?
The decision to lend other people money depends on a number of conditions. And while you personally know these people who come to you to borrow money, you need to have a clear understanding of their situation right now, and the purpose for what they need the money for. In order to come up with a sound decision whether or not to lend someone your money, consider the following things first:
·         Hear out what they have to say and find out their reason for borrowing money.
The best way to gauge a person's intent or character is to spend time with them. In this regard, it is a must that you first find out the real issue at hand to know how you could best help the person in need. Sometimes, even if they need help with finances, there are other things you can help them out with like connecting them to the right people or offering them financial advice which could also help them in the long run. Furthermore, by hearing out your friend or relative, you can better formulate your decision as to whether or not you would lend them the amount they need.
·         Tell them that you will have to check your budget first.
This is by no means, simply a way to stall them, but you also have to make sure that your personal needs and savings do not become compromised when you lend them money – especially, if this is a significant amount of money you are talking about. Also, as you would leave no promises yet, explain to them that you also have your own family to feed and other expenses to take care of, especially if you're completing several loans or other investments.
·         After everything has been considered, decide whether you can offer help or not.
In such cases, people who borrow money are pressured for time as well, so if you have finally come up with a decision – whether to shell them out the money they need or not, it's best that you inform them as soon as you can. That way, these people would not be kept waiting for long, especially when there are still some other things they can try out to come up with the money they need.
If you do decide to lend them the amount they need, make sure that they will only be using the money for the intended reason they told you about – this is to ensure that they can keep their word, and hopefully, their end of the bargain. It's also very important to lay out the terms and schedule of payment that you would like have, and as agreed upon by both parties. This is to have some kind of organization and "soft" guarantee that you would be paid completely within a foreseeable amount of time. Or in worst cases, be ready to move on and deal with the consequences if these people fail to pay you (partially or in full).
However, if you do decide NOT to lend them money, be ready to receive some harsh words and even grudges. It's important for you to understand that everyone takes things such as rejection and disappointment differently and in varying degrees. And while our conscience tells us that this is most unacceptable from any angle, it's better to be prepared to deal with this kind of situations beforehand.
Even if our intention is to help a friend or a relative in need, there are certain things that we need to consider and understand first before we let go of our hard-earned money. As relationships will most likely be affected from both ends, you, as the person who has the capacity to share more should be more mindful and responsible in dealing with people who are financially in need. Firstly, you do not want to become an emergency resource person whom other people will always go to whenever they need money. And secondly, finances are limited resources so you need to handle it with proper care and planning. Always look outside the box and find out if you can help these people beyond their financial needs and genuinely express  your support in means that could benefit them more in the long term.