In an announcement shared by the Philippine Embassy in Tokyo, Japan on its website, active registered voters during previous elections (2010, 2013, & 2016) can now claim their voters ID card at the Consular section of the Philippine Embassy between 9:00 am and 5:00 pm, from Monday to Friday except on holidays.
ALSO READ: Services Offered by Japan Philippine Embassy and Overseas Labor Office
According to the announcement, only the registered voter can claim his/her ID card at the embassy. This means that if you are an active registered voter since 2010, you may visit the Philippine Embassy in Tokyo to claim your document.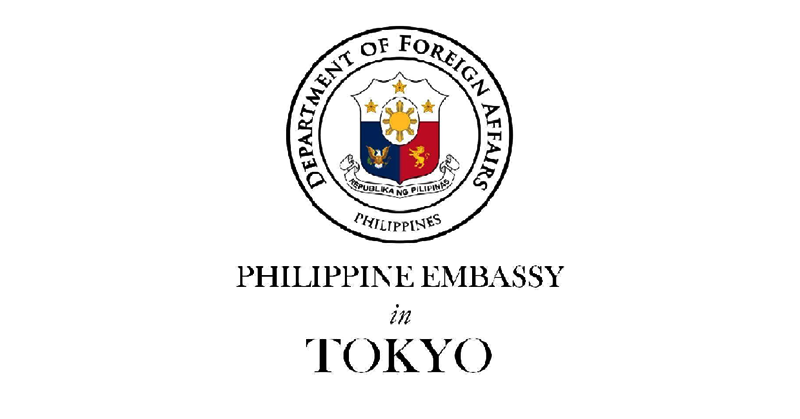 Registered Voters Can Now Claim their Voter's ID Cards at the Embassy
Claimants will have to present either their Philippine passport or Japanese Residence Card.
The Embassy also explained that those who were registered, but did not vote in two consecutive elections will have their voter status "deactivated." This means that there is a possibility that these individuals would not be accepted to vote in the 2019 elections because they would need to "reactivate" their status after the elections, when registration period would begin again.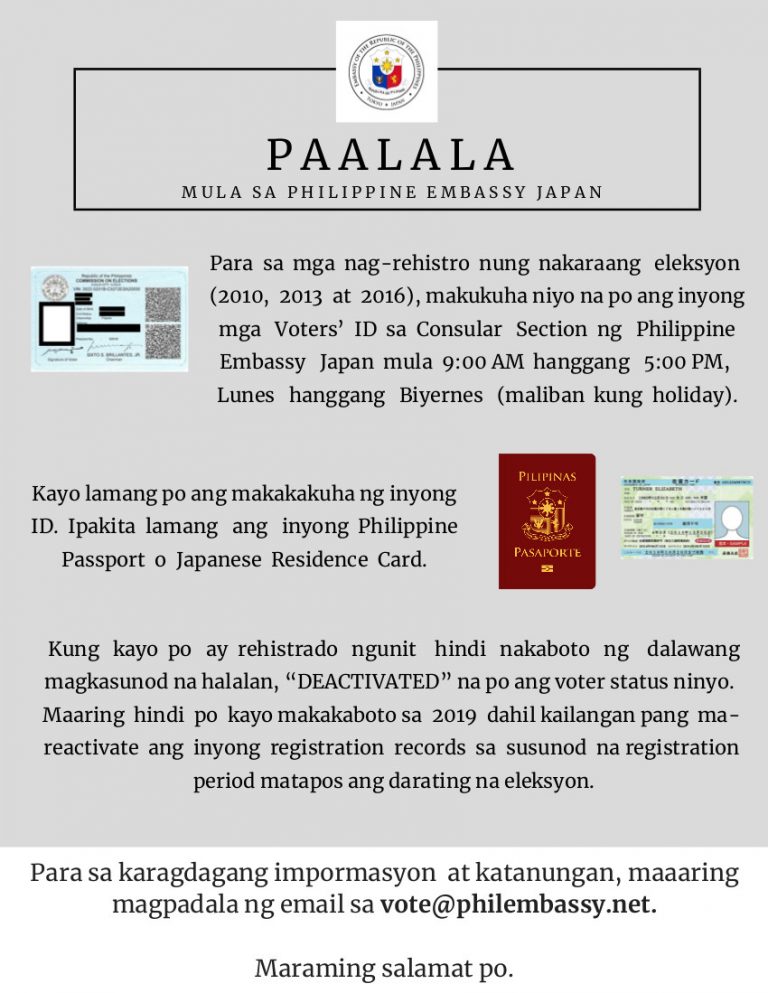 The DFA through the various Philippine Embassies are extending
citizenship services
to help Filipinos all over the world exercise their right and duty to vote even outside the country, it is now up to us to remain informed and updated of the services offered by our embassy in the place we live in.
ALSO READ:  Embassy to Use 'Colourful' Social Media Campaign to reach out to more Filipinos in Japan
For more information regarding your voter's registration and ID status, you may reach the Philippine Embassy through email at vote@philembassy.net.
Here are the embassy address and contact information of the Philippine Embassy in Japan:
Philippine Embassy – Tokyo, Japan 
Address: 5-15-5 Roppongi Minato-ku, Tokyo 106-8537
Telephone Number: (03) 5562-1600 (If you know the extension number of the person you are trying to reach, dial 8 + the local number + # + 0 when you hear the voice prompt.)
Website: http://tokyo.philembassy.net/
Facebook: https://www.facebook.com/PHLinJapan/