Filipinos based in Japan do not only get updates on diplomatic events hosted by the Philippine Embassy in Tokyo and Osaka, but they also benefit from the services offered by these offices which include Assistance to Nationals (ATN), visa and passport processing, civil registration and notarial services, among others.
And due to the fact the Filipinos are scattered all over Japan, the two diplomatic posts in the country would not be as easily accessed as they would like to for these Filipino nationals, and so part of their services to migrant Filipinos are conducting consular missions in select locations where majority of our nationals can easily have access to.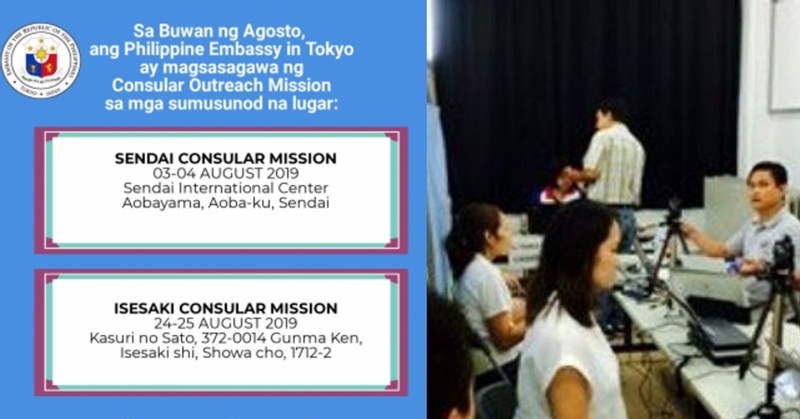 Embassy Announces Consular Mission Schedules for August 2019
For the upcoming month (August, 2019), the Philippine Embassy in Tokyo, Japan has identified the locations where they will be conducting their next consular outreaches in the country.
As per the announcement, the two consular mission locations would be in Sendai on August 3-4, and the other would be in Isesaki on August 24-25.
During these outreaches, Filipinos can apply for consular services such as passport and visa processing and civil registration, among others. It's also important to take note of the application dates posted by both the Philippine Consulate General in Tokyo and Osaka to join any upcoming consular outreaches.
Furthermore, consular jurisdictions are divided between the two Consulate General Offices in Japan. Please be guided below:
TOKYO:
Akita,
Aomori,
Chiba,
Fukushima,
Gunma,
Hokkaido,
Ibaraki,
Iwate,
Kanagawa,
Miyagi,
Nagano,
Niigata,
Okinawa,
Saitama,
Shizuoka,
Tochigi,
Tokyo,
Yamagata,
Yamanashi
OSAKA:
Aichi
Ehime
Fukui
Fukuoka
Gifu
Hiroshima
Hyogo
Ishikawa
Kagawa
Kagoshima
Kochi
Kumamoto
Kyoto
Mie
Miyazaki
Nagasaki
Nara
Oita
Okayama
Osaka
Saga
Shiga
Shimane
Tokushima
Tottori
Toyama
Wakayama
Yamaguchi
Application to join consular missions must be sent in by mail within the specified application dates set by your respective consulate general in Japan. Application forms must also be completed and submitted with other documentary requirements needed for the type of service you will be availing.
Furthermore, walk-in applications will also be accepted on a on a first-come, first-served basis, only for the following services:
Notarials and authentication 
Report of Birth 
Report of Marriage 
Applications for Legal Capacity to Contract Marriage (LCCM) 
Note: No membership/organization fee shall be collected to avail of any consular service.
To get more details and updates regarding the upcoming consular missions to be conducted by the Philippine Consulate General in Tokyo, please regularly visit their official website or send them your feedback, queries and concerns via their online portal.
ALSO READ: How to Renew Your Philippine Passport in Tokyo, Japan
ALSO READ: How to Renew Philippine Passport in Osaka, Japan