Besides the Labour Day celebrations, May also marks the National Heritage Month for Filipinos all over the world. In line with this, the Philippine Embassy in Tokyo, Japan has organized an exhibit to feature Philippine traditional musical instruments and a lecture synthesis by Philippine National Artist for Music, Dr. Ramos P. Santos at the Conference Room 1A and Siazon Hall of the Philippine Embassy in Tokyo on 10 May 2018, 6:00 pm.
In accordance with Presidential Proclamation No. 439 series of 2003, the National Heritage Month will be observed in May of every year in order to raise consciousness and awareness, respect, and honour for the Filipino cultural heritage.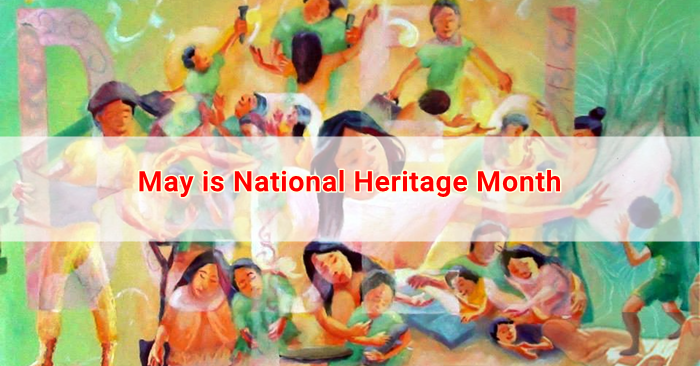 National Heritage Month 2018: A Call for National Unity
This year's theme is "Pamabansang Pagkakaisa para sa Pamana" (National Unity for Heritage) which aims to underscore the unifying bond of a common heritage and to emphasize the call for national unity to ensure that this heritage is preserved and protected for the enjoyment and benefit of the future generations.
The various activities organized by different government offices and agencies involved in this event both in the Philippines and abroad aim to raise financial support for the preservation and protection of both tangible and intangible  national heritage.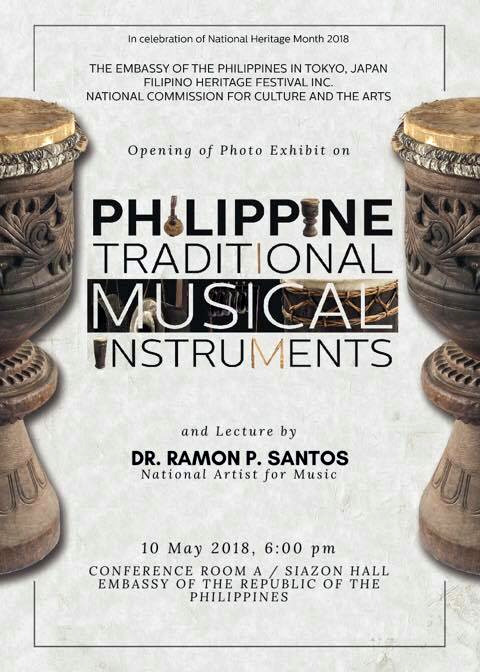 In the Philippines, many NHM activities including lectures, exhibits, online campaigns, as well as clean-up drives in select historical and cultural heritage sites are organized to raise public awareness on the value and importance of cultural heritage and its role in moulding the Filipino identity.
With the National Commission for Culture and the Arts (NCCA) at the helm, many creative and key personalities have been brought together both in the Philippines and overseas to extend the legacy of the Filipino Heritage by showcasing various forms of unique Philippine art and cultural element such as the Philippine Traditional Musical Instruments which will be featured in an exhibit here in the Philippine Embassy in Tokyo, Japan.