There are many misconceptions attached to the idea of being an OFW. Perhaps, the biggest and often neglected one is the fact that OFW life is not permanent. Your career as an OFW is only as good as your contract specifies.   The sad truth is that once your contract ends without the possibility of it being renewed, you are left without a choice but to go back home and find another job because there are bills that need to be paid and mouths to be fed. So, if you take out your job as an OFW in the equation, what'll happen next?
They say planning for retirement is never too early. After all, if you don't give it much time and thought, planning for your retirement will be for nought. And the good news is – you don't have to worry about not being able to provide for your family or yourself should you find yourself coming back home for good for retirement when you meet these four investment goals that every OFW must have: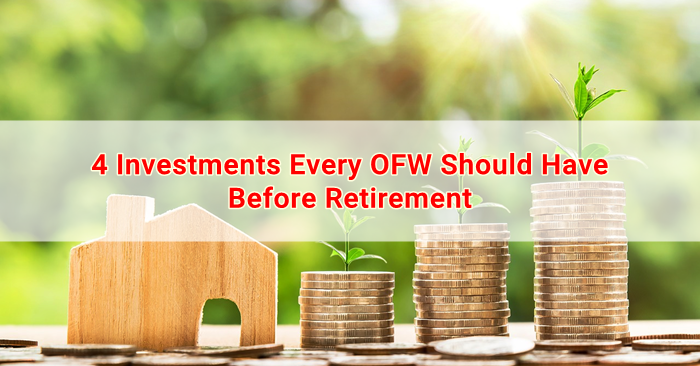 4 OFW Investment Goals for Your Retirement
1.      Insurance
This is one of the first things that you need to go for even as you are just starting with work abroad. Getting insurance can be intimidating for some, but its value is realized when something untoward such as a disease or accident happens. Getting insurance for yourself can give you and your family the peace of mind you all deserve especially with you being far away from home, sometimes, all by yourself.
Traditional insurance packages would let you pick either a life or health insurance plan. These are important when you don't want your family and loved ones to be financially burdened by any untoward incident that may happen to you overseas. However, insurance companies nowadays offer more practical products such as the Variable Universal Life (VUL) Package which insures the principal and invests his/her money at the same time.
2.      Investment
One of the main reasons why most OFWs find it hard to invest their money for their retirement is the lack of financial literacy. However, there's a big danger when people start earning a significant amount of money, but fail to use it in a smart way. To avoid the dilemma of going broke or ending up penniless after long years of hard work spent away from loved ones and family, the smart way to go about your savings is to build on your investment portfolio for te simple reason that it multiplies and does not remain stagnant.
Currently, there are a number of ways for you to build your investment profile. For starters, you can choose between a Unit Investment Trust Fund (UITF) and mutual fund simply because theseare shared funds managed and handled by a professional fund manager. It's a good place to start if you have limited understanding or know-hows in the investment game.
But as you get to know more about how investment works and are now open to taking more risks to get higher returns, then you can now explore trading and stocks. This is also a good choice although not for everyone because companies usually pay dividends at least twice a year. And if you are not much of a risk-taker, then a good way to go is for corporate or government bonds.
3.      Business
Many people see this investment option as a more sustainable option. However the challenges of putting up your own business vary from one enterprise to another. If you have someone back at home who can look after your business on your behalf while you are still working overseas, then this is definitely worth a shot.
Whether it be a small or medium-sized business, the important thing here is that as you are earning your income from your work overseas, your family at home also has a steady source of income which they can use to save up or use on other investment options mentioned here.
4.      Real Estate
The real estate business has really taken off in the Philippines during the last decade, and for a very good reason. Many OFWs are learning to invest in properties back home whether it be on a condo unit or a house and lot. Even if you already have a house of your own, you can still earn profit from your other properties by leasing or selling them at an ideal point in time.
Whatever your investment goal may be, the important point here is that you need to open other streams of income for you and your family. Planning early is planning effectively for your retirement and eventual return back home. Having enough money is not the only important thing, but it's how you make good use of it – and that is by growing it.