Whether for convenience or for its product features, choosing to open an account with Landbank can be done easily through a couple of simple steps.
The Landbank is a universal bank owned by the Philippine government which particularly focuses on the needs of Filipinos in the agricultural sector (i.e. farmers and fishermen). Being the fourth largest bank in the country, members get to enjoy services from over 365 Landbank branches, mostly situated in the rural areas. If you're planning to open an ATM account for your personal savings or for the transfer of remittances to your family in the Philippines, take note of the following requirements and simple procedures. Here's how: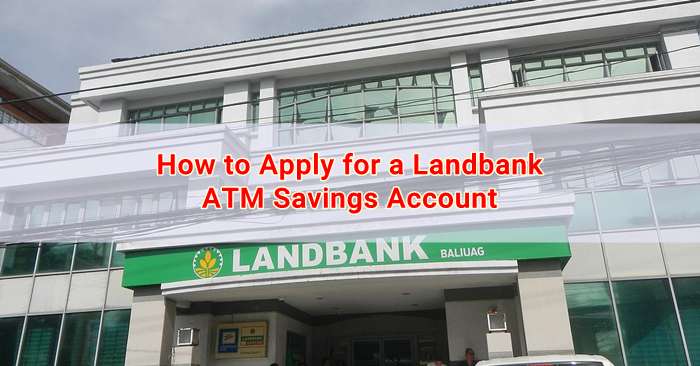 Applying for a Landbank ATM Savings Account
If you decide to sign up and open an ATM Savings account with Landbank, you are entitled to enjoy the following perks and services:
The required minimum initial deposit and maintaining balance is Php500.00
The required minimum maintaining balance to earn interest is also Php500.00
10% annual interest rate
Cashless purchases available through any point-of-sale (POS) terminal in any partner merchants (i.e., supermarkets, department stores, and other accredited establishments having the Bancnet logo) across the country.
Requirements:
Any two (2) of the following valid IDs:

Passport
Driver's License
Company/School ID
Voter's ID
Postal ID
GSIS / SSS ID
TIN ID
PRC ID
NBI/Police Clearance
Barangay Certificate/Clearance
NSO-issued Birth Certificate
Senior Citizen's ID Card

Two (2) 1 x 1 recent photographs
Initial Deposit of Php500.00
Procedures:
Visit the nearest or your preferred Landbank branch. Proceed to the New Accounts Section and ask assistance from the bank officer for your purpose.
The bank officer will provide you a set of application forms that you need to fill out. After which, you will be asked to provide the above-listed requirements including the initial deposit fee of Php500.00.
Once you have completed your application and submitted the requirements, you will be issued a deposit slip that you will need for the collection of your ATM Card.
Once your application for an ATM Account with Landbank has been verified and processed, your ATM card and bank account details will be released on the same day.
Depending on your needs, choosing a bank where you can open any type of account can prove to be useful in one way or another. The key is to look for the features that would suit your banking needs and financial goals.