Eastwest Bank (EWB) is one of the newer banks that have become prominent in the market in recent years. With its aggressive expansion efforts, EWB has positioned itself among the top 10 largest universal banks (in terms of assets) in the Philippines.
For the reasons mentioned, many individuals and businesses have started to transfer to EWB and have enjoyed their banking and financial services over the years. If you are interested to know more about EastWest Banks's services and financial tools offered, continue to read…
In this post we will outline the requirements and simple steps on how to apply for a Regular ATM Savings Account with EastWest Bank. Here's how: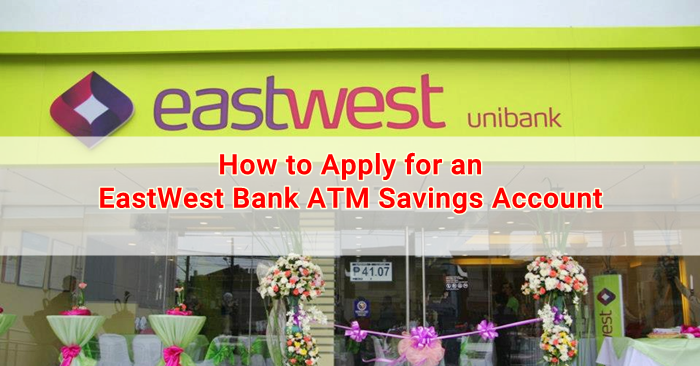 Applying for an EastWest Bank ATM Savings Account
Opening a Regular ATM Savings Account with EastWest Bank entails the following perks and services for their members:
Initial deposit and minimum maintaining balance of only Php 2,000.00
Minimum Average Daily Balance (ADB) of Php 10,000.00 to earn interest
125% annual interest rate
Documentation: Debit card and electronic statements
Easy fund access via over-the-counter banking, Philippine ATMs, Visa-partner (physical and online) merchants worldwide, as well as EastWest Online Banking.
Basic Requirements:
An original and clear photocopy of any of the following government-issued photographed IDs:

Passport
PRC License
Driver's License
Voter's ID
Company ID / Student ID
SSS / GSIS ID
OFW ID
OWWA Card
Senior Citizen's ID
And so on…

Two (2) copies of either 1×1 or 2×2-sized recent photograph
Your Tax Identification Number (TIN), ad other similar information to be used for filling out your application form
Any proof of billing/ utility bills (e.g. electricity, water, landline/internet or credit card bills)
Procedures:
Visit your preferred Eastwest Bank branch and proceed to the New Accounts Section.
Request assistance from the bank officer on how to open a Regular ATM Savings Account. You will be provided with a set of forms that you need to fill out to begin our application process. Make sure that all the information you provide on these forms is accurate and correct.
After you have completely filled out your application forms, provide the required documents listed above for verification and processing of your application.
Pay the initial deposit fee for the regular savings account as specified in the above account features/services. Keep the deposit slip for the collection of your ATM/Debit Card. Availing for an ATM/Debit Savings account would require applicants to wait for a week before collecting their documents.
Tip: Just make sure to ask for the bank officer's contact details so you can contact him/her regarding the status of your savings account and to confirm if it's already available for collecting.