Whether you're an OFW or a Filipino based in the Philippines, every one of us needs to consider planning and saving up for our future. With this in mind, we need to equip ourselves with the tools and the means to save up effectively, not only for ourselves but also for our families. For this particular reason, Metrobank developed a specialized savings account for OFWs.
The Metrobank OFW Savings Account has been developed to particularly cater to the interests of our kababayans working hard abroad to support their families in a timely and consistent manner. That being said, this account is considered one of the best tools and services offered to OFWs at the moment. In this post, we share about the step-by-step procedures in applying for an OFW savings account with Metrobank. Here's how: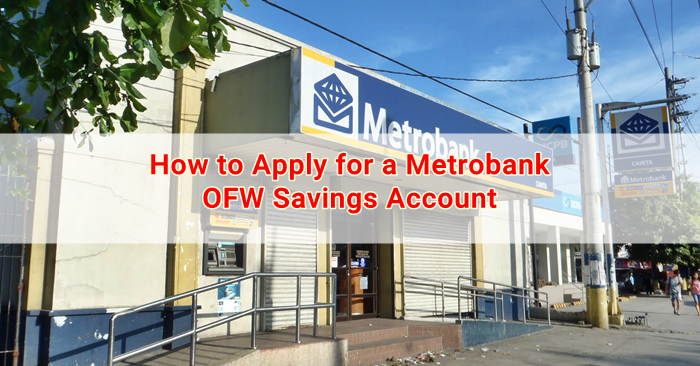 Applying for a Metrobank OFW Savings Account
What makes Metrobank's OFW Savings Account one of the best financial tools in the market are the following features:
No initial deposit
No maintenance fees
25% annual interest rate
Available with passbook or ATM
Mobile and online banking services
Requirements:
Copies of any of the following valid IDs:

Passport
Voter's ID
Postal ID
Driver's license
PRC ID
Company ID
Government Office ID and GOCC ID (e.g. Armed Forces of the Philippines [AFP], Home Development Mutual Fund [HDMF])
GSIS ID/SSS Card
Philhealth Card
OFW ID
OWWA ID
Senior's Citizen Card
Barangay Clearance

Two (2) copies of your recent 2 x 2 photograph
A letter of endorsement (optional)
Procedures:
Visit the nearest Metrobank branch in your area. Ask for assistance from the bank officer on how to open an OFW Savings Account.
Fill out the account opening application form and submit the above-listed requirements.
Upon verification and processing, you will be issued your ATM or passbook for your account.
Final Notes:
There is no maintaining balance required for this type of account, but the required minimum balance to earn interest is Php10.00
Your OFW Savings account will be subject to conversion to a regular savings account if and when there hasn't been any foreign inward remittance after a year since the date of last remittance or account opening.