Opening a savings account is one of the most practical things which any employed individual must consider doing first. Besides saving up for leisure and/or future plans or goals, having a significant amount of funds which you can access any time can give any individual a sense of security and peace of mind after a long day of hard work.
If you are looking for a secure and reliable bank which you can partner with to handle your savings and/or investments, should you venture into that field also, then you may want to look into the Bank of Commerce's portfolio and products.  The Bank of Commerce is considered to be one of the most stable banking institutions in the Philippines with its strong market presence and over 55 years of service. It is also currently ranked second in terms of lending assets and diversified banking products and services in the country. If you would like to open an ATM savings account with the Bank of Commerce, here's how: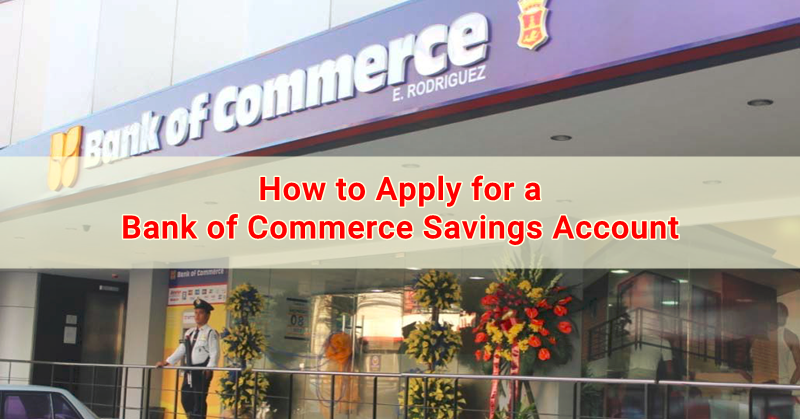 Applying for a Bank of Commerce Savings Account
Opening an ATM savings account with the Bank of Commerce entitles account holders to the following perks and services:
A very low account opening deposit fee and maintaining balance of Php 500 for an ATM Savings account
Convenient banking and accessible ATM service with over 13,000 ATM locations all over the country
Pay your bills online and enjoy cashless shopping through any BancNet authorized partner merchants nationwide.
Php 5,000 monthly average daily balance requirement to earn interest of 0.125% per annum credited on a monthly basis.
Requirements:
Any of the following photo-bearing government-issued valid IDs:

Driver's license
PRC License ID
Passport
Voter's ID
Postal ID
Barangay Certification
Police/NBI Clearance
Senior Citizen's ID
And others

Two (2) copies of your recent 1 x 1 ID photo
Tax Identification Number (TIN) and other personal information needed for the application form
The initial deposit fee of Php 500
Procedures:
Head over to the nearest Bank of Commerce branch in your place of residence. Make sure to have all the above-listed account opening requirements on the day of your visit to the bank.
Advise the bank teller at the New Accounts Desk that you would like to open a new ATM Savings Account.
Accomplish the account opening application form. Make sure to go through all the details you have specified in the form to eliminate any errors. Submit all the documentary requirements and pay the initial deposit fee of Php 500.
Once your application has been received and processed, the bank officer will inform you as to when you may return to pick up your ATM card and other account documents. This usually takes place within 3-5 banking days from the date of your application.
Once you have collected your ATM card, you will be instructed to change your PIN code in order to activate your ATM card for use.