Having your personal savings account gives you a sense of security and convenience wherever you may be in the world. With the new technological and security account features offered by virtually every bank in the market today, it has become quite easy to perform personal and business to business transactions with simply the use of a debit or a credit card.
In the Philippines, one of the best savings banks in the market right now is PSBank. With over five decades of secure banking services and customer relations expertise, PSBank has rightfully earned its spot among the best in terms of savings and banking services. With currently having around 250 service branches and over 600 in-branch and off-branch ATM locations, PSBank has built on its expansive milestones and progressive products in the service of the Filipino people. If you would like to open a PSBank ATM savings account, here's how: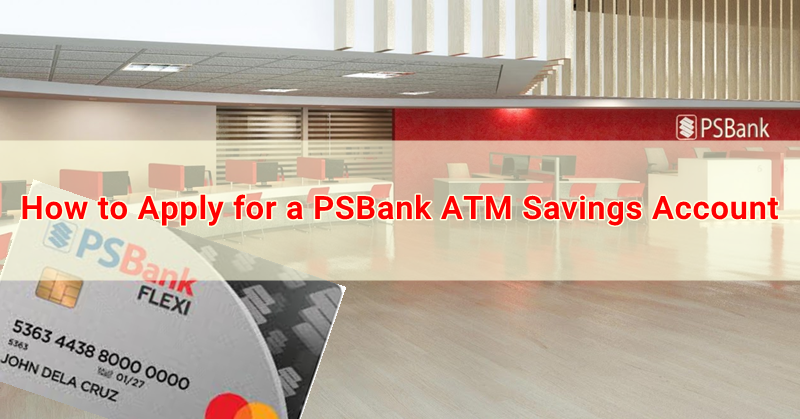 Applying for a PSBank Savings Account
Applying for a PSBank ATM savings account entitles account holders to the following perks and services:
At Php 2,000, you can easily open an ATM savings account. This is also the minimum maintaining balance to keep your account active.
An annual interest rate of 0.5000% with monthly crediting.
24-hour banking services through any PSBank, Metrobank, BancNet, and Mastercard ATMs anywhere in the world.
Pay your bills conveniently online or perform your payment transactions through any of PSBank's service branches and PSBank's extensive ATM network.
Go cashless when you shop with any BancNet partner merchant stores.
Requirements:
Any primary OR two (2) secondary valid IDs with recent ID picture and signature

Primary IDs:

Passport
PRC License
Driver's License
Voter's ID
Unified Multi-purpose ID (UMID)
Postal ID Card (PVC Plastic Card)
GSIS / SSS ID Card
Senior Citizen's Card

Secondary IDs:

Tax Identification Number (TIN) Card
PhilHealth Insurance Card ng Bayan (PHICB)
Police Clearance
National Bureau of Investigation (NBI) Clearance
Barangay Certification/Clearance
City Health Card/Health Certificate Card
OFW ID
Seaman's Book
Overseas Workers Welfare Administration (OWWA) ID
Company ID

The initial deposit fee of Php 2,000 for an ATM savings account
[Update] Tax Identification Number (TIN)
Procedures:
Visit the nearest PSBank service branch in your location. Be sure to have with you all the above listed account opening requirements on the day of your visit to the bank.
Inform the bank teller at the New Accounts section that you are going to apply for an ATM Savings account.
Once you have been provided with the necessary forms, completely fill them out and make sure that all the information you provide is true and accurate. Submit your application form and the required documents along with and initial deposit fee of Php 2,000 to the bank officer.
One your application has been reviewed, approved, and accepted in the system, you will be issued your personal ATM card and other account documents within the same day.
Tip: Ask assistance from the bank officer as to how you can enroll your savings account thru PSBank's Online and Mobile banking platforms for convenience and easier banking transactions, or if he/she can do it for you at the bank.