If you haven't got the time to personally open a savings account in the Philippines, there is a way for OFWs who are based in Japan to do so in their place of residence.
Opening a savings account is not only important  for providing remittances to your family back in the Philippines, but more so for saving up your money for future use (Hint: investments and properties). While the processing of your account application will be done here in Japan, you can authorize your beneficiaries or family to withdraw funds from your selected PNB branch in the Philippines. To get started with your application, continue reading below: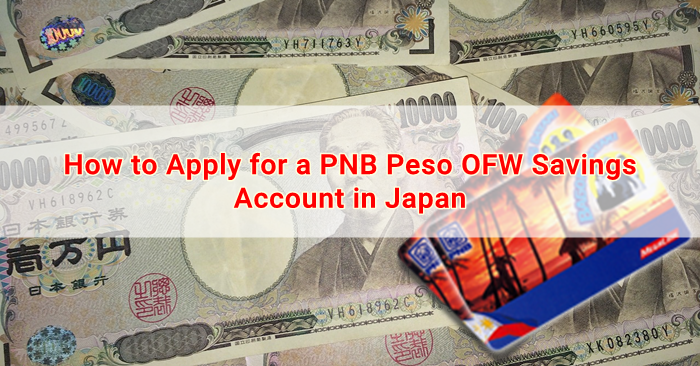 Applying for a PNB Peso OFW Savings Account in Japan
When you open a Peso OFW Savings Account with PNB, you get to ejoy the following perks and services:
No initial deposit and maintaining balance required.
Comes with a special ATM Card for OFW beneficiaries which can be used anywhere in the Philippines.
Minimum Average Daily Balance (ADB) to earn interest is Php 10,000.
Annual interest rate of 0.10%
Available in either ATM or Passbook accounts
Requirements:
Passport
Any photographed valid Philippine ID, with the holder's signature
Residence card
Three (3) pieces of your recent ID pictures (40 x 30 mm in size)
Alien Card for Filipinos who have received Japanese resident status
For those who have renounced their Filipino citizenship or those who have received Non-Resident Alien (NRA) status in the Philippines, bring any of the following documents:

Residence certificate in Japan
Driver's licence in Japan
Health insurance policy in Japan
Basic Resident Registration card (Jumin Kihon Daicho)
Reent proof of billing (e.g. water, electricity, gas or mobile phone use)

A self-addressed LetterPack 500 (available at the Post Office or any convenience stores sold at JPY 500. This will be used to mail your checkbook, passbook, or certificate once it is available.
Procedures:
Personally visit either PNB Nagoya or Tokyo. Inquire at the bank officer as to how to open an OFW Peso Savings Account.
Accomplish all the forms to be provided by the bank officer.
Upon completion, submit all the required documents listed above.
Once your account has been processed and approved, remit some funds to your family in the Philippines to immediately activate your account.
PNB Japan Branch Locations
TOKYO  
Fukide Building 5F, 4-1-13 Toranomon, Minato-ku
Tokyo
Tel. No: (03) 5401-3300, (03) 5401-3750
Free Dial: 0120-86-6382
Softbank Mobile No.: 080-3724-4544
NAGOYA
7th Floor Nishiki 324
Building 3-24-24 Nishiki, Naka-ku Nagoya-shi
Aichi
Tel. No.: (052) 968-1800
Free Dial: 0120-143-633
Bank Operation Hours (Closed during Japanese holidays)
Mondays through Fridays:  9:00 am to 3:00 pm
Sundays: 10:00 am to 3:00 pm (some services such as account opening/closing, over-the-counter deposits and withdrawals, remittance and fund transfer using a Yen or USD account, as well as update and replacement of passbook are no longer done on this day)