Some news comes out to remind us what to do and others of what not to do. With the expected surge of foreign workers entering the country in a few months' time, it's good that we know what scenarios at work could get us in trouble, fired, or in worst case scenario – even deported.
As many companies in Japan are renowned international brands, it would be best that even if we are to work locally in the country, we must always put our best foot forward because opportunities don't come too often. Also, the reward for work well done is the opportunity to do more.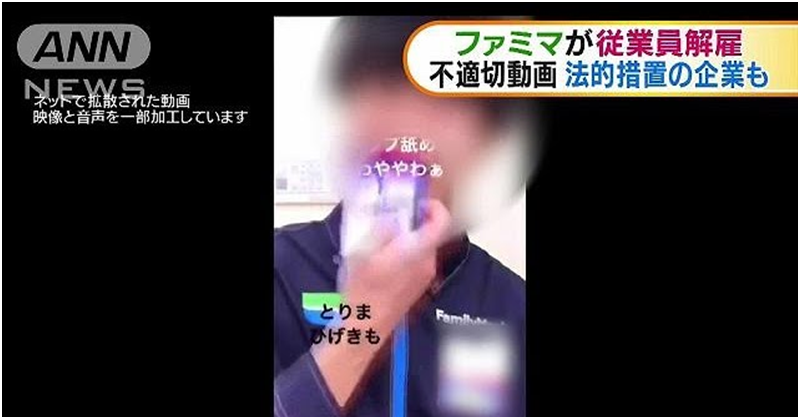 Family Mart Staff Fired After Viral Video of Him Licking Items Leaked Online
Convenience store operator Family Mart Co. has announced the dismissal of a male employee after a video has circulated online showing him licking items, the latest of several similar incidents involving a food-related food brand within the last week, as shared in a report by TV Asahi.
Based on the clip which has made rounds on various social networking channels, the male staff was shown licking several items one at a time, including a packaged food product and the cap of a plastic bottle, before putting them inside a bag at an outlet in Kariya City, Aichi Prefecture.
In the clip, laughters can be heard in the background coming from the person taking the video, who is an acquaintance of the employee.
Over the last week, two other companies have been forced to deal with similar incidents:
On February 7, Seven Eleven Japan Co. announced the dismissal of two male employees after a video which showed one of them using chopsticks to eat noodles straight from an oden hotpot in one of the 7-Eleven outlets in the country, circulated online. Two days after, the company said that it was studying the need for filing legal charges against the dismissed personnel.
And again last week, two employees of large sushi chain Kura Sushi resigned after a video which showed them tossing a sliced fish into the trash bin and then putting it back onto a cutting board inside the kitchen of a store branch in Osaka Prefecture, made the rounds online and became a trending topic.