Having your own personal savings account can prove to be useful in more ways than one. For people on the go, the convenience of not having to carry cash with them will prove to be very essential when their lifestyle involves a lot of travelling. For people who support their family from overseas, sending remittances directly to their account would be priority. And even for the average working Filipino, the value of saving money for their future as well as getting insurance are some of the common reasons why people open a savings account with Metrobank.
Considered as one of the biggest and longest-running commercial banks in the country, Metrobank has built its name from its commitment to business success and community involvement. It is for this reason why many people opted to sign up with Metrobank for their savings account. If you, too, are interested in opening an account with Metrobank, here's how: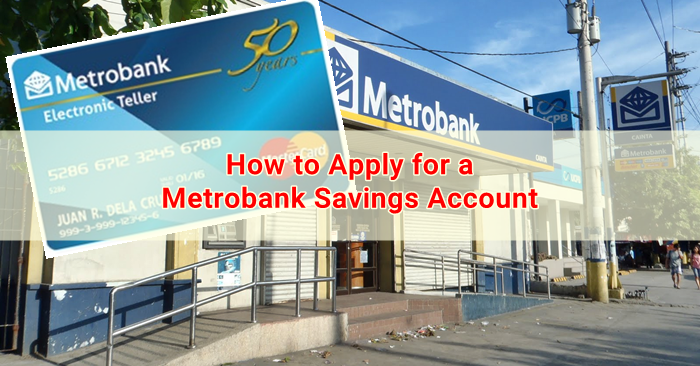 Applying for a Metrobank Savings Account
Signing up for a Metrobank savings account entitles account holders to the following perks and benefits:
Low initial deposit and required maintaining balance of Php 2,000 for a regular savings account.
The required average daily balance to earn interest is Php 10,000.
High interest rate of 0.125% per annum.
Documentation through either an ATM or debit card.
Go cashless on your purchases and maximize rewards from your ATM or debit card for your shopping transactions through various point-of-sale (POS) terminals available in a wide array of commercial establishments nationwide.
Funds of up to Php 500,000 are automatically covered and insured by the Philippine Deposit Insurance Corporation (PDIC).
Requirements:
Any two (2) of the following government-issued valid IDs with photograph:

Postal ID
Barangay Clearance
NBI / Police Clearance
Passport
Driver's License
Voter's ID
PRC License
Senior Citizen's Card
SSS / GSIS I Card
And others

Two (2) copies of your 1 x 1 or 2 x 2 recent coloured photograph
Proof of billing (e.g. electricity, water, landline/internet, and credit card bills, among others) to verify the applicant's place of residence
[NEW] TIN and/or SSS number
An initial deposit of Php 2,000 or more to open a regular savings account.
Procedures:
Go to the nearest Metrobank branch in your place and bring all the above-listed requirements with you. Ask assistance from the bank officer stationed at the New Accounts section for opening a Metrobank regular savings account.
Completely fill out the set of application forms that you will be provided with. Double-check all the details that you have specified in the forms to make sure that everything is accurate and valid.
After you have completed the forms and sumittedthe requirements, the bank officer will verify and review the details of your application and paper documents to see if everything is in order.
Settle the initial deposit fee of Php 2,000 minimum. Be sure to keep the deposit slip that you will be issued upon payment as you will need to present this together with one (1) valid ID for the collection of your ATM or debit card as well as your other bank documents.
Note: Issuance and release of ATM and debit cards usually takes between 5 to 7 days before. You may request for the bank officer's contact info so that you would know through him/her whether you card is ready for pick up or not.