While we all know that Japan is considered among one of the few first-world countries within Asia because of its progressive economy and the quality of living conditions, it may come as a surprise to some that crimes still exist in places such as Japan.
However, in the latest preliminary police data shared last July 19 (Thursday), Japan is apparently experiencing a decline in crime rates – the lowest, in fact, ever since the post-war period has begun, during the first half of 2018. And this is very good news not only for the nationals but also for the expats and OFWs living in the country.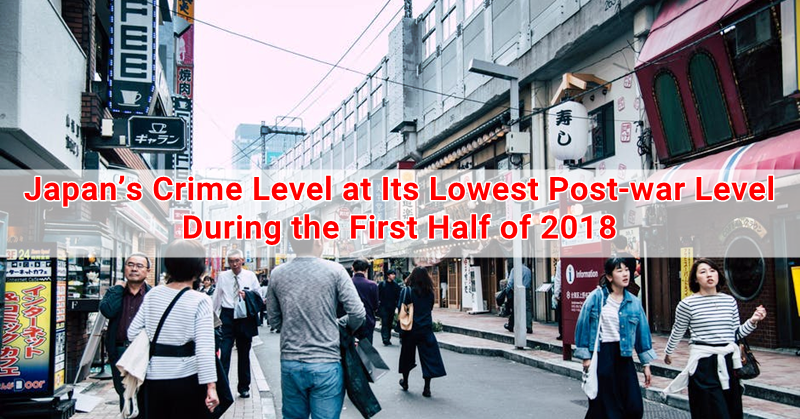 Lowest Post-War Crime Level Noted in Japan in 1st Half of 2018
According to the police data, the significant drop in crime rates nationwide can be attributed to the drop in theft rates as well. At present, the total cases of reported crimes during the first half of 2018 is at 398,615 which is 52,054 less (or 11.5% lower) from 450,669 during the same time last year, shared the National Police Agency.
The figure suggests that the pace of the decline in crime rates is faster than when it hit its lowest last 2017 and since the start of the post-war era of a full-year's account.
The agency explained that thefts accounted for more than 70 per cent of all registered crimes in the country, but noted that the cases have been dropping due to the proliferation of security cameras nationwide.
Meanwhile, the number of reported cases of sexual crimes has been on the rise during the first half of the year. The noted increase came after the penal code had been revised just this month to eliminate the clause for which a victim has to file a complaint first before cases of rape or sexual abuse can be brought to trial. The said revision had also expanded the definition of rape not only to female victims, but also to their male counterparts as well.
The police data also revealed that authorities had to respond to various crimes which primarily target children as well as fraud cases which were noted to be carried out by means of increasingly sophisticated methods.
Not including cases of serial thefts and other crimes performed by the same person, the police had responded to 99,763 cases, 17,289 of which had resulted from voluntary police questioning and 8,746 from video footage captured by security cameras or on other devices.