Many Filipinos venture working overseas without understanding much of the things they ought to know including their rights as foreign workers in countries such as Japan. Good thing the POEA has integrated the basic things that every OFW should know about working overseas in their mandatory training program for aspiring OFWs.
Related Post: OFW Guide to Living and Working in Japan
However, it is also worth noting that OFWs are not left to look after themselves, especially in Japan. The Constitution of Japan sees to it that the fundamental rights of every foreigner residing in the country are duly upheld unless such rights only apply to Japanese citizens by nature. To know more about the specific provisions of the Japanese constitution for foreign workers, continue to read below: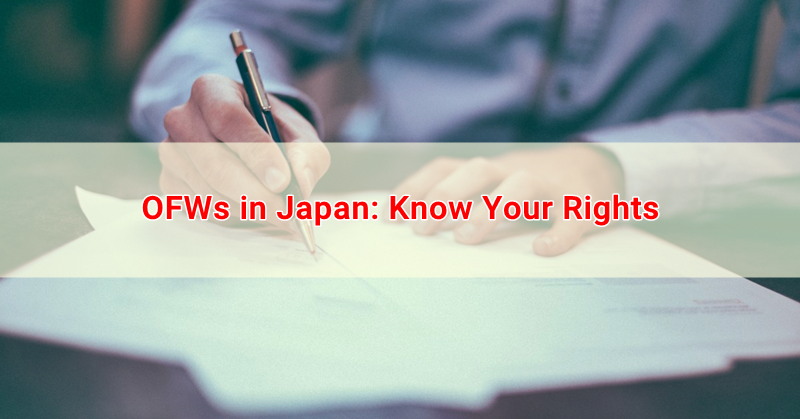 Labour Rights of OFWs in Japan
1.      Any form of discrimination against other people based on their nationality is prohibited.
In Japan, discriminating against other people based on their nationality and other similar reasons such as that the e.g. working conditions, et cetera of the foreign national's home country are not at par with those of Japan. (Art. 3 of the Labour Standards Law)
2.      There has to be clear provisions of the agreed working conditions for foreign nationals.
Even before reaching a decision to conclude a labour contract, employers must carefully and clearly specify working terms and conditions including wages, work hours, and such to all workers concerned.
Wages, in particular, need to be clearly specified in writing. (Art. 15 of the Labour Standards Law)
For those who seek employment, it is highly advisable to look for job opportunities which have all the basic working conditions (i.e salary, working hours, etc.) properly documented in writing.
3.      There is a ban on forced labour and intermediary exploitation.
Any act of coercion (violence, intimidation) or forced labour by employers on their workers is strictly prohibited. Unless sanctioned by the law, employers must not make a profit by means of acting as an intermediary agent/business in the employment of individuals. (Art. 5 & 6 of the Labour Standards Law).
4.      Invalidation of a contract which specifies in advance the payment of damages or a penalty, etc. for non-fulfillment of (the terms of) a contract.
The creation and execution of a contract which includes pre-arranged payment of penalty or damages related to the failure of a worker to comply with the terms of a contract (i.e. resigning ahead of the contract completion period, etc.) (Art 16 of the Labour Standards Law)
5.      Guidelines on the basis of legal dismissals of workers who have sustained an injury from a work-related accident and are undergoing medical treatment.
Workers who have been injured from any work-related accident, and are currently absent for treatment cannot be dismissed from his/her post during their period of absence and 30 days after this period.  (Article 19 of the Labour Standards Law).
6.      Advance notice of dismissal.
In principle, an employer is required to notify a worker at least 30 days in advance regarding his/her dismissal. In the event that no notice was made in advance, the employer will be required to pay the employee the amount of his/her average pay for the number of days which did not meet the 30-day dismissal notice period instated by the law. However, the 30-day notification allowance rule does not apply in the event that a business could no longer maintain operation due to unforeseen circumstances such as natural calamities, etc. or in cases where the employee had been dismissed for his/her own ineptitude or shortcomings. (Art. 20 & 21 of the Labour Standards Law)
7.      Payment of wages
The salaries of employees need to paid regularly (at least once a month), directly, and in the full amount of the currency where the employee is based. (Art. 24 of the Labour Standards Law). However, an exemption to the release of an employee's full payment is when statutory deductions (i.e. taxes, employment insurance, and other agreed deductions) have been applied.
In the event that an employee resigns, the employer must pay his/her worker's outstanding salary, etc. within 7 days after a request for payment had been made by the former employee. (Art. 23 of the Labour Standards Law).
8.      Minimum wages
The salary which employees are to receive should not be less than the prescribed amount under the Minimum Wages Law. The amount of the minimum wage is determined by government regulations and the industry involved.
9.      Working hours and holidays
The statutory working hours prescribed by labour law are 8 hours per day, or 40 hours per week (but may go up to 44 hours per week based on the size and type of the industry involved). (Articles 32, 40, and 131 of the Labour Standards Law).
The statutory holidays are one day in a week or 4 days or more within a 4-week period. (Art. 35 of the Labour Standards Law).
10. Additional pay for overtime, work on holidays and midnight work.
Should a worker agree to work longer hours than the prescribed statutory working hours or during statutory holidays, the employer has to adjust payment for the additional activities computed in hours as mandated by the law.  (Art. 36 of the Labour Standards Law).
Overtime work is computed at a rate of at least 25% of the amount paid to the employee for his regular working hours and at least 35% for work during statutory holidays.
Furthermore, it has been deemed necessary for workers to be given at least an additional 25% pay for working between 10:00 p.m. and 5:00 a.m. or during "midnight". (Art. 37 of the Labour Standard Law).
11.  Annual leave with pay
An employee is entitled to be given leave credits with pay upon achieving 6 months of continuous employment, and have demonstrated productivity for 80% of the time during his/her working days. (Art. 39 of the labour Standards Law)
12. Return of money and other goods
Foreign nationals living in Japan are required to have their passport or certificate of alien registration all the time. (Art. 23 of the Immigration Control Law). Remember not to simply entrust your passport with others or to lose it.
13. Industrial safety and health
To ensure the safety and health of all employees including foreign nationals, the Industrial Safety and Health Law emphasizes the prevention of risks/dangers or health impairments among workers. The Law also recommends the provision of industrial safety and health education (as part of the hiring process) as well as the implementation of mandatory health examinations.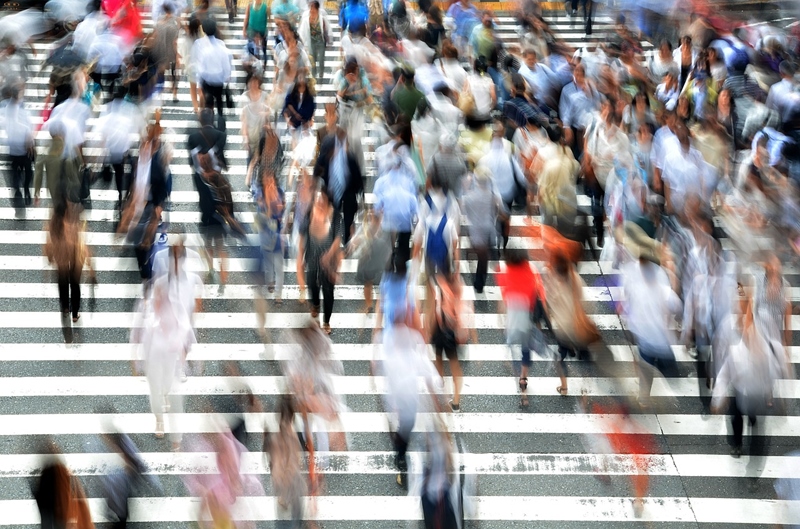 Please make sure to take note of your rights and be aware of the law so that people will not take advantage of you and you know where to stand.
Note: Be guided that information above may change without prior notice and this should act only as a guide to help you about certain rules and policies. Good luck!