For many OFWs, sending money from abroad can be a major headache, especially if it's your first time doing so from a non-English speaking country like Japan. However, there's good news for expats and overseas Filipinos because there are several ways to send money from Japan to the Philippines!
Also Read: List of OFW Loans for Filipinos in Japan
If you'd like to know more about what these are, keep on reading the following sections: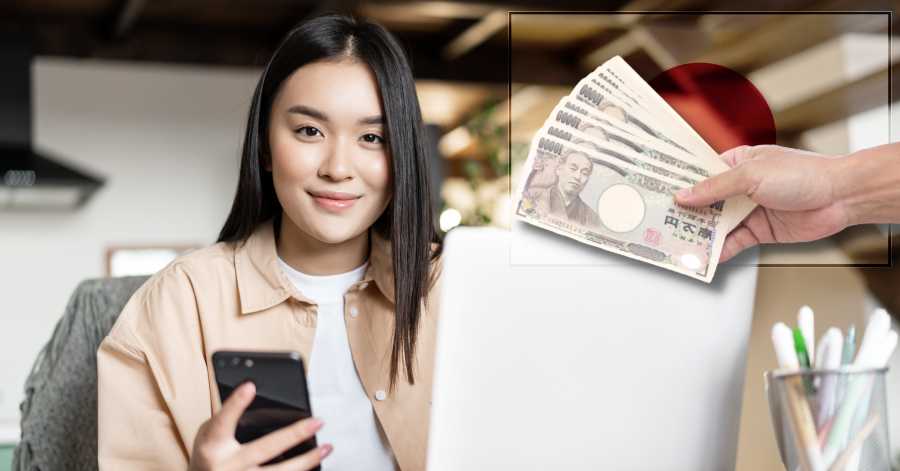 What Are the Best Ways to Send Money from Japan to the Philippines?
Despite the fact that Japan is regarded as having a stable banking system, the country has not changed its business practices in the last two decades. As an example, when it comes to foreign transfers, many financial institutions still need you to complete an excessively extensive form.
So, unless you have a strong desire to become a martyr for the sake of the Japanese financial system, the best course of action is to explore better options. Here are a few examples of them.
1. Wise
Wise has been facilitating money transfers for people across the world since 2011. They complete the process in a quick and hassle-free manner, and they do not charge a fee for doing so. One of the primary advantages of using Wise is that it does not profit from the exchange, and they make every effort to make the process as simple as possible.
The exchange fee is set at a fixed rate, and it includes a percentage of the total amount. It's very reasonable for most currencies. The exchange rates on Wise are similar to those found on xe.com, which is an exchange rate reference site.
To transfer money, go to their website and enter the details that you want to send. Then, they'll ask you to upload a photo of either your My Number notification or your photo ID.
If you already have a photo ID, that's all you need. However, if you don't have one, you'll need to upload a photo ID, such as a driver's license or a foreign resident's card.
As soon as you make a money transfer, Wise will provide you with an estimate of how long it will take for the cash to arrive at their intended bank account. But based on research, money transfers were received within a few of days.
Interestingly, Wise has added a multi-currency account that's basically a bank account without fees. It also comes with a debit card.
2. GoRemit
Over the course of 15 years, GoRemit has served as Wise's primary competitor. The procedure is the same, but the expenses are a little more expensive than they were previously. Consider the fact that the currency rates are different, and the handling fee is a flat cost of 2,000 yen. A fee of approximately 1,500 yen is also applied to any remittances made in Japanese yen, in addition to the above fees.
GoRemit is a bit of a process, as it requires you to sign for various documents before you can start sending money. You can use the app to send money, but you'll need to register a beneficiary and set a transfer limit. It can take several weeks to register a new one.
3. Seven Bank
Using your bank account, Western Union and Seven Bank offer a service that allows you to send money to people in different countries. However, in order to use this service, you must first register with them for their international money transfer service. This is done entirely online, and all of the standard documentation is required in order to complete the process.
4. Western Union
When it comes to sending money from Japan, Western Union is the preferred way for many people. It's simple to set up a transfer online or in person, and it has over 90 branches throughout the Japanese capital.
There is a 390-yen fee for cash pick-up at the airport. Based on a bank-to-bank transfer, which is normally less expensive, this number was calculated. It's crucial to remember, however, that many other sorts of transfers, such as those between Japan and the United States, are restricted to a maximum of 1 million yen.
5. WorldRemit
It appears like WorldRemit is a terrific alternative to standard money transfer providers, and we've heard nothing but positive things about it. Its website and app are both simple to use, and it is also extremely competitive in terms of price.
Before you can begin making a transfer to Japan, you'll need to produce a number of documents, including your photo identification and evidence of residency.
The fees associated with moving money from Japan to the United States vary based on the amount being transferred and the destination. Your cash should be received the following business day. You can also send money with a debit or credit card if that is your preference.
Alternative Methods of Transferring Money from Japan
There are numerous methods available for sending money from Japan to other countries. Among these are money transfers to Malaysia, Bangladesh, Vietnam, Nepal, and the Philippines via JRF, SBI Remit, and Japan Money Express. It's critical to compare rates from several suppliers to determine which one gives the best value.
Small to medium amounts
Wise is an excellent choice for little sums up to thousands of yen. It is a one-use card that can be used in a single transaction.
Both Western Union and WorldRemit offer competitive exchange rates. GoRemit is another worth investigating, as it is less expensive than Wise. PayPal is another option for small sums of money.
Larger Amounts
GoRemit or OFX are generally the best solutions for big transfers of Japanese Yen outside of Japan. Their use fees are identical.
Choice of currencies
Western Union, GoRemit, and Seven Bank are the preferred providers when it comes to the number of currencies that they can handle. GoRemit only accepts 11 foreign currencies.
Ease of use
TransferWise is the best choice when it comes to ease of use and set-up. It's also relatively easy to use once you've set it up.
Frequently Asked Questions
1. Is it possible to send money online from Japan to a cash pick-up location in the Philippines?
You can use an internet service to send money from Japan to the Philippines. It's a good choice for individuals who lack a bank account and wish to get money quickly.
M Lhuillier: There are over 2,500 M Lhuillier stores around the Philippines; about 150 M Lhuillier locations are open 24 hours a day.
Cebuana Lhuillier, commonly known as Cebuana: The beneficiary may collect the funds at any of the more than 2,500 branches located throughout the country's 81 provinces.
BDO (any branch of the following banks: 1st Valley Bank, Banco de Oro, Banco Lagawe, Banco ng Masa, Bangko Kabayan, Bangko Mabuhay, Bank of Florida, BDO Remit Counters – SM Department Stores, SM Business Services, SM Global Pinoy Centers, Waltermart Malls, Camalig Bank, Cantilan Bank, CARD Bank, First Isabela Cooperative Bank, GM Bank, Guagua Rural Bank, Mt. Carmel Rural Bank, One Network Bank, PENBANK, Quezon Capital Rural Bank, Rang-Ay Bank, RD Pawnshop, Rural Bank of Cauayan, Rural Bank of Central Pangasinan)
LBC (any branch of LBC Express, Metrobank, Palawan Express, PS Bank)
Palawan Pawnshop: The Philippines' largest pawnshop chain, with over 2,500 locations.
Bank of Commerce: over 100 offices in locations such as Bacolod, Caloocan, Cebu, Iloilo, Makati, Manila, and Pasig)
True Money Philippines: more than 6,600 branches located throughout the country's provinces.
2. How to send money from Japan to a bank account at the best rate in the Philippines?
While banks provide simple payment options to the Philippines, they often charge a high fee. By evaluating the facts offered in this book, you may evaluate which method of money transfer is most appropriate for your situation and requirements. Additionally, you can go online and utilize a money transfer specialist to assist you in completing this transaction for a small cost.
3. Can I rely on a company that I discovered on a money transfer specialist online but had never heard of before?
Yes, but this will depend on the reputation and track record of the money transfer specialist you found only. Even so, you should expect these providers to list only legally permitted financial institutions and money transfer operators in the countries in which they operate.
4. I simply use my bank to send money to the Philippines, do I really need to compare other options?
Regrettably, banks are not the ideal option for international money transfers. They frequently demand exorbitant fees and use substandard conversion rates.
Summary
There is more to sending money overseas than merely checking the exchange rate; you must consider the timing, convenience, the type of service offered by each supplier, as well as your own unique demands and circumstances. Naturally, nobody wants their hard-earned money to go to waste, much less to the high service fees charged by the majority of banks.
As such, a small bit of research will pay dividends. If you're an expat or an overseas Filipino worker planning to stay in a country like Japan for an extended period, knowing these kinds of data is critical. Therefore, if you've gained new knowledge from this article, please share it with others who you believe would benefit from it as well!
READ NEXT: What is the Salary of an OFW in Japan?