We have an increasing OFW population in Japan nowadays especially when it opened its door for opportunities for skilled OFWs. Apparently, Japan has always been one of the great countries close to the Philippines that serves as shelter to many of our OFWs in the region.
Step by Step Guide to Applying for Philippine Passport in Japan
For Filipinos in Japan who needs to renew their Philippine Passports, you can follow the guide below: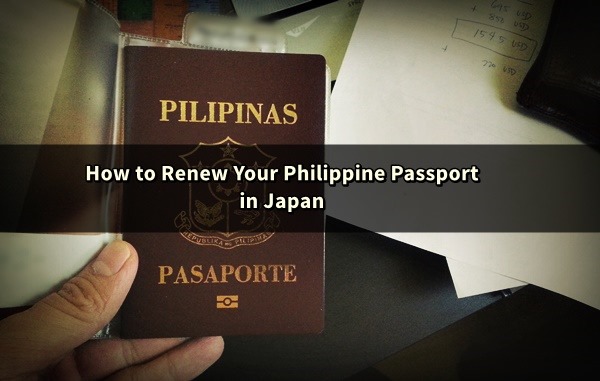 REQUIREMENTS FOR PASSPORT RENEWAL
Personal appearance of applicant on proper attire ; No sleeveless, No Slippers
Duly accomplished application form. (may be downloaded from Embassy website or fill-up online) Passport for renewal.
Photocopy of the data page (the page with photo) and the last page of passport. Also photocopy of the amendment page, if applicable.
Letter Pack 500 envelope.
Passport fee ¥7,800. (Note: Fees are payable in US Dollar or its equivalent in Japanese Yen as computed by our Cashier.)
STEPS IN PROCESING THE RENEWAL
Tip: You can log on to the PE Tokyo website and accomplish your pre-application data gathering and avoid queuing up for hours at the embassy. Simply click here and just fill up the information needed then book for an appointment for you biometrics and photo taking.
STEP 1: Physical Appearance at the Embassy. You can book an appointment online or you can go directly to the embassy.
STEP 2: Data Verification. You will then need to be in queue lines for Data Verification, Encoding, Biometrics, and Picture taking.
STEP 3: Payment. Passport Fee is ¥7,800.
STEP 4. Passport Release. It usually takes 1-2 months before the passport gets ready to be picked up.
The Philippine Embassy Japan
Address: 5-15-5 Roppongi Minato-ku, Tokyo. 106-8537
For Consular Services: 3pm – 5pm, Monday – Friday
Please call: (03) 5562-1607
or Fax (03) 5562-1597 (9am – 6pm, Monday – Friday)
For Emergency calls:
Please call 080-4928-7979
or Fax (03) 5562-1597 (9am – 6pm, Monday – Friday)
Other Helpful Articles:
Article Source: The Philippine Embassy Japan – http://tokyo.philembassy.net/