Filipino workers in Nagoya, Japan, are encouraged to contact the Philippine Consulate for assistance. This consulate is located in Hiroya Building. If you're in the area but have never been to this location, make sure to drop by one of these days – but do not forget to book an appointment, especially if you need to perform a government transaction, such as passport application/renewal, overseas voting registration, and authenticating your documents. If these are something you need to accomplish, which you will, at least some time in the future. Then make sure to read this guide until the end.
Also Read: How to Contact Philippine Consulate in Osaka, Japan
The Philippine Consulate General can be accessed by taking the subway (Sakura-dori Line, Yabaho Station, Exit Number 5). The Philippine Consulate in Nagoya offers both Japanese and international citizens a complete variety of consular services. This guide contains all relevant information for the Philippine Consulate in Nagoya, Japan, such as the address, phone numbers, fax numbers, email, official website, and opening hours. Continue reading to find out more.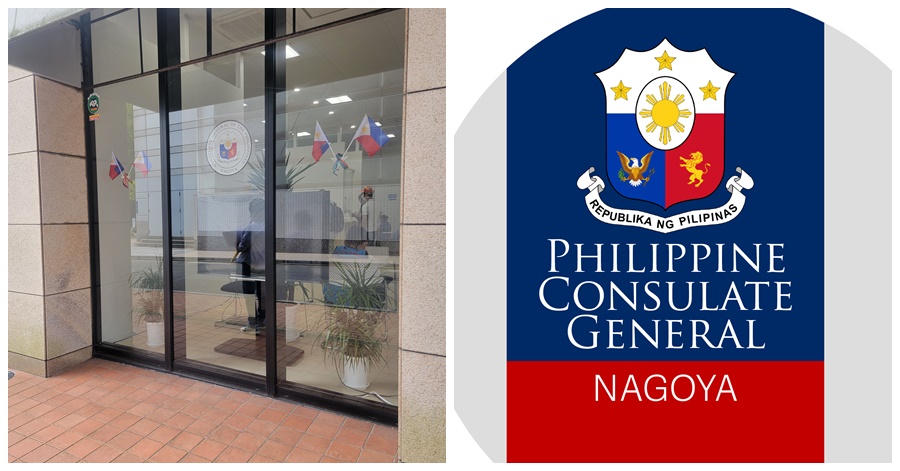 What is the Purpose of the Nagoya Philippine Consulate?
In the year 2019, the Philippine consulate in Nagoya was founded. The Philippines had an honorary consulate in Nagoya prior to the consulate's establishment in 2019.
The Philippine Consulate in Nagoya offers a comprehensive range of consular services to both local and international nationals.
The Consulate services the following jurisdictions:
Aichi
Fukui
Gifu
Ishikawa
Nagano
Niigata
Shizuoka
Toyama
Yamanashi
The Philippines' consulate in Nagoya is overseen by the embassy in Tokyo. Thus, if you need some documents from the Embassy, you can communicate this request through the Consulate. How convenient, right? Most of the standard embassy services can also be availed of through this office.
What are the Services Offered By The Philippine Consulate In Nagoya?
Similar to other foreign posts here in Japan, and other parts of the world, the consular office in Nagoya may provide all, some, or different services than the embassy. If you have no idea what to expect from this facility, we outline the common consular services you can get from this government office.
The Philippines consulate in Nagoya can provide a variety of consular services, such as visa processing and passport processing, and authentication of documents, among others. Listed below are some of them:
Attestation of Document
Emergency Certificate
Passport and Related Services
Provide general or specific info regarding Japan economy, culture, sports, education and more
Provide information regarding requirements and process of getting Japan Citizenship
Provide specific contacts and information in Japan
Visa services
Passport
The Philippines' passports are issued by the government to allow its citizens to travel freely.
The State has a duty to ensure that the documents and procedures related to obtaining a Philippine passport are as accurate and as comprehensive as possible.
Important Notes:
·         To avoid any delays, a Philippine passport must be issued for at least 6 months prior to the travel date.
·         You can only renew your Philippines passport at the Philippine Consulate or the Philippine Embassy in your present location.
·         People with special needs receive priority help. They include persons with intellectual disability, senior citizens, pregnant women and those with babies or minors.
·         If your passport has not been claimed after six months from the date of its issuance, it will be cancelled and disposed of.
·         Starting January 1, 2018, the standard passport will be valid for five years for children under 18 years old, and ten years for adults.
Civil Registry
Marriage, birth, and death are all key life events that should be documented at the Philippine consulate in Nagoya, Japan. When they become Japanese citizens, these individuals will be able to verify their citizenship.
The Philippine Consulate General in Nagoya is responsible for providing consular services to Filipinos living in the region. It also gathers information on Filipinos who were born in the country and died there.
For each transaction related to civil registry, you need to prepare a different set of requirements, as provided by the consulate.
SRRV
The Special Resident Retiree's visa is a non-immigrant visa that can be issued to persons who are not residents of the Philippines.
The SRRV is issued to PRA applicants who have met the requirements for availing a visa. It allows them to reside in the Philippines indefinitely as long as they have the minimum deposit requirements.
The SRRV provides numerous advantages such as the ability to enjoy a low-cost stay in the Philippines, without having to pay for the necessary permits and procedures. It also offers various tax breaks and privileges.
Visa
Typically, either the company or the applicant submits a work visa application. All necessary paperwork for obtaining a visa must be presented before the visa may be issued.
If a minor under the age of 18 years old is applying for a temporary visa, the person who makes the application must appear at the consulate for an interview.
For a temporary visitor's visa, the visa applicant should first visit the Philippine Consulate or Embassy that has jurisdiction over their country of residence.
If a minor under the age of 18 years old is applying for a temporary visa, the person who makes the application must appear at the consulate for an interview.
Important: Applications with incomplete requirements will not be accepted. Approved visa will be released after five working days.
Notarials
Any legal document in Japan that has legal effect in other countries must be Apostillized before it can be used. This process can be done by the Competent Authority of the issuing country.
NBI Clearance
The National Bureau of Investigation in the Philippines accepts online applications for its clearance. For more information, please visit the NBI's website. The Philippine embassy or consulate is only permitted to help with the processing of the fingerprinting process.
For people who are applying for an NBI clearance with fingerprinting, the Philippine Consulate can help them. Before they can submit their application, they must first obtain an authorisation letter from their local representative.
While taking fingerprints, an officer will help the applicant roll and make sure that the right spots are highlighted.
Overseas Voting Registration
All nationals of the Philippines living abroad who are not disqualified by law, are at least eighteen (18) years old on May 9, 2022, and are registered overseas voters are eligible to vote in the National and Local Elections under Republic Act No. 9189, as amended by Republic Act No. 10590.
Citizen's Charter
The Citizen's Charter outlines the Philippine Consulate in Nagoya's services rendered to all of its constituents. These services include:
Passport Services
Notarial services (SPA, Certifications, etc.)
NBI Clearance
Civil Registration (Report of Birth/Marriage/Death, etc.)
Visa Services (For non-Filipino nationals only)
Overseas Voting Registration
Where is the Location of the Philippine Consulate in Nagoya, Japan?
The Philippine Consulate in Nagoya, Japan is located in Hiroya Building, 3 – 31 – 3 Sakae, Naka ku Nagoya shi, Aichi ken – JAPAN 460-0008. The consulate can be accessed via subway (Sakura-dori Line, Yabaho Station, Exit Number 5).
What is the Contact Number of the Philippine Consulate in Nagoya, Japan?
For commercial purposes, the Philippine Consulate in Nagoya maintains a dedicated landline. You can reach them by phone at +81(0) 52-211-8811 or by fax at +81(0) 52-265-9700. You can also reach them during an emergency by dialling +81(0) 90-6580-6724.
What is the Website of the Philippine Embassy in Nagoya, Japan?
Visit their official website at https://nagoyapcg.dfa.gov.ph/ to learn more about all of the services given by the Philippine Consulate in Nagoya, Japan.
What is the Facebook Page of the Philippine Consulate in Nagoya, Japan?
The Philippine Consulate in Nagoya has opened an official Facebook page (facebook.com/PHinNagoya) to reach out to more Filipinos in Japan and those who wish to visit the nation for jobs or other reasons.
How to Make an Appointment to Visit the PH Consulate?
Visits to the Philippine Consulate in Nagoya is by appointment only. Visits are allowed from Mondays through Fridays, 9:00 a.m. to 6:00 p.m. (excluding holidays). You will need to register in one of the consulate's dedicated appointment-setting platforms, which are indicated below, depending on the services you desire to receive:
Passport Appointment System: https://www.passport.gov.ph/
Visa Application Appointment:
To book an appointment for visa services, you need to send an email (nagoyapcg@gmail.com) to request for an appointment at the consulate. Your email must contain the following:

Name and nationality of the applicant
Purpose of travel to the Philippines
Contact number

Once your appointment booking has been accepted, you will be given the following info:

Date and time of appointment
Instructions for the succeeding steps and a list of documents to be submitted by email in advance (original documents to be presented on the day of appointment)
Video: Visiting the Philippine Consulate in Nagoya, Japan
Here is a video of a Pinay based in Japan, who took a video of her trip to the Philippine Consulate in Nagoya for her passport renewal. In the video, you will see that she went to the Consulate by car. However, if this is not an option or, you can always take the subway via Sakura-dori Line where you get off at Yabaho Station, Exit Number 5 to get to Hiroya Building, where the consular office is located. But since our featured vlogger arrived way earlier than her appointment, she took the time to tour us in the commercial area of Nagoya.
Nagoya is a city in Japan's Aichi region. It is well-known for its numerous automobile factories and is located in the center of the country. Aside from its historical foundation, Nagoya also has a strong reputation in terms of robotics. Moreover, Nagoya has a variety of food options that make it worth the trip if you are planning on visiting the island of Honshu.
Interestingly, as she was waiting for her appointment, she was also able to meet a couple of Filipinos in the area. This is perhaps what you can consider as an adventure when you visit places like the Philippine Consulate in Nagoya – there's going to be a Filipino you can bump into along the way. The passport renewal, according to her didn't take long on-site, but the wait for her schedule took over a month, and so, make sure to book early for your transactions at the consulate, so you won't be pressed for time, especially if you need your documents urgently, or need to accomplish something important with it. So there you have it. If you're in Nagoya or in nearby areas, be sure to drop by the Philippine Consulate to see what the place is like, and know what services you can get from it. Of course, you can explore more about it in person, with the help of this guide.
Final Thoughts
The Philippine Consulate in Nagoya is one of the first places you can visit if you're in Nagoya or in nearby areas. The place itself is an experience to behold. Moreover, there are various services you can avail of in this establishment. A visit to this establishment can be worthwhile, whether for any government transactions that you need from the Philippines or just to meet some friendly Filipino faces.
Nagoya is a large region in Japan, so if you also need additional info about work or anything related to your stay in the country, this is one of the places you can go to for help (The Philippines has an embassy in Tokyo and several consular offices in the country.) The good news is, these places are highly accessible. Actually, most parts of Japan is!
So if it's your first time visiting, make sure to keep a  copy of this guide on hand so you can know where to go, what to do, and most important, what to expect. You can make this trip not only productive, worthwhile, but also fun and memorable.
READ NEXT: How To Renew Your Philippine Passport in Tokyo, Japan
Contact Information
Address: Consulate-General of the Philippines in Nagoya
Hiroya Building, 3 – 31 – 3 Sakae, Naka ku
Nagoya shi, Aichi ken – JAPAN 460-0008
Tel. No.: +81 (0) 52 211 8811
E-mail: nagoya.pcg@gmail.com
Google Map Location