When you're looking for reliability, security, and accessibility, there are only a few names that come to mind, especially when it comes to banking facilities. If these things matter to every Filipino living in the Philippines, then imagine how much more important these would mean to OFWs.
Fortunately, for our "kababayan" and their families, there are highly specialized accounts such as the BDO Kabayan Savings Account designed to cater to the needs of OFWs who are sacrificing blood and sweat to send their hard-earned money back home to their families in the Philippines. If you are interested to apply for a BDO Kabayan account, read on: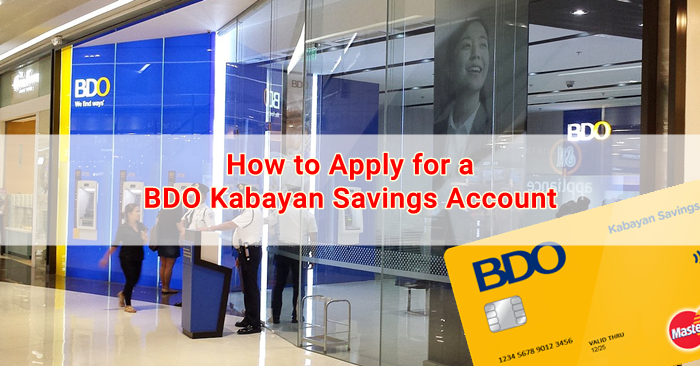 Applying for a BDO Kabayan Savings Account
When you apply for a BDO Kabayan Savings Account, you are entitled to the following benefits and services:
A low initial deposit of Php 100 for a Kabayan peso savings account. To open a dollar savings account, the initial deposit would be USD 100.
There is no maintaining balance required, but there has to be account activity (i.e., deposit or remittance) at least once a year to keep the account active. Otherwise, it will simply revert to a regular savings account with a (higher) maintaining balance of Php 5,000.
Quick remittance transactions from overseas back to the Philippines.
Get either a free BDO ATM debit card or passbook for your Kabayan Savings Account
Account holders are nominated for free accident and life insurance coverage
Accumulate BDO Rewards points from your remittances and savings.
Schedule your insurance and loan payment schemes through the Auto-debit arrangement (ADA) feature that works with this type of account.
Requirements:
Any of the following valid IDs:

Passport
Postal ID
Driver's License
PRC ID
Barangay Certificate / Clearance
NBI / Police Clearance
NSO-issued birth certificate
Senior Citizen's Card
Philhealth card
SSS ID / GSIS ID
HDMF ID
OWWA ID
Company ID (i.e. BSP, SEC, or from any IC-registered companies) or School ID
And others

One (1) recent 1 x 1 photograph
The initial deposit fee required for your account of choice
Procedures:
Visit any BDO branch within your area and go to the new accounts desk and bring all the required documents with you.
Inform the bank officer that you would like to open a Kabayan Savings Account. You will be provided with an application packet with all the forms that you need to completely fill out. Review all the information that you specify in your application form to make sure that everything is correct and free from errors.
After you've filled out the forms, submit them together with all the above-listed requirements as well as the initial deposit fee. You will be given a deposit slip that you need to present for the collection of your ATM card and account documents on the appointed date by the new accounts officer.
Note: Verification and processing of a new savings account usually takes about 3-5 banking days.
Once you have received your ATM card or passbook, ask assistance on how to enrol your account via BDO's phone or online banking facilities to maximize your banking experience with BDO.