The National Bureau of Investigation (NBI) is the governing body responsible for providing investigative services and lab research that deal with crime and other violations against the law of the Republic of the Philippines. The NBI also serves as the official clearing body of criminal accounts and issues clearance certificates to all citizens without any offenses in the Philippines.
Requesting a clearance certificate is an important step that Filipino citizens, both in the Philippines and abroad, need to undertake in order to qualify for employment or petition for travel or migration. Filipino citizens residing in Japan can avail of an NBI Clearance through their nearest Philippine Consular Office. Here's how: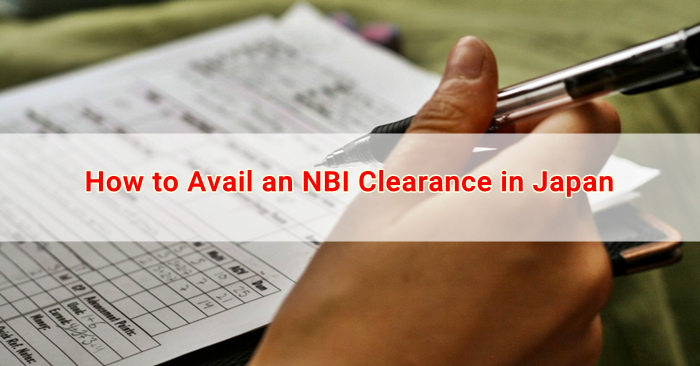 Applying for an NBI Clearance in Japan
Requirements
A recent 2 x 2 full front-facing photo (must be taken during the last three months) in white background.
Any two (2) valid government-issued IDs and photocopies of each. Documents accepted are as follows:

Original and valid passport
Driving license
SSS ID Card
GSIS UMID
PRC license
Postal ID
Voter's ID card
Alien registration card
School ID
Philhealth or any health insurance card
Other documents to support your NBI clearance application in conjunction with the above documents include:

A copy of your previous clearance certificate issued by the NBI
NSO-issued and authenticated birth certificate
Karehomen or immigration documents with a photo that clearly show the applicant's complete name and other important personal details.
Note:  If a representative or a relative in the Philippines will submit the application on your behalf, a letter of authorization for notarization will also be required.
Procedures
Go to the nearest Philippine Consular Office in Japan and secure a barcoded NBI Clearance Application form to be filled out completely. You may also request your representative or relative in the Philippines to send you an NBI form by mail to Japan as there are only limited forms available at the Philippine Embassy.
Submit the above listed requirements along with your duly accomplished NBI Clearance form.
Pay the consular service fee/s:

Service Fee: US$25
Notarization Fee (if applicable): US$25
Note: The fees collected by the Embassy or consulate are for the fingerprint impression service only, and not for the NBI processing service, which is collected in the Philippines.
After you pay the corresponding fees, you will be assisted by an embassy officer in collecting your fingerprint samples, and then he/she will return all your documents once they have been reviewed.
The next step would be the processing of your application form. But for this, you will either have to send your documents to a relative/representative in the Philippines who will submit them for you at the NBI Office or mail your application (including fingerprint impressions) directly to the NBI Office in Manila addressed to:
The Officer-in-Charge
Mailed Clearance Section
2/F NBI Clearance Building
United Nations Avenue, Ermita
Manila, Philippines 1000
Tip: For a guide on the nearest NBI offices your representative can visit to submit your application, you may refer to the NBI's website.
Note: Payment for the NBI processing fee can be sent by cheque, billed to the NBI Director either in Philippine peso (Php 200.00) or in US dollars, equivalent to the amount in peso.
Once you're application has been processed within the prescribed processing time, your representative may collect your certificate at the NBI office, of if you sent in your application through mail, the NBI will also send your clearance certificate by air mail.