If you're staying in the Philippines for a vacation and are in need of your own savings account which you can use to get around and do your day-to-day transactions without the hassle of lining up in long queues at the bank and with the convenience of access to a number of ATMs and authorized merchants all over the country, you may want to consider getting yourself a BPI Savings account.
Reliable service and convenience has always been the trademark of BPI, being one of the country's premier banks in the Philippines today. With a wide array of financial tools and products in their portfolio, it's no wonder why many Filipinos have decided to do banking with BPI. If you're interested to open a BPI savings account, here's how: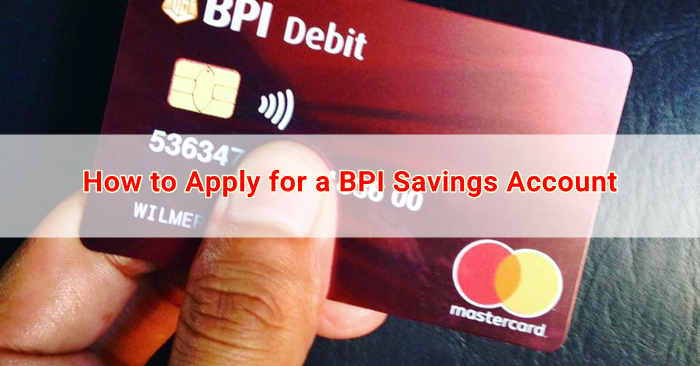 Applying for a BPI Savings Account
Opening a regular savings account with BPI entitles members to the following benefits and services:
Low initial deposit fee of Php 500.00.to open a regular savings account
A minimum maintaining balance of Php 3,000.
A minimum average daily balance of Php 5,000 to earn interest.
250% annual interest rate
Access to more than 3,000 Express Teller, Bancnet, and Expressnet ATMs all over the Philippines, and to around 800,000 Cirrus ATMs all over the world.
Transfer funds with ease by enrolling your recipient's accounts with BPI Funds Transfer.
Reload your mobile phone and prepaid card accounts on the regular thru BPI's 24/7 banking channels.
Shop in over any of BPI's 200 partner merchants including Gaisano malls, Emall, SM malls and outlets, Robinson's malls, gasoline stations, and appliance centres,  thru BPI's bills payment enrolment facility.
Go cashless when you shop in any of 40,000 Express Payment System (EPS) authorized merchants in he country. No need for payment enrolment to avail this service.
Requirements:
Any two (2) of the following valid IDs with picture:

Driver's license
Passport
Postal ID
Voter's ID
Police/NBI Clearance
Barangay Clearance
Senior Citizen's ID
And many more…

Two (2) copies of your 2 x 2 coloured photos
Any billing statement or proof of billing (i.e. electricity, water, telephone/internet, and credit card statements)
[NEW] Tax Identification Number (TIN)
Procedures:
Visit the nearest BPI branch in your area and make sure to have all the above-listed requirements with you to open an account.
Head over to the New Accounts section and ask the bank officer for assistance in opening a regular savings account.
The bank officer will give you several application forms that you must fill out completely to begin your application process. Remember to double-check all the information before you submit the forms along with the other requirements.
Settle the initial deposit fee of Php 500.00. Secure the deposit slip as you will need this for the collection of your account documents and ATM card.
Upon processing and verification of your documents, the bank officer will inform you as to when you need to return to pick up your ATM card and account documents. Processing may take a day or even up to three days. You may ask for the officer's contact number so that you can check with thee bank regarding the status of your account and to know when you you need to return to collect your documents.
For better banking experience, ask assistance/instructions from the officer on how you can enroll your account with BPI online banking. This is becoming very common nowadays when processing transactions so it would be ideal to sign up for this service.