It is common knowledge that public areas such as train stations and subways are off-limits for any type of weapons and injurious materials or paraphernalia.
Having said that, anyone caught having to do with or in possession of these items will surely be turned away or be made responsible to authorities in one way or another. This just shows how strict the government is in dealing with threats to public order and safety here in Japan.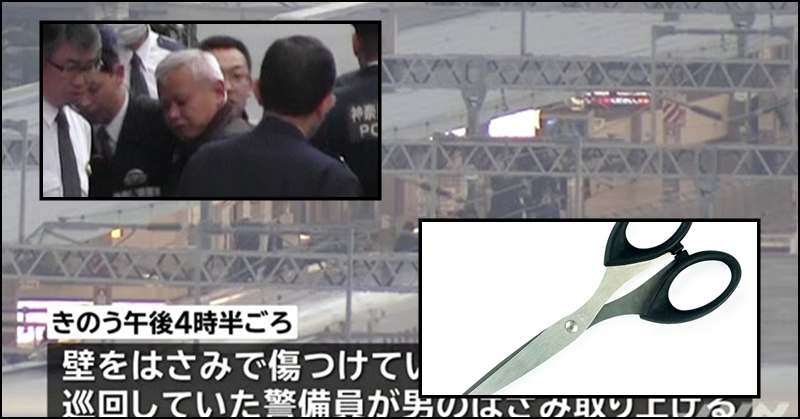 Man Wielding Scissors Inside Shinkansen Arrested by Police
The Kanagawa Prefectural Police apprehended a 56-year old man who was allegedly carrying a pair of scissors inside a Tokaido Shinkansen train last Wednesday (February 20), as shared in a report by NHK.
At around 4:30 in the afternoon, one of the East Japan Railways security personnel tipped off police regarding "a man with scissors in an aisle" on board the Kodama 660 train prior to its arrival at the Odawara Station.
The man who was later on identified as Mikio Kikuchi, 56, a resident of Nagoya's Minami Ward – was allegedly wielding a pair of scissors to cut a hole in a wall near a seat in the train, which was bound for Tokyo.
When security personnel ordered Kikuchi to hand over the scissors, the man willingly obliged. Upon arrival at the Odawara Station, the police arrested Kikuchi as he was exiting onto the platform. He is now facing charges of causing damage to public property.
No persons were reported to be hurt during the incident.
It's a good thing that the injurious material/weapon was not used to hurt anyone during the course of the trip. However, for safe measure, we all must remain vigilant if we are in a public area such as public transportation and crowded places as these areas can be a hot spot of criminal activities. And if we witness anything suspicious or out of the ordinary. It would be best to report this immediately to relevant authorities.