The "Sagami ko Lake Illumillion," which is the region's [Kanto] largest illumination event will once again return starting November 3 until April 7, 2019 to showcase an amazing spectacle for all guests to enjoy.
ALSO READ: Japan to Adopt Electronic Visa System for Tourists starting April 2020
A few hours' drive from Yokohama, at the tip of Kanagawa prefecture lies the marvellous "illumination forest" which is the largest event of its kind in the whole Kanto region.
Kanagawa's Illumination Forest to Light up Once Again starting November
The Sagamiko Illumillion can be located near the Sagami Lake, so guests are advised to wear layered clothing as preparation for the event.
Boasting of over 6 million electrical balls spread across 10 unique theme areas such as "Zoo with Illumination" where elephants and giraffes are set against a shimmering prairie; "Flower Field with Illumination" where a glowing field of pink inspired by moss phlox can be seen. Witness the breath-taking contrast between "light" and "dark" created by the luminous collection unlike no other.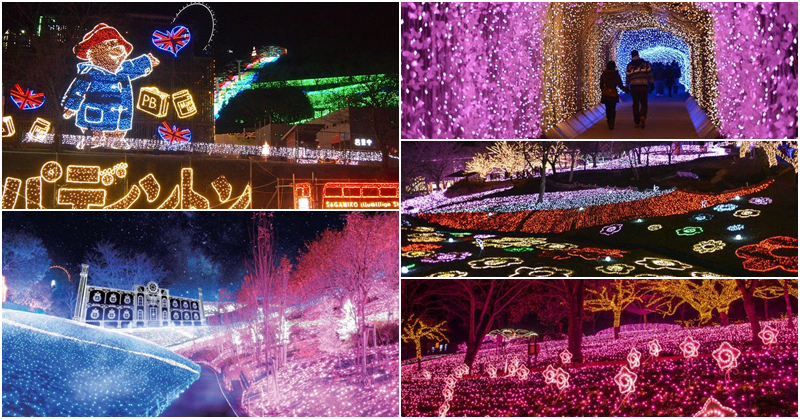 Whether you come before nightfall or in the evening, the venue is glowing with ambient lighting with music, night attractions, and a 3D surround effect of bright colour LED installations.
Enjoy an evening in warm cosy lights in a background of dreamy installations which appeal to all the senses.
This year's event highlights include the larger than life "Light Gift Box" which is an aesthetic light collection of 600,000 spherical full-colour LEDs set in a large open space; the 250-metre long "Rainbow Lift" which is the event's crowd favourite; "Paradise Illumination" where concrete fixtures and light meld harmoniously with music; and lastly, "Paddington Town" which has just been opened in July where guests can enjoy beautiful lightshows and music at night set in 4 unique attractions.
There will be direct bus rides available from major areas such as Shinjuku, Yokohama, and other stations to Sagami Ko Lake Illumillion during this period.
Tip: Check out the value ticket with a round-trip bus ticket as well as the "Illumillion" admission ticket to snag some cool deals for the event.
Ticket price is at JPY 1,000 for adults, and JPY 700 for children and/or pets.
To know more about the event and other upcoming promotions, check out the Sagamiko lllumillion website.