To most people, finding a job abroad seems like such an intimidating task. However, before you could even find work abroad, did you know that there are several other things that you need to prepare for? This is especially true if you are planning to work in popular countries among overseas Filipino workers (OFWs), such as Japan.
Japan is one of the top Asian destinations where Filipinos go to work – and there are plenty of good reasons for that, too. Japan is a wealthy country. Their government is very systematic, the people are disciplined, and they like how Filipinos work. If you are planning to work in Japan soon, then be sure to read the rest of this guide as we will bee sharing the steps and process on how you can apply for work here and start your Japan work journey soon!
Disclaimer: The purpose of this post is to share information on how to find a job and what it's like to go through this process until you finally get to fly and work in Japan, according to Laurence Calledo, an OFW based here. If you'd like to know more about his experiences and life in Japan, you can subscribe to his channel to get updates on his latest content.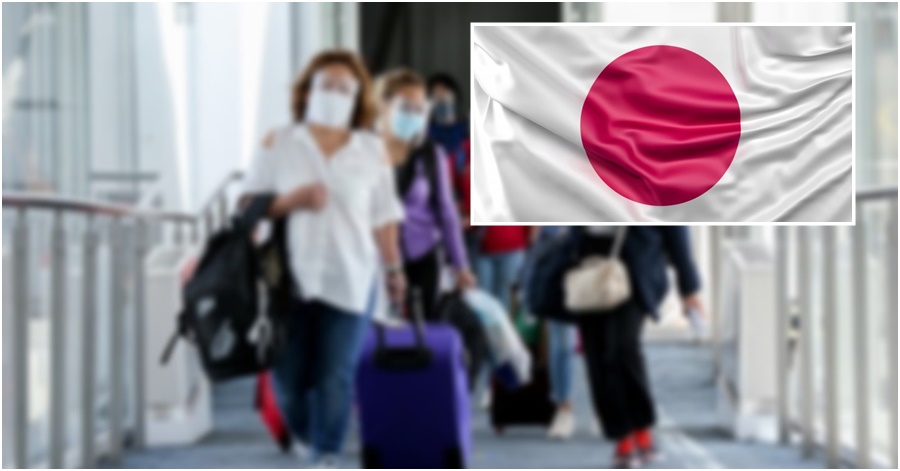 Steps on How to Find a Job and Work in Japan
You may have your reservations and preconceived thoughts about applying for work in Japan, but the process, according to Laurence, isn't and shouldn't be too challenging, but you have to do things the right way. This means that you have to follow all of the procedures and requirements to the dot so that you'll have better chances of success in this endeavour. So, the first thing you ought to do before looking for a job in Japan is to make time to research and know more about the process.
And since you're reading this blog right now, you are in the right direction towards your dreams of working in Japan soon.
Our resource vlogger, Laurence hailed from Leyte and was based in Cebu for work before he decided to apply for work in Japan.
At first, he didn't seem very committed to pursuing this endeavour, but he did some research and asked around, out of interest, from friends to know more about the process. And when he finally decided to go for it, these are the things he did:
Research via the POEA website.
Look for accredited agencies in Cebu (where he was based at the time).
Filter the job vacancies that match his skills and qualifications.
Ask friends and those with experience regarding:

Work qualifications
Basic requirements to prepare
>passport
>police clearance
>NSO
>baptismal certificate
>updated resume
>certificate of employment
>TOR (College grad)
>Form 137 (HS grad)
Submit his application documents, and waited for a month for a callback. [This may vary from one applicant to another]
Undergo a medical exam. [Laurence shared that Japanese employers require Filipinos to undergo this exam at least five times during the recruitment process. The reason being that Japanese employers are very strict when it comes to physical fitness so they ensure that all of the candidates they will consider are fit to work, until they are absorbed in the company. Also, this has a practical bearing for the company as well. Since Japanese recruiters fly to the Philippines every year to conduct interviews, they want all of the candidates to have good standing in terms of their health status so that whenever they need to expedite the training or deployment process, they can do so with little to no stress on their part.
Attend the interview. In preparation for this, Laurence shared that he did some research on the basic questions that might be asked during an interview. Some of these include:

Tell us about yourself.
Why do you want to work in Japan?
Why did you leave your last company?
What do you want to do in the future?

Attend the briefing and sign the contract.
Start learning Nihongo. According to Laurence, his agency shouldered the cost for his Nihongo classes, which was good for six months. However, this may vary from one agency to another, so it's best if you clarify this with your agency beforehand.
Give your best and take care of your health. At the time Laurence applied for work in Japan, he still has work so he would work at night and study Nihongo in the day. He admitted that he struggled with his schedule and was also worried about his health because he was only sleeping for about 2-3 hours per day. He has to stay fit for the next series of medical exams before he could fly to Japan for work.
Travel to Japan. In Laurence's case, his company shouldered his airfare, food, board and lodging when he arrived in Japan. He also continued studying Nihongo there to complete the 6-month language training. Again, this might not be the case for all agencies, so it's best if you clarify these things first hand when applying for the job.
Here are some of the Frequently Asked Questions (FAQs) related to applying for work in Japan:
Can I apply even if I have tattoos?
This depends on the agency, the requirements of the employer, and the nature of the job you're applying for.
I'm only a high school graduate, can I apply for work in Japan?
Yes, you can apply as long as you meet the basic qualifications by the agency, employer, and the job, and submit all the other requirements.
I'm an ex-OFW, can I apply for work in Japan?
This mainly depends on the agency and the requirements of the employer.
Is there an age limit for work in Japan?
Again, this depends on the agency, the requirements of the employer, and the nature of the job you're applying for.
Catch the full clip of Laurence's vlog here:
Indeed, there are plenty of opportunities in Japan for qualified Filipinos to work there. As a final reminder, Laurence said that you should only use accredited agencies when applying for work in Japan. Remember, there is no authorised direct hiring for work in Japan. And preparation is key to a successful application. That's it! Best of luck in your application process!
READ NEXT: Japan Labour Law: Working Hours, Leaves & Vacations