Japan has seen strange cases of parents and adults causing hurt or injuries to children in various settings. And while it can't be generalized that this is becoming a cultural thing in the Asian country, the government is not turning a blind eye from this phenomenon.
Just this year, the government has passed a new law which bans parents from physically assaulting their children, in line with the rising cases of violence among young children as of late.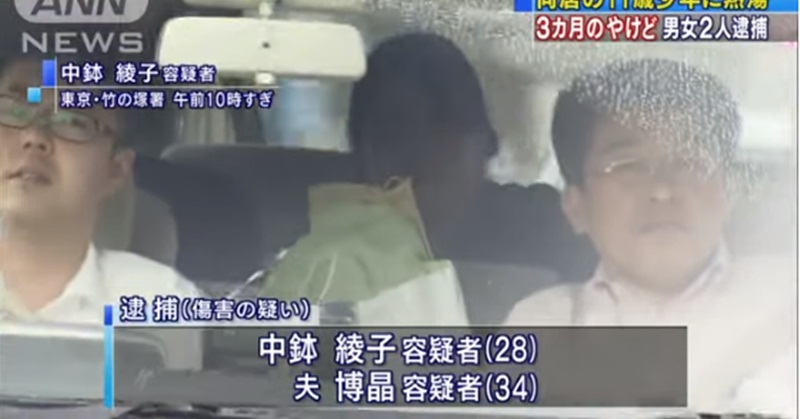 Police Arrest Couple Suspected of Pouring Hot Water on 11-Year Old Boy
In relation to this, a couple in Tokyo was arrested on Monday (July 15) on suspicion of pouring scalding water four years ago over an 11-year-old boy who was living with them at the time according to the police, as shared in a report by Japan Today.
As per police investigations, the boy suffered burns to his abdomen, back and feet that required three months' treatment.
The suspects, Hiroaki Chubachi, 34, and his wife Ayako, 28, allegedly poured scalding water over the boy at their home in Tokyo's Adachi Ward in mid-August 2015, to which, the couple admitted to the charges.
According to the report, the boy and his mother lived with the couple from 2012 after the mother met the Chubachis through religious activities.
Criminal activities involving the abuse of children, as perpetrated even by their own parents have significantly made impact in Japanese society earlier this year. Some of the reported cases were even attributed in the name of discipline, which is a very fundamental value in Japanese and even in many Asian societies. However, if these acts pose significant harm to the children and to their potentials as future citizens, then there is clearly something amiss in this kind of "tough love," to which many traditional families still subscribe to even today.
Meanwhile, the proposed bill which restricts parents from causing physical harm to their children in the name of discipline is set to take effect by April next year.
The proposed law will integrate and solidify the role of child welfare services to intervene in cases of abuse by separating staff members in charge of taking children into custody from those dealing with the guardians.
With these new polices expected to take effect by next year, communities are also expected to take on an active role in network building as well as in monitoring such cases, so as to protect the family, and not to isolate them from society.