As with any important life event such as giving birth and getting married,  it is necessary to file a report for all major life (or death) events  for proper documentation, especially if the person concerned is living abroad apart from his/her family. In the even that a family member or a friend who is a Filipino citizen passes away in Japan, the Philippine Embassy in Tokyo provides certain procedures and requirements to help nationals file a Report of Death in Japan.
Even if you are doing this for family or a fellow kababayan living alone in Japan, the Philippine Embassy in Japan is the place where you can get assistance in such times to help you ensure that all legal documentation for this particular purpose is taken care of completely. Here's how: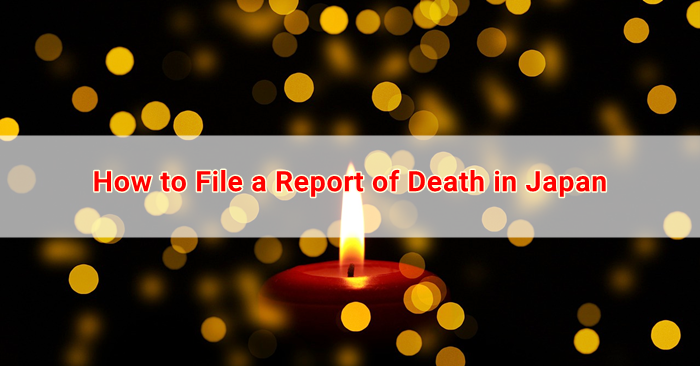 Filing a Report of Death (ROD) in Japan at Philippine Embassy
When filing a report at the Philippine Embassy, remember to bring photocopies of documents in A4 size paper only. Also, depeding on your availability and circumstances, remember that submission of documents if it's not possible to be delivered in person, can be sent by mail.
Requirements:
A completely filled-out application form which you can obtain on-site or download at the Embassy's website.
The original and a copy of the Certified True Copy of the report of Death or Shibo Todoke from the Ward Office or the City Hall.
The original and a copy of the deceased person's passport. If the document is not available, the deceased person's original NSO-issued certificate of birth or any valid government-issued ID of the deceased person may be submitted instead.
The original and valid passport of the representative (informant).
The original and a copy of the Permit for Cremation, where applicable.
Procedures:
The representative or informant should visit the Consular Section of the Philippine Embassy in Tokyo, Japan along with the above listed requirements between Monday to Friday from 9:00 am to 3:00 pm for the submission of application and requirements, and from 3:00 – 5:00 pm for the collection of documents.
Pay the service fees for your purpose of visit (Report of Death, translation). Please refer to the Embassy's Schedule of Fees here.
After payment, secure the receipt and wait for about five (5) business or as advised by the Embassy for the collection of the document/s.
The Philippine Embassy in Tokyo, Japan
Address: 5-15-5 Roppongi Minato-ku, Tokyo 106-8537
Contact Details:
Tel. No: (03) 5562-1600
Fax: (03) 5562-1603
Website: https://tokyo.philembassy.net