The Philippine Embassy in Japan has set up an online system which offers free service to Filipinos who wish to apply for a passport for the first time (i.e. individuals born in Japan), as well as those who wish to renew their passport without any discrepancies.
The good news is, everything you need to do can be done on-line. Just carefully take note of the requirements and the procedures you need to perform to successfully accomplish your application through the Philippine Embassy in Japan's website. Here's how: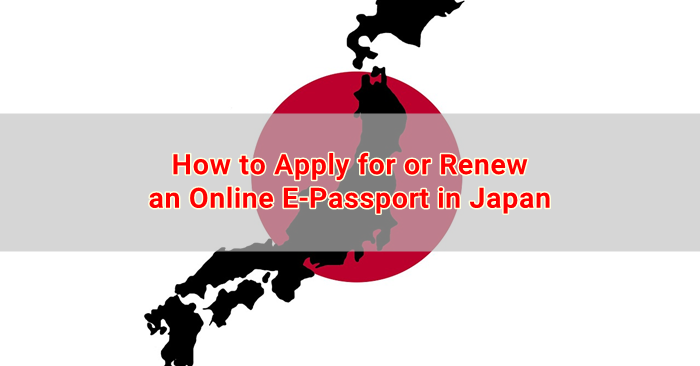 Applying for or Renewing an Online E-Passport in Japan
Requirements:
A computer with internet connection
A web browser which is Javascript-enabled (ie. Internet Explorer 6.0 or higher or Mozilla Firefox v.3.5)
Your valid and working e-mail address
A working printer device connected to your computer with A4 size paper for printing your passport application.
Procedures:
Fill out the application form available on the Philippine Embassy in Japan website. All the information should be in English characters only. [Romaji] Once you're done, hit the submit button at the end of the page.
Check the email that you have inputted in the online application form for a new mail sent by the online appointment system, and read the mail thoroughly.
Once you have read the contents of the email carefully, click the confirmation link provided in the email. The link will open an appointment page and display all the earliest available date/s with vacant slots that you can book for your e-passport appointment.
If you are available on any of the available dates provided, click 'Yes' to confirm the schedule that best works for you ,otherwise, if you choose 'No' you will be prompted to repeat this step until you can confirm a schedule that works for you.
Check the e-mail you've inputted in your application, and look for any new mail regarding the next step(s) for your application process and take note of the instructions.
Go to the Consular Division of the Philippine Embassy in Tokyo on your scheduled date of appointment with all the required documents for the processing of your passport and your LetterPack 500 envelope addressed to yourself.
Important Notes:
Bringing your own passport photo won't be necessary as it will be taken live together with your fingerprints and digital signature when you get inside the processing room.
Should you fail to show up on your appointed schedule, you will need to go back to the first step where you would be required to file a NEW APPLICATION and BOOK A NEW SCHEDULE APPOINTMENT.
Once you have submitted all your requirements and processed your application in the Embassy, you will need to wait for approximately 60 days for the release and arrival of your passport via mail delivered through your self-addressed LetterPack 500 envelope as soon as it gets printed and issued in Manila.
Address:
Philippine Embassy in Tokyo, Japan
5-15-5 Roppongi Minato-ku, Tokyo 106-8537
Contact Information: Tel. No.: (03) 5562-1600
Office Hours: Monday to Friday from 9:00 am – 6:00 pm